Google trap of: http://web.archive.org/web/20070917030133/http://www.mattygetshigh.com/hiking/capealava/default.htm


Cape Alava Loop Trail, Olympic National Park, Washington - May 26, 2003
Click on thumbnails to see full size photo

For the hike, Ellen and I decided to head out to Olympic National Park to hike the Cape Alava Loop Trail. Before we even started, I knew it would be a good hike when I watched a bald eagle follow us on the Kingston-Edmonds ferry. It's a fairly big time investment to get to the trailhead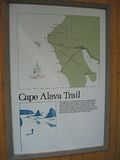 , so you should do your best to get an early starton the journey.



The trail is fairly easy as it is mostly over wooden boards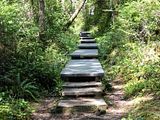 to limit the impact caused by hikers. There trail takes you over a couple streams
, thru tall grassy marshlands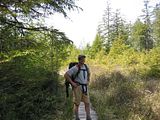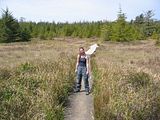 and after 3 miles, ending at the Pacific Ocean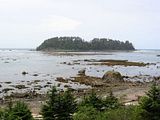 . Once there, we found a pile of boat fenders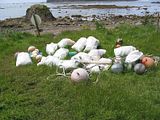 and the ocean was not quite at low tide yet
. So we left the trail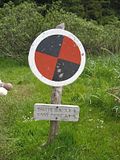 , climbed up a sea stack and ate some lunch. While eating lunch, we were amazed at the amount of wildlife we noticed. Two steps onto the beach I found a snake, and later we watched these oyster catchers
taking a bath and digging for clams. Finally, I spotted some Harlequin Ducks and a sea otter
. I've also caught these guys on video as well, the ducks are in the foreground, and the sea otter is in the background.
After watching the sea otter, we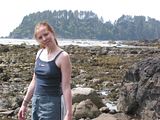 began the 3 mile beach hike
to sand point. Along the way we found these dungeness crabs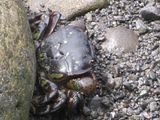 . Hiking along, we found petroglyphs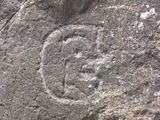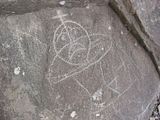 which we think we created by ancestors of the Makah Indian tribe. As we continued down the trail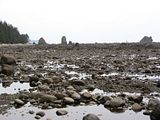 we found this natural arch
in a sea stack. We were just about to Sand Point, when we found these Bald Eagles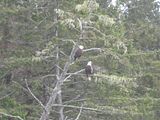 hanging out in the trees. I even was fortunate enough to catch a video of them flying around. Make sure you listen closely, as you'll hear them squawking. As we left, Ellen took a 360 degree view of the shore (big picture! Scroll Down). We left Sand Point and began the 3 mile trek back to the car, and found lots of old growth trees.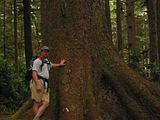 We made it back to the car and began the very long drive home, at least this time we took an awesome detour thru Lake Crescent. Thanks to the holiday, the ferries were all packed, so we stopped for some damn good food at Gordy's Pizza and Pasta in Port Angeles and then headed to the Bainbridge Island Ferry.
This was a damn good trip, and I love hiking on the coast. If you have a lot of time to spare, I HIGHLY recommend trying this trail out.