---
Day 1
Hoh Rain Forest & Kalaloch Beaches
Day 2
Around Forks & LaPush
Day 3
Explore the Northwest Coast
Day 4
Ozette Wilderness Hike
Day 5
Lake Crescent, Waterfalls & Hot Springs
5 Day Guide Home Page
Forks Chamber
of Commerce
1-800-443-6757
E-Mail to: chamber@forkswa.com
www.forkswa.com/ - Forks Chamber
Web Site
---


Download the 5 Day Guide in Adobe Acrobat PDF Format (49k)



Day 4: Ozette Wilderness Hike
---
Travelers will find the northwest entrance to Olympic National Parks 57 miles of coastal wilderness at Lake Ozette.* (Take Hwy 113 & 112 from Hwy 101 past Clallam Bay, turning southwest onto the Hoko-Ozette Road, follow 21 miles to the Ozette Ranger Station.) Three miles of plank-and-stair trail lead the hiker to Cape Alava, with rocky shores and reefs to explore at low tide.









Petroglyphs






Cape Alava is near the site of an ancient Makah village partially buried in a mudslide over 500 years ago. Artifacts recovered from this site can be viewed at the Makah Museum in Neah Bay. The site is now closed and is marked by a memorial kiosk. Look for dozens of Indian petroglyphs at Wedding Rocks, the first headland south of the trailhead.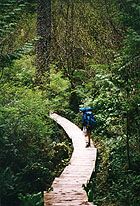 Hiking to Sand Point



Sand Point, the southern tip of this 9-mile triangular trail, offers agate hunting and is home to a large sea otter population. A turn inland will lead you a level 2.8 miles back to Lake Ozette via another planked trail. The cedar plank walkway can be slick; soft-soled athletic shoes are often preferred over vibram boots. Be sure to check a tide table to time your beach walk with an outgoing tide, and carry the 10 hiking essentials - and lots of film as seals, deer, eagles and perhaps osprey, otters and whales may be there, rain or shine!

*Fees for use in Olympic National Park or Olympic National Forest may apply, for information and a map call (360) 452-0330 or visit www.nps.gov/olym or Olympic National Forest, call (360) 374-6522 or visit http://www.fs.usda.gov/r6/olympic/

** For brochures, maps mentioned, referrals and/or seasonal information contact the Forks Chamber of Commerce.