ELDER BOB'S BIOGRAPHY
Click On Thumbnail Photos To Enlarge
Then Click On Back Arrow To Return To This Page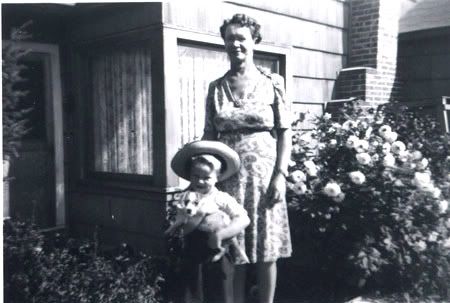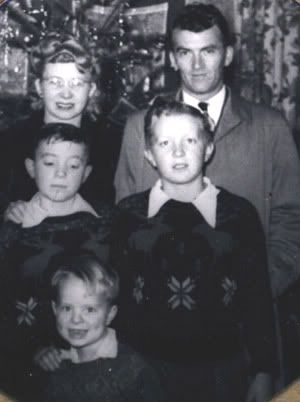 Many years ago, prior to WW II, Elder Bob was born at Fort Lewis, Washington to parents who were in the infantry and motor pool. Some say his birth helped speed up the tides of war.





To see chronological order of Bob's life in PHOTOS... CLICK HERE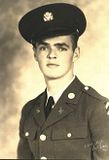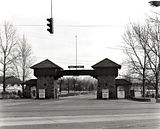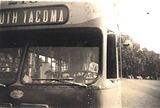 His mother left the service to drive a city bus in Tacoma during the war. She was the last female bus driver after the war was over. Elder Bob spent the first years of his life growing up on his grand parent's 10-acre farm in University Place outside of Tacoma. He lived there with his two brothers, horses, cows, chickens and various other live stock as time went by. He had woods to roam; ponds to explore and salt water bays to play by. He developed his webfeet and gills at an early age from the liquid sunshine that was abundant in the area. He went to live with his mother and new stepfather at the age of seven in a house across the street from his grand parents. He lived there until he left home after graduating from college.

His full name when he was born was Robert Lester Owen. He was known as Bobby Owen until his mother remarried. Then he used his stepfathers name and was known as Robert L. Reese or just plain Robert Reese. He used Bobby Reese until he was in High School. One day a teacher said "Bobby" was too childish. So he stated using Bob as his first name. He was known as Bob Reese from then on. He only uses Robert for legal papers. His wife is the only one who calls him Robert. He legally changed his name to Robert L. Reese (Robert Lester Reese) when he had to get a passport to go to Saudi Arabia. He never forgot his original name. When his son was born, they named him Ian Sean Owen-Reese. The State of Oklahoma thought a mistake had been made on the birth certificate. Bob informed them that a hyphenated last name was common in more "Civilized Countries" and that it would be more common in the future. Oklahoma was the same state that had Bob listed as a female on his drivers license. He would have to had gone to Oklahoma City to prove he was a male to get it changed. He just left it that way for 4 years. No one ever questioned it.

His ancestral home still stands and his mother lived there until she passed away in 2010. His nephew got the home and still lives there.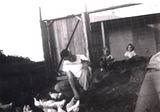 His life there was interesting. Raising chickens, rabbits and pheasants for his stepfather. They had various dogs and cats at times along with the other usual pets. He went to University Place School up through the eighth grade then went to Clover Park Junior High and High School. He was active in Cub Scouts, Boy Scouts and Explorer's. That is where his interest in hiking, camping and mountain climbing began. He was an average student that just barely got by in school with little studying. He had a few run ins with the school authorities from time to time. In Scouts, he spent much time in the Cascades and Olympic National Park climbing various mountains and hiking to different places in the parks. The first ice axe was an alpine stock he made from a shovel handle and metal rod for the pike. The most interesting trip was a week long hike from Sol Duc to the High Divide, Hoh Lake, Mt. Olympus and back. The climb up Mt. Olympus was done with the alpine stock, rented crampons and climbing rope with 8 other scouts.


On his first over night camping trip near White River, he fell while gathering wood and broke his finger. On his first overnight hike to Flapjack Lakes, he had to camp on the trail in the dark. He later found he had his backpack frame on upside down and one of the crossbars was broken. His start was rocky, but he improved with age. The biggest treat on a scout trip was stopping at a roadside diner and getting a hamburger and milk shake on the way home. They were the old fashion ones made from scratch.


In high school, he became involved in the Tacoma Mountaineers and Mountain Rescue. These replaced scouts when he graduated from high school. During high school, he spent time in Union Gap, Washington during the summers, visiting his dad. The hiking and camping over there was a lot different then on the other side of the mountains. After he completed the beginner's and intermediate courses in the Mountaineers, he became an instructor.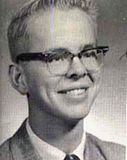 Upon graduation from high school, he got his first job working in a fruit stand near Des Moines, WA. That job was eliminated half way through the summer. In order to get money to go to college, he got a job with a magazine crew traveling over the United States. That proved to be a disaster and he was finally able to return home. It was the wrong time of the year to start college, so Bob went to work for the Mt. Rainier Park Company in Longmire, WA as a general relief. By the end of the summer, he had enough money to start at the University of Puget Sound. The first year he worked in the kitchen to earn money. The following summer he had two jobs. One was in a service station in Kent, WA and the other was for the National Bank of Washington in Tacoma. When school started again, he left the service station and stayed with the bank until he graduated from UPS. In his sophomore year, he took skiing lessons sponsored by the Tacoma News Tribune and broke his leg during the last lesson. It was a spiral fracture and he had to be in a cast for 3 months. Bob could not attend classes during that semester. That was the end of his skiing until many years later. Between his junior and senior year, he attended a geology field camp near Bozeman, Montana for 6 weeks. Bob wanted to be a geologist when he graduated. During his college days, he led many climbs on various peaks for the Tacoma Mountaineers. One summer he took two of his math professors on a climb up Mt. Rainier. It was a great four years for Bob. He had a few love interests, but none developed into anything serious.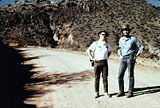 While at UPS, Bob did an act of kindness that would be repaid some 30 years later. There was a freshman student from Kuwait who had trouble reading English. Bob would spend time with him, having him read out loud to Bob and Bob would correct his mistakes. Bob lost contact with him, and later in the biography, contact was established again with a surprise.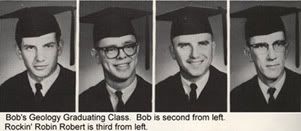 Also while at UPS, one of Bob's classmates in the Geology Department was Rockin' Robin Roberts who sang with the Wailers and made the song "Louie, Louie" popular in the Tacoma area. Robin took an older version and updated it to Rock and Roll of the times. That song was later picked up by the Paul Revere Group and Kingsmen and made famous nationally.


At the end of schooling at UPS, Bob led another climb up Mt. Rainier with some fellow students and misc. friends. From there he drove to White Pine, Montana where he had a summer job on a cattle ranch. That summer was fun and he got to play cowboy a lot. After the summer was over, he went down to Missoula to go to graduate school at the University of Montana. Renting a house, and renting the rooms out to international students paid for room. Working in a truck stop gas station paid for food. He got tired of school at the end of the first year and worked for the Montana State Bureau of Mines in Butte. He spent the summer between exploring old mines in the Phillipsburg area and doing geological mapping in the Dillon area. Got to drive a large suburban wagon and camped out all summer. Best job he ever had. After the summer was over, he took a job as a geophysicist (oil explorer) with Geophysical Service based in Dallas. He had a choice of Midland, TX or Calgary, Alberta. So he went to Canada to work. This was the height of the Viet Nam War and he was re-classified as 1-A. However, since he was in Canada, he had three appeals he could make for 30 days each. By that time, he had been with the company for 6 months and they gave him an occupational deferment. Life was fun in Calgary. It had the beer halls, Calgary Stampede, mountain climbing in the Canadian Rockies, and friendly Canadian women. He wanted to go over seas to full fill a dream of helping other countries progress by aiding in development of their natural resources.


Finally after a year, the company shipped him off to Dhahran, Saudi Arabia. Life there was interesting. It was a dry country, but every house in Dhahran Compound had a still. Lots of good recreational activities. Again there were a few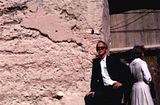 women he got to know. One time he went to a local town without telling any one to do some sight seeing and take pictures. It was their market day and they were having a be-heading. It was not a pretty sight. He left and went back to the market where a policeman saw him with his camera. He was hauled off to the local jail because they thought he had taken pictures of the beheading. Bob was able to talk his way out of it and got back to Dhahran as fast as he could. While in Dhahran, he got to travel to Bahrain, United Arab Emirate, Iran, Greece, England and Lebanon. He had to work in the Empty Quarter (Rub al Khali), alternate three weeks. It is one huge sandbox. The closest thing to mountains there, were the sand mountains which where sand dunes that were about 800 feet high. They rose off of a flat salt plain called a Subkah. He got to drink a lot of camel milk in order to get pictures of the Bedouins traveling through the area. His main activity in Dhahran was house sitting and taking care of horses that belonged to ex-patriots on leave. He enjoyed riding in the desert and the oasis around the settling ponds. He was transferred to Beirut and really enjoyed it there. It was before the civil war. It was a very modern place and very European in culture. Bob lived in an Austrian Pension while there. From there he went home for a few months and then was shipped out to Libya.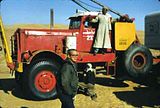 After leaving New York and going to Libya via Rome (to get a business visa), Bob arrived there. The American Air Base was still there (before the revolution) and King Idris was still in power. It was another party town because the oil workers could buy booze at the base PX if they invited the airmen to their parties. They had the women and the airmen had the booze. The women were ex-patriots from all over who worked as office workers and engineers. Bob could not leave the country because he was there on a business visa. However there were many old Roman ruins to explore and fine beaches to use. He lived in a villa that belonged to a worker on leave out of the country. No climbing or hiking there. From Libya, Bob went to England to work in GSI's English office for awhile and then went back home again. While in England, Bob went to the Lake District and did some hiking and climbing of the mountains in the area. After another time off period, Bob went to Los Angeles to work in GSI's office there for a few more months. By this time, Bob wanted to get out of being a geophysicist and get back to being a geologist. He had lost his dream of staying overseas to help develop natural resources.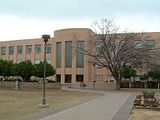 He then went to Tempe, AZ to attend graduate school at Arizona State University. The picture on the left is the old Geology Building built by the WPA. It was used as a background in the movie "The Nutty Professor" with Jerry Lewis. He switched from studying to be a sedimentologist to being a computer geologist. He found out about computer programming and fell in love with it. Bob met his wife there while square dancing. They were married after Bob completed his studies for his Master's Degree. She was a RN in a local hospital. Times were tough in the geological business at that time and it was hard to find a job. After a year, Bob found a job in Tulsa, Oklahoma as a geophysical programmer.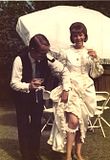 Bob and his wife found a small three-bedroom house in an older part of town that was in probate. They lived in it paying rent until it cleared probate. The rent money went towards the down payment and the new owner carried the loan. So by the time it cleared probate, they had the down payment paid for. Life in the conservative and religious town of Tulsa was interesting. Bob's wife got friendly with the "colored" (correct term in those days) garbage men. Their neighbors let them know that was not done there. They also found out they better keep quiet about their views on Oral Roberts. After a few years there, they had a son who was born a few days after the first tornado went through Tulsa. No tornado had ever gone through Tulsa prior to that time. After spending four years there, Bob and his wife decided to move to Denver to be near the mountains again. They packed up their two dogs and son and moved to Denver where Bob found a job as a geophysical programmer again. Needless to say, they were not sad to leave Tulsa.


They found a house out in the country on 2.5 acres of land south east of Denver and east of Castle Rock. They had to drive 12 miles to the nearest store on dirt roads. They had a well and septic system. Bob's wife got a horse soon after moving there and Bob settled in to become a country gentleman. Two years after moving there, they had a daughter to go along with the son. Bob became active in the scout program for his son who became an Eagle Scout. They became active in a local church. Then when his son started playing soccer, Bob became active in the local soccer association. Bob and his children became soccer referees. His son soon outpaced the other two and was on his way to becoming a state referee. His daughter had her problems in the first few years. Kicked in the head by their horse, diagnosed with cranialsynethosis (skull sutures not expanding), eye surgery and puncture of her trachea-tube by their dog. She managed to survive and become a healthy and happy woman. The family spent time in the Rocky Mountains snow skiing a lot. They spent time as a family camping in the mountains. Bob's son was an exceptional student in school and everything he tried. The three of them refereed together at soccer tournaments. Bob's wife worked at a local nursing home. The oil bust, which occurred in the middle of the 80's, caused Bob to leave the oil business and become a rocket scientist in the aerospace business. He never had good luck in picking a stable company. Most of the companies he worked for had lay-offs from time to time. Tragedy struck the family in their son's senior year at high school. He had had a close friend die a year before, and decided to join him. The family was badly shaken up by this loss.


Probably the most interesting thing to happen to Bob while there was during a Christmas blizzard. On Christmas Eve Day, it had struck and was snowing hard. Bob's son was running a fever, so Bob took the four-wheel drive Subaru and went to the nearest store 12 miles away. He had a hard time getting there, and when he started back, he took another way that some one said had been plowed. He got halfway home and got high centered and was stuck. Four wheel drives do not work well if the wheels are not on the ground. Soon a couple came walking by and said Bob could come with them to spend the night. They hiked about 3 miles in knee deep snow. The next morning Bob got a helicopter ride home. It turns out the man was the commander of a local air base and they called him in to help on rescues. They sent a helicopter to get him, so he had them drop Bob off at his home in time to spend Christmas Day with his family. All the neighbors wonder what had happen at Bob's house this time. With the history of his family having flight for life for his daughter and other medical problems, they thought something had happen again.


Next to happen is a result of what Bob did 30 years ago while at UPS. Bob had thought about his old classmate through the years and had done nothing about contacting him until the death of his son. He did some research on the Internet and found that his friend had gone on to get his Doctorate Degree in Geology and had taught at the University of Kuwait. He became the geology department head, then head of the school and then Director of Education. Finally he became the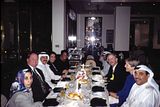 Director General of Kuwait Foundation For The Advancement of Sciences (KFAS) reporting to His Highness, The Emir of Kuwait. Bob did not know about the last appointment at that time. He made some phone calls and got the address of KFAS and wrote his friend a letter telling him what he had done since they parted at the University of Puget Sound. Bob got a phone call from him and he invited Bob to visit him in Kuwait to see what had been done since the Desert Storm in rebuilding the country. Bob said he could not afford to visit Kuwait. His friend said "No Problem, I will take care of it". He said all Bob had to do was to get to New York and the rest would be taken care of by the government of Kuwait. Bob got an airline ticket in the mail for a business class round trip to Kuwait. Soon Bob was on his way there to see his old friend. An interpreter and driver, who took him to his hotel, greeted him. The next morning, he met his friend and both talked for a length of time. Bob was taken anywhere he wanted to go and could take pictures of anything. He found the country to be very modern and had almost anything he could find in the USA. All the damage from the war had been repaired except for things that were left as memorials. He gave lectures at the Kuwait University and Kuwait Science Club. He also found out how important his friend was. He had to make an appointment to see his friend during the day. At night he would dine with his friend or friends of his friend. He attended traditional male meetings and KFAS award diners. On his last night in Kuwait, he went to a special diner for him with his friend and other invited guests. Bob was the only one to order Kuwaiti food, while the rest ordered western food. They exchanged gifts before they parted. The gifts to Bob were far more extravagant then what Bob gave them. It was a wonderful two weeks for Bob. Now he and his friend keep in touch and see each other when his friend comes to the states. Bob had him and business companions over to his house for dinner.


By this time, Bob and his wife had become tired of the cold weather in Colorado and decided to move back to Arizona. Bob was tired of getting up in the morning,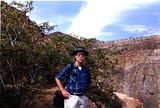 scraping ice off the car windows, playing games with the carburetor on the car, and dodging the idiots who did not know how to drive in snow. Bob looked for work in Phoenix and quite by accident found a job with the same company he was working for in Colorado, but a different branch. After getting the job, it became a transfer and all moving expenses were paid for. Bob went to work for Lockheed Martin in Goodyear, AZ outside of Phoenix. It was a security level position and Bob could never discuss what he was doing. The standard reply was "we dissect aliens". At least that is what the locals thought. They finally allowed the workers to say that their client was the National Reconnaissance Office (NRO). This happened after CBS did a story on the NRO on a news program. Bob and his wife were happy to be back in Arizona even if got to be 115 degrees in the summer for two months. Bob is now officially retired. He has taken the Social Security retirement, but still works part time out of his home. He can still do programming and data base work from his computer.


When Bob and his family were looking for a house in Phoenix, their daughter said they had to have one with a swimming pool. Bob asked her why, and she said everyone had a swimming pool. Later when she asked if she could have theater cast parties at their house. Bob wanted to know why they were having all the parties. His daughter's reply was that they were the only ones with a swimming pool. No wonder raising a teen-age girl took its toll on Bob. His daughter finished high school at Deer Valley High and went on to community college. She wanted to be a "techie" that did the set designs and lighting arrangements for theater shows.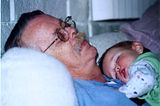 After she ran out of courses she could take at community college, she enrolled at Northern Arizona University (NAU) in Flagstaff. The scenery and climate there was like that in Colorado that she missed. She got engaged to a fellow techie and was married at Pioneer Park north of Phoenix. They had a daughter and Bob became a grand father. His daughter graduated with a Bachelor of Science Degree from NAU a few years ago. Bob's wife went to work for Hospice of the Valley working with terminally ill patients.


Bob and his wife spend time commuting between Tucson and Phoenix to see their daughter and her family. Bob's oldest grand daughter calls him "Bapa". They also spend time exploring Arizona and Mexico. When they were in Colorado, there were two months in the winter that they could not do anything outside because of the cold. The reverse was almost true in Arizona, but at least they could go out and use their swimming pool. It was not easy to go out and swim in the snow in Colorado.


In February of 2004 Bob became a grandfather again - another granddaughter. Sadly she is facing some serious medical problems. The doctors gave up on her and removed her from life support. They sent her home under the care of Hospice to die. Bob and family were making funeral arrangements for her. On the last day in the hospital, she showed signs of recovering. After about two weeks at home, she was schedule for surgery. So far she has had one open heart surgery. Please pray for her. She is improving every day. While she is in Flagstaff, she has to be on oxygen, but not when she comes to Phoenix. She will have another open heart surgery in July 2004. Meanwhile, her parents will be moving to Tucson so she will not have to be on oxygen. Here are recent photos of her and her sister at their birthday party. They were both born in February. The sister is 3 years old and the new grand daughter is 1 year old as of February, 2005.






She had her second heart surgery on July 12, 2004. They changed a few viens around and made one go to the lungs to regenerate the blood. The surgery went well and she is doing much better now. She has been released from the hospital a week after the surgery and will return to Tucson. She and her family have moved into a new house that the parents just bought. She should be able to stay off the oxygen tube now. There are no signs of any brain damage from earlier bleeding in the skull. She is doing all the things a baby her age does. She will have one more surgery around August 2005, then she should be done with them. A few weeks after the second surgery, she started having problems breathing. The doctors found that fluid was around the lungs and had collapsed one lung. They inserted a drainage tube to drain off the fluid until her body was able to absorb the fluid. She is alright now. She is starting to crawl and is starting to use a walker. Her sister is doing as fine as a three year old can do. Her vocabulary is increasing dramatically.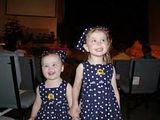 Aspen has had her third and final heart operation on June 26, 2006. They fixed a vein so it would return the old blood to the lungs instead of the heart. Everything went well with the operation. She has recovered and has returned to Tucson. There should be no more problems with her heart and she should be able to lead a normal life. She will not be able to be a racer in the Olympics, but she will be able to do anything that does not put a strain on her heart. She will be on antibiotics for the rest of her life because of the missing spleen. She is now 2 and half years old. Her sister is 4 and half years old. They will have a new brother about December 23, 2006. It has a normal heart and no known problems. My daughter and husband hope to have four children.

Well since the last update, Aspen has had two more heart operations for a total of five. It is finally over. She is doing well and has no limitations. She still has a trachea tube in her throat. We were told it would come out as soon as they are sure the vocal chords are not damaged. She starts Kindergarten this fall (2009) and should be able to do all that the other kids are doing. Chloe is doing fine also and looking forward to the start of school in the second grade. AJ was born on December 19, 2006 and was a healthy baby. However the doctors found he had Craniosynostosis. It is where the suture joints in the skull are solid and the skull plates cannot expand causing a swelling in the skull when the brain pushes out in the other areas. His mother had the same thing when she was a child in Colorado. At that time it was very common among children in Colorado. We were told it was not genetic and would not be passed on to her children. They were wrong. However he had an operation to fix it and is normal now. There is nothing else wrong with him. The following photo was taken at Easter in 2009.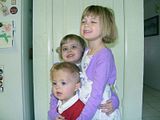 There is not anymore to add to the biography at this time. The next addition may be Elder Bob's obituary. It is possible Bob will go back and add more details to some of the events in his biography. Perhaps some day, Bob will return to the Pacific Northwest and hike the trails with his walker and backpack full of Geritol.


So watch out on your next hike for some old geezer on the trail with a knapsack, walking stick, in no hurry to get nowhere, friendly, sitting down wishfully looking at the women passing by and resting his aching body, because it may well be Elder Bob.