BLACK AND WHITE LAKES PRIMITIVE TRAIL...2.5 MILES
CONNECTS TO:
NORTH FORK SKOKOMISH RIVER TRAIL
FLAPJACK LAKES TRAIL

DIRECTIONS TO : STAIRCASE TRAILHEAD - MILEPOST 331

NEAREST CAMPGROUND: Staircase

RANGER STATION : Ranger station, pay phone, toilets, permit registration, water Stock Facilities: Overnight holding facility.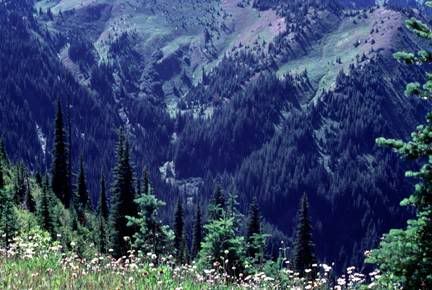 INFO ABOUT TRAIL :

CURRENT TRAIL CONDITIONS
TRAIL MAP
TRAIL DESCRIPTION
Please share any photos of trail.

Flapjack Lakes lay side by side at treeline at the base of the interesting rock formations of the short Sawtooth Range. Climbing routes in the Sawtooths and cross-country routes take off from Gladys Divide. Nearby, Black and White Lakes were manganese mining camp locations before the area became a park. Beargrass in season and other flowers abound.

The Black and White way trail is a steep route from Big Log Camp to the Black and White Lakes. It is brushy at both ends but is in good shape in between. Hiking this trail in the uphill direction is not recommended.




If God wanted me to touch my toes, he would have put them on my knees.