MAIN FORK DOSEWALLIPS RIVER TRAIL...11.3 MILES

CONNECTS TO:
DIRECTIONS TO : DOSEWALLIPS TRAILHEAD - MILEPOST 306


NEAREST CAMPGROUND: Dosewallips Campground : Elevation 1,540 feet, open spring to fall. 30 campsites, flush toilets, piped water, tables and fire rings. Recommended for tent trailers only due to road condition and limited campsite size. Fee. 100 tent spaces, 40 utility spaces, one dump station, three restrooms, two showers. All tent sites can handle RVs but do not provide hookups. To reserve a campsite, call Reservations Northwest: 800-452-5687. Check out the web site: Dosewallips State Park. State Parks Campsite Reservations: 800-452-5687

Dosewallips State Park: Dosewallips State Park is a 425-acre, year-round camping park with saltwater shoreline on Hood Canal and freshwater shoreline on either side of the Dosewallips River. The park offers both freshwater and saltwater activities. All camp areas are grassy and located in scenic, rustic settings.


DOSEWALLIPS STATE PARK

Historical replicas of logger wall tents have been erected within Dosewallips State Park. These are luxury camping tents, serving as an alternative to traditional camping. The tents have complete furnishing, unlike many of the logger, miner and early camper tents. The tents are placed 200 feet from the Dosewallips River, nestled in a maple forest. Summer visitors are able to hear the rush of the river, fall visitors see a colorful display of leaves, and in the spring, there is the smell of rhododendrons blooming.

The 16x14 white tents have a front wood porch and locking door. There is a bunk bed and futon, which combined sleeps five. Lights, a table and heater complete the equipped tents. Showers and toilets are nearby. The tents rent for $35 nightly.

HOOD CANAL LIVE CAMS show some of the breathtaking views of Hood Canal and Olympic mountains, hiking and biking on a five mile stretch of beach, boating, fishing, swimming, horseshoe pit, diving, clamming, crabbing, oysters, bird watching, mushrooming.


RANGER STATION : Ranger station, toilets, permit registration, water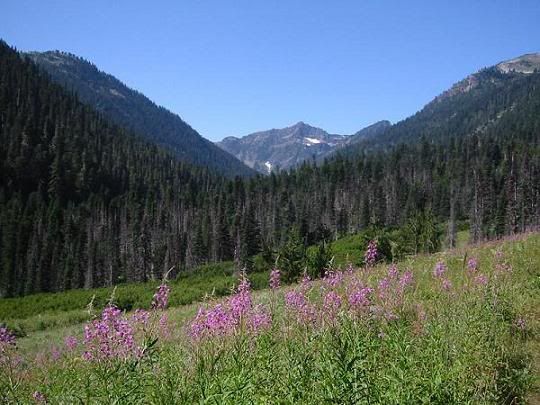 VARIOUS COMMENTS :

......Dosewallips means 'place of thieves'...

....About 2.5 hours from Seattle (we're using the Bainbridge Ferry and Hood Canal Bridge again) is DOSEWALLIPS (Dose - E - Wall - Ips). This is the take off point for the mountains that can be seen on the horizon from downtown Seattle and some of the wonderful river valleys and basins behind them. It is also the starting point for the Anderson Pass/Enchanted Valley route.....


....Campsites available at Dose Forks, Deception Creek, Camp Marion, Bear Camp, Dose Meadow. Wilderness permit necessary....











INFO ABOUT TRAIL :
THESE ARE JUST SOME OF THE TRAILS AT DOSEWALLIPS
MAIN FORK DOSEWALLIPS/CONSTANCE PASS
11 mi. one-way. Moderate. Access: Dosewallips Campground and Ranger Station. Take the Main Fork Dosewallips to the north, and you'll find yourself on a moderate climb through old-growth forests for 7.5 miles before the trail flattens out at Constance Pass. There are fields of wildflowers skirting the edge of Mount Constance. The trail ends in another 3.4 miles at Boulder Shelter in Olympic National Forest. You can also catch the Upper Big Quilcene Trail or the Upper Dungeness Trail here.

TERRACE LOOP TRAIL
1.5 miles, begins and ends 100 yards from the Dosewallips Ranger Station on the Dosewallips River trail. The Dosewallips River is accessible along this trail.

LAKE CONSTANCE ROUTE
2 miles, mountain lake, extremely steep, with opportunities for fishing, mountain climbing and views. NOT FOR THE NOVICE HIKER. Reservations required for overnight stays between Memorial Day and Labor Day. Call (360)877-5569.

MAIN FORK DOSEWALLIPS RIVER
15.4 miles with a gradual to steep grade through forest, alpine meadows and mountain pass. This is a versatile trail. You can catch a lot more of the inland trails from here, including Constance Pass Trail, the Gray Wolf Trail, and the Elwha River Trail. The Dosewallips side of the park sometimes seems like the neglected side--it's not as flashy as a glacial meadow or a rain forest. But the Dosewallips is one of the most beautiful rivers in the country, its jade-green water crashing down among narrow cliffs. And you might skirt some of the crowds.




I've learned....Life is like a roll of toilet paper. The closer it gets to the end, the faster it goes.