AUGUST 2003 .... OZETTE to RIALTO .... ALISON and SCOTT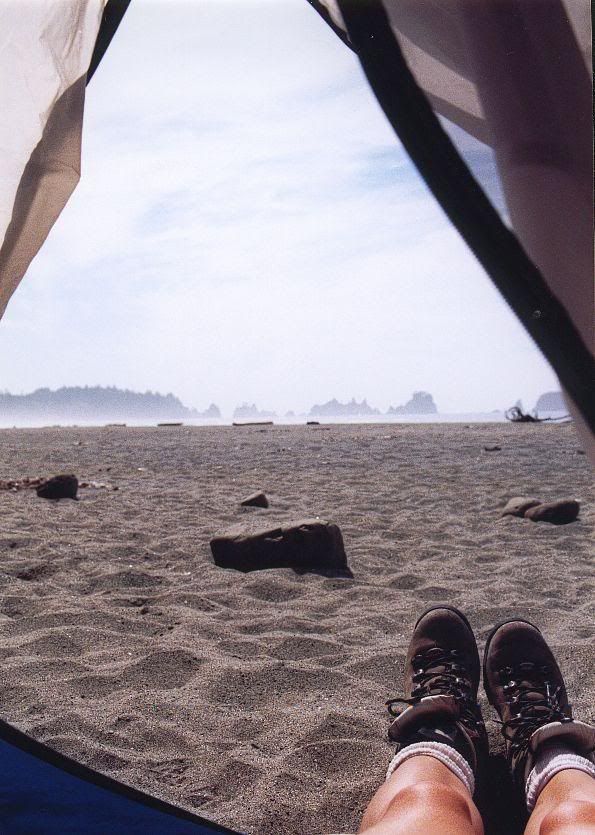 DAY 1 - OZETTE to CAPE ALAVA to WEDDING ROCKS

Cate dropped us off at Ozette ranger station after an adrenalin-pumping, one-and-a-half hour ride from Rialto Beach. We hit the trail around 5:30 PM, eager to reach Cape Alava before sunset. Under ominous, overcast skies, we hit the trail fully prepared for (and expecting) three days of rain-soaked hiking.


Our guide book warned of the slippery planks that overlie the 3.3 mile stretch through green forest to the beach. Fortunately, the planks were dry, and we somehow managed to reach Cape Alava without a single slip.


I wore running shoes, Scott wore boots, and both were fine. The descent to Alava is stunning. When we finally reached the beach, I stopped to put on boots and an ankle brace (an absolute "must have" for anybody with an even remotely weak ankle who intends to hike this stretch of coastline...).


After taking in the views, we proceeded south to our camp spot near Wedding Rocks. Earlier in the day, a ranger had told us that the archaeological site north of Cape Alava was inactive, so we decided to forego retracing our steps to visit the site in the morning.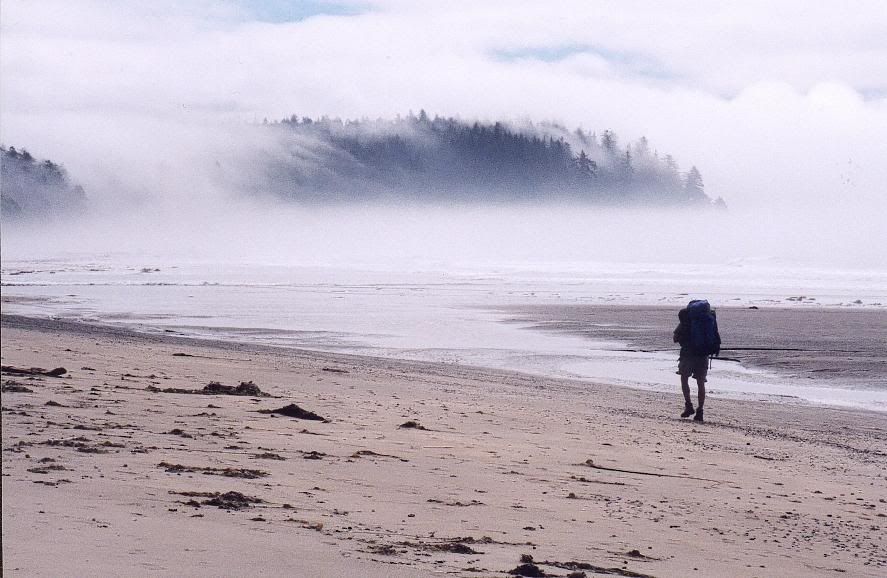 DAY 2 - WEDDING ROCKS to NORWEGIAN MEMORIAL

The morning was misty and cool, but, most importantly, dry. After leaving camp to begin our journey down the "Shipwreck Coast" (as this 20-mile stretch is known), we met a 'sand collector' from New Jersey, and walked with him to the petroglyphs at Wedding Rocks. Scott had picked up a packet of information from the rangers at Ozette -- descriptions of the petroglyphs and a detailed map of where to find each one. It was a bit like an Easter egg hunt. Apparently, University of Washington archaeologists have securely tied the Wedding Rocks petroglyphs to the occupation of the archaeological site north of Cape Alava. This assessment was made on the basis of similar motifs found on artifacts from the site and the petroglyphs at Wedding Rocks (including a rather graphic 'fertility symbol'). The site had been buried in a mud slide approximately 500 years ago, and the University of Washington excavated it during the 1970s, 80s, and early 90s. Today, many of the artifacts can be seen at the Makah Museum in Neah Bay, a worthwhile post-backpacking stop.


After Wedding Rocks, the beach continues in its rocky, though not unpleasant, state to the aptly-named Sand Point. Along this stretch, we saw our first bald eagle on this trip. Over the next three days, we would have an opportunity to admire three or four more in their natural habitat.


Once we rounded Sand Point, an open expanse of beautiful white sand beach lay before us. The beach extended as far as the eye could see, and we began to speculate about the accuracy of Cate's warning that the hike was a rocky and sometimes treacherous one. With the unexpected appearance of the sun, and the ideal conditions and scenery of the beach, we took a carefree stroll over the next 3 miles to Yellowbanks.



At Yellowbanks, we hit our first significant headland. Since the tide was low, we went around the headland and over some slippery, wet rocks. However, we did find a natural hole in an outcropping, and climbed through it to avoid a treacherous looking stretch. Once we rounded the headland, we were back on beautiful, sandy beach. About halfway down this beach, we encountered the world's happiest man.


From in front of his idyllic camp site just off the beach, he sat on a log, waving enthusiastically to we passers-by. Due to his long, unkempt hair and full beard, we suspect he had been there for months, perhaps even years .... long since deciding there was no reason to leave, having found the perfect camp site...and who could blame him? Unfortunately, our own slice of serenity was still many miles away.


Another short headland crossing brought us onto a rocky, log-strewn beach, covered with buoys and other debris. In some places, the logs stretched from cliff face to water, requiring us to climb over or under them ... neither option being an easy task with a full pack. Shortly, we came across two black-tail deer snacking on some tree leaves along the beach. To reach the higher leaves, they would raise up on their haunches. Apparently, it was some awfully good grub, because they really could not have cared less about the humanoids in their midst.


Around 4 PM, we finally came to the last headland before Norwegian Memorial. High tide was approaching, so we picked a log on which to sprawl and wait for the tide to turn. We took off our packs, freed our aching feet from our boots (sweet relief), and settled in for dinner (Mountain House lasagna...mmm, mmm, good). After dinner, we looked at the map and wondered aloud as to the meaning of the little black triangle and the word "face" adjacent to the headland we were about to round. Nothing on the map explained either mark.




With an hour to go, Scott decided to wander up the beach. On our way down, we had noticed that a great number of fishing floats littered this particular stretch of shoreline shore. I had mentioned how I had always wanted to find one of the Japanese glass fishing floats that were known to wash up on Washington and Oregon's coastlines. Scott decided he would have a look, but returned empty-handed about 45 minutes later. He took a seat against the log where we had been sitting, and I got up to set up my camera to take a picture of us both. When I stood, I looked down and saw the most unexpected thing...a blue-green glass fishing float, directly under the log against which I had been resting. What are the odds? There has to be a lesson there somewhere...:-)


At about 6:30, after the tide had subsided a bit, we packed up and started on our way around what looked on the map like a fairly small headland. We rounded the first bend, and saw that the rocks continued on along and around the face of a cliff as far as the eye could see. In the end, it took us more than TWO hours to get around the 'face' and onto the beach at Norwegian Memorial. The rocks were large, slippery, and downright nasty. Even though we knew the tide was going out, we also knew the sun was setting, so the race was on... It was the only truly hairy part of the trip. Along the way we passed places where people had apparently gotten caught by the tide, and had to build a fire in a tiny "cove" to wait it out. Not wanting to spend the night in a similar predicament, we did our best to keep moving.


We came around to the beach at Norwegian Memorial shortly after sunset, and made a beeline for the trees to find a camp spot. It had been a long, 10-mile day walking on rocks, logs, and seaweed. We found the memorial, which is actually an amazing campground, set up our tent, and gladly collapsed for the night. We were too grateful to have found a camp spot before dark, and tired from the walk, to give too much thought to the fact that 12 victims from the shipwreck are actually buried on the site.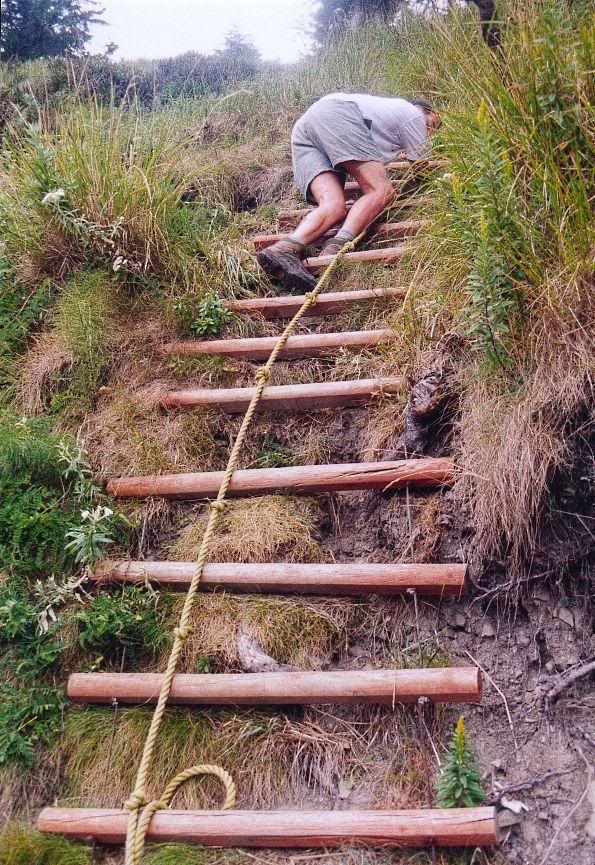 DAY 3 - NORWEGIAN MEMORIAL to CHILEAN MEMORIAL


The morning was misty (again), but soon the fog burned off to yet another glorious day. The beach running south from Norwegian Memorial is truly spectacular, and we decided that if we ever came this way again, we would spend at least two nights in that vicinity. As it was, we had reservations at a local Bed & Breakfast in two nights ( the EAGLE POINT INN in Beaver, a terrific spot as it turned out), so we hiked the six miles to our next designated campsite, Chilean Memorial.


Along the way, we attempted some headland crossings, and soon found that going around is the more pleasant option whenever the tide allows. Typically, the routes over the headlands are very steep, and often require the use of precipitous stairways, rope ladders, or ropes to ascend and descend. However, it did seem to us that the headland crossings are easier to navigate if you hike the route from North to South, as we did. Just past Starbuck Mine, we passed a headland crossing that looked like it would be a bear at high tide. The "stairs" go straight up about 60 feet, it is more of a ladder really, with a rope along side to cling to. We were happy to go around the headland.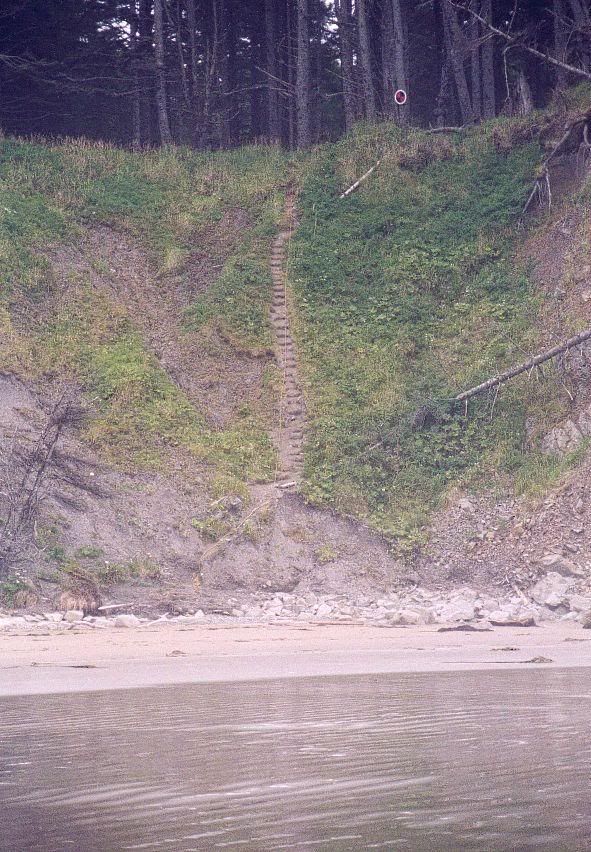 When we arrived at Chilean Memorial, a fog had rolled in and the cove seemed dark and foreboding. As we looked for a camp spot on the bluff (the beach is rocky), we found a little wood sign that read "Toilet." I scrambled up the trail and walked through the woods, and sure enough, there is a pit toilet in the woods, completely exposed except for a short fence on one side. A more splendid spot for deep thinking is hard to imagine. Quite an unexpected luxury, and certainly good for a laugh.


We set up camp on the bluff over the beach, and the sun came out. Unlike the previous day, we had all afternoon to lounge in the sun, do some reading and rock hounding, and take a heart-stopping splash in the local stream.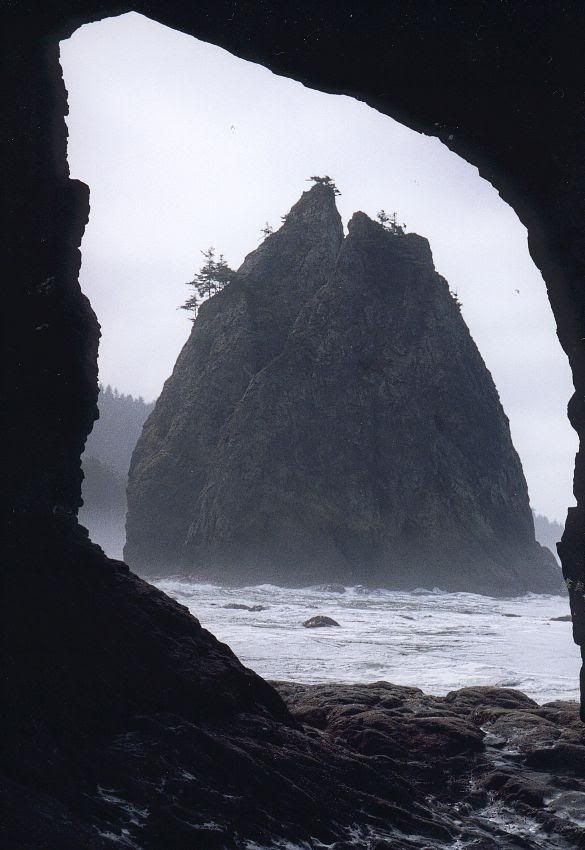 DAY 4 - CHILEAN MEMORIAL to RIALTO BEACH


We got up the next morning, to the now expected mist, and headed out for the last 3 and half miles to Rialto Beach. We needed to make certain we had time to beat the tide around Cape Johnson, so we walked pretty steadily and quickly. Finishing up at Rialto is glorious. Hole in the Wall is beautiful, it was a beautiful day, Rialto is gorgeous, our car was still there, and, most importantly, we had not lost the keys.


This was a trip we will treasure and never forget.





THINGS WE WISHED WE HAD:
Gloves to protect our hands on barnacles and ropes

Headlamps for setting up camp in the dark
THINGS WE ARE GLAD WE HAD:
Ankle brace

Good boots, with a good gripping sole

Teriyaki beef jerky

Band-aid blister pads

Lots and lots of film


AUTHOR HAS KINDLY INCLUDED EMAIL ADDRESS IF YOU HAVE QUESTIONS........ ALISON


Coca-Cola was originally green.