DAVID, DEBBIE, JON, AND JEANNIE'S OLYMPIC TREK
After spending 3 nights camped on the North Coast the 4 of us hiked out from the Chilean Memorial to Rialto Beach. We then drove south on 101 to Undie Rd. which took us to the Bogachiel River trail head.


The Bogachiel is a seldom visited rain forest that is a beautiful, long and respectful approach to the high country of Olympic National Park. It is also a difficult route due to a lack of maintenance in the upper valley.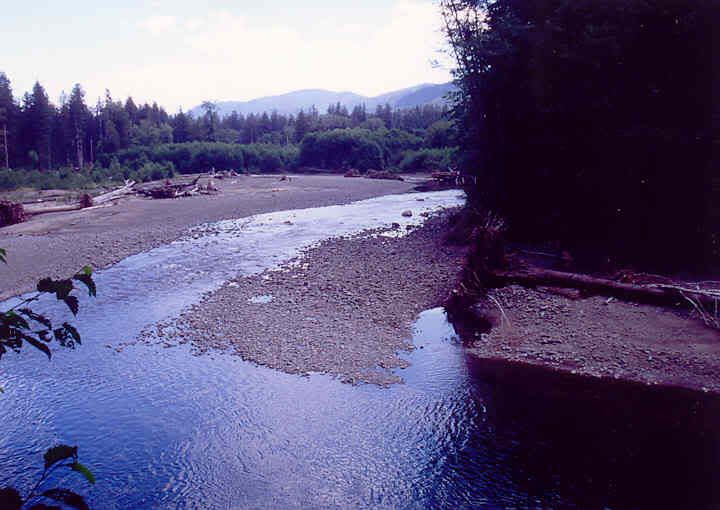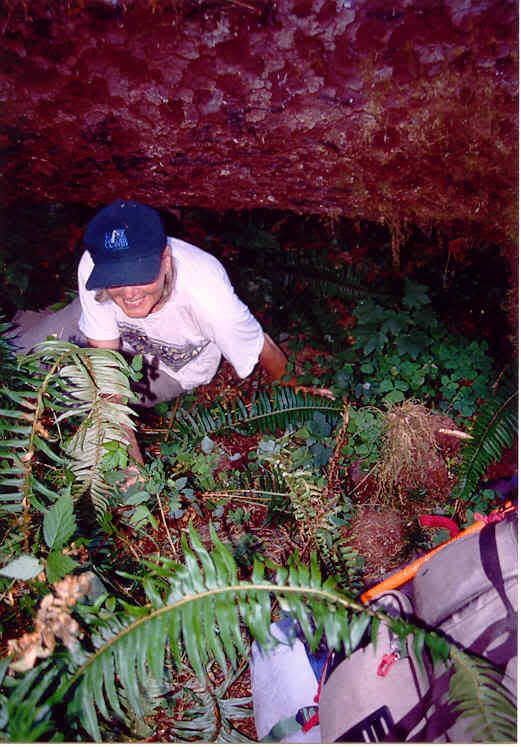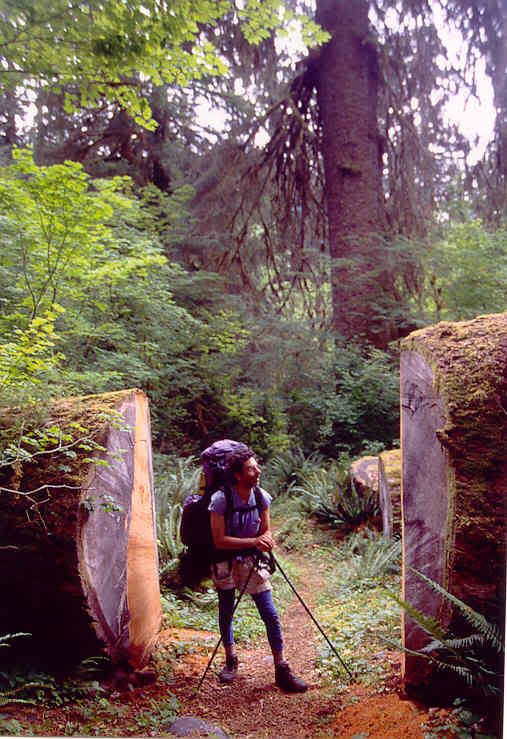 Day 1: 6 miles to Indian Creek

An easy hike along a flat trail with lots of berries to eat. Near Mosquito Creek there was a bad washout but the Park Service had put in a very necessary rope assist. Ah, to have such help further on. We camped on a sandy beach along the Bogachiel.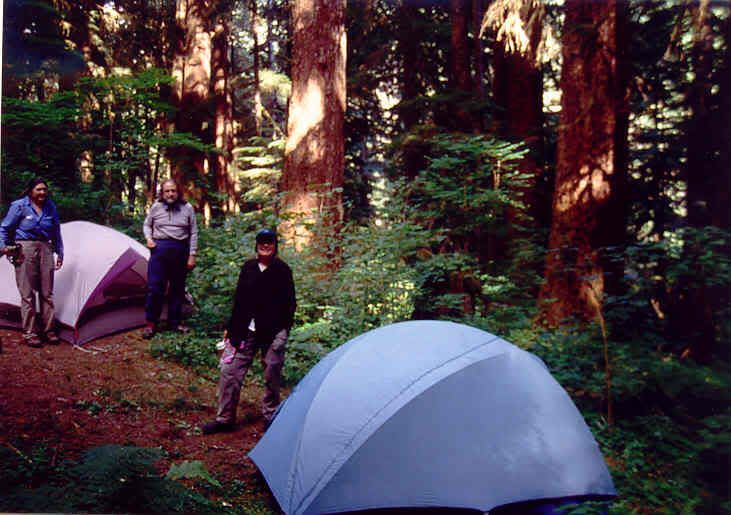 Day 2: 8.3 miles to 15 mile shelter

Easy going at first but then the trail maintenance ended. There were giant trees across the trail. Some we climbed over, some we crawled under usually having to pass our packs over or under. There were also washouts to be negotiated. It all made for a very long day. We did have a beautiful lunch spot along Spawner Creek. Here the Bogachiel formed blue-green pools between rapids with flowers along the rocky banks. 15 mile shelter is ugly but we set our tents in a cathedral of tall trees.



Day 3: 6.3 miles to 21 mile shelter

Two of us had strained knees from yesterday's blow downs. We were moving slow but there were fewer blow downs and less miles to hike. Early on we crossed a bridge over the North Fork of the Bogachiel with lovely views down to the river. Along the way we saw 3 species of wild orchids. 21 mile shelter has collapsed in a winter storm but had room for tents nearby.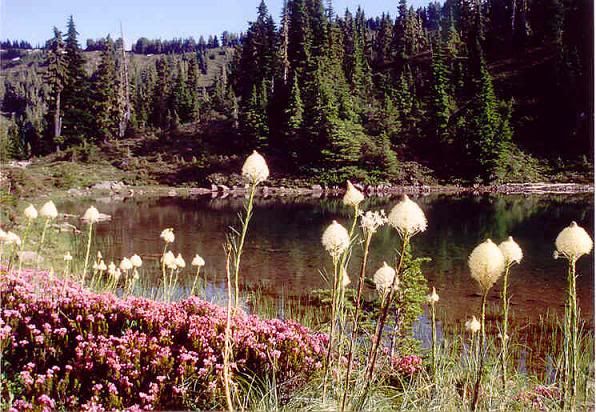 Day 4: 9 miles to Potholes

Nursing injuries we decided to hike slowly with lots of rest stops. The trail climbs steeply, 2100' in 2 miles, but the blow downs were now small trees easy to step over. We finally reached Little Divide and the beginning of endless views of snow capped peaks, fabulous wild flower displays and well maintained trails. We descended to Deer Lake, saw some deer and did one final climb to the Potholes. The Potholes are a group of tarns among pink and white heather and beargrass, a wonderful place to soak our weary bodies.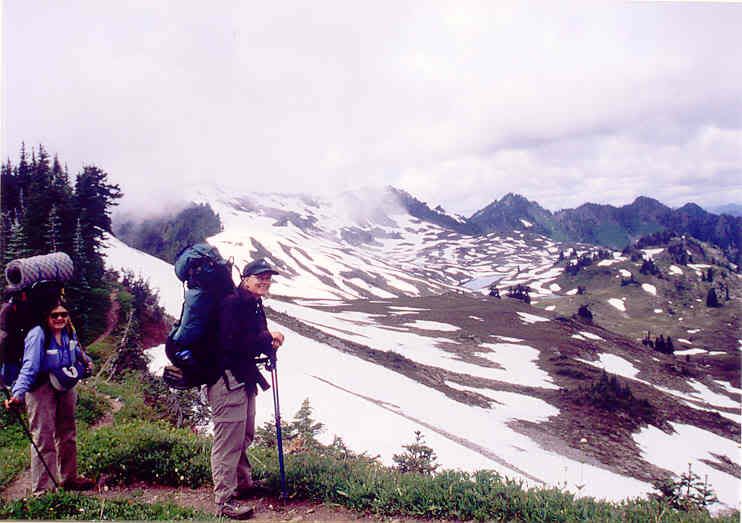 Day 5: 6.5 miles to Ocarina Lake above Cat Creek Basin

Climbing out of the Potholes we reach the High Divide. The incoming clouds did not hide the magnificent view of Mt. Tom, Mt. Olympus and the Bailey Range. We saw a large heard of elk in a meadow below us and a marmot resting on rock near the trail. The meadows were covered with every type of wild flower but especially great were the fields of avalanche lilies. There was still plenty of snow on the trail but presented no difficulty.



Day 6: Planned layover day

A cold steady rain with near zero visibility kept us in our tents all day.










Day 7: Unplanned layover day

With clear skies we decided to do yesterday's planned hike along the divide to the formal trail's end and beyond. The views were wonderful at first but soon clouds rolled in from above and fog rose up from the Hoh Valley. Beyond the official trail's end the route became a narrow, steep traverse and since we couldn't see any views we headed back to camp. An even colder afternoon rain kept us tent bound.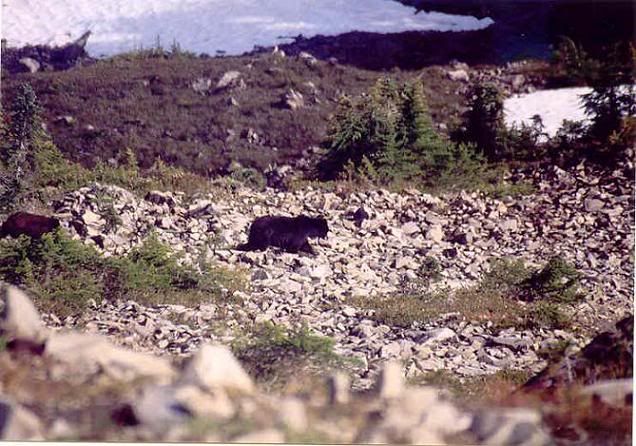 Day 8: 10 miles to Lewis Meadows

We retraced our steps along High Divide to the Hoh Lake Trail. We had great views until the clouds rolled in but this time No Rain! Along the way we twice saw a bear with 2 cubs. The second time we were quite close. The mama bear gave us a casual look then slowly move on with her cubs. At the start of the Hoh Lake Trail there were 2 short but steep snow traverses before the long 4,200' descent to the Hoh River. Passed a beautiful calypso orchid on the way down.














Day 9: Layover day

We were now one day behind our planned route. We had intended to backpack up to Glacier Meadows and take a layover day there. Instead we opted to relax in the Hoh Rain Forest except me. It being ONLY 8 miles and 4,000' to the trail's end I decided to head up. Up over the incredible Hi Hoh Bridge, up past Elk Lake, up to the Glacier Meadows camp, up through the flowers and rocks to...WOW! At the end of the Hoh River Trail under dazzling blue skies was Mt. Olympus and the Blue Glacier. Could it get better than this? Of course now I had to return those 8 miles and 4,000'. A plunge in the cool refreshing Hoh River help revive me.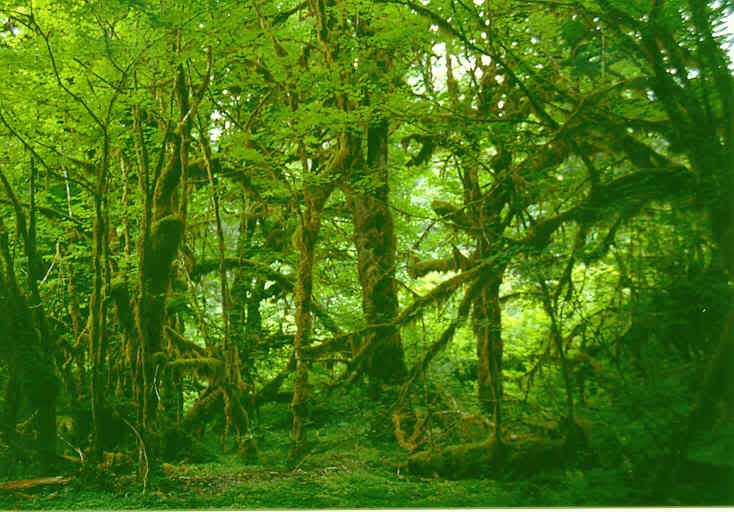 Day 10: 5 miles to 5.4 mile camp

We now had an easy stroll through the Hoh Rain Forest and camped under mossy big leaf maples with black raspberries to eat.





Day 11: 5 miles to the Hoh Visitor Center

Another easy stroll along the Hoh passing many people hiking in. Despite the aches and pains Debbie said it was her favorite hike. And what a way to end our trek with a fabulous ride with the incredible Cate De Shazer.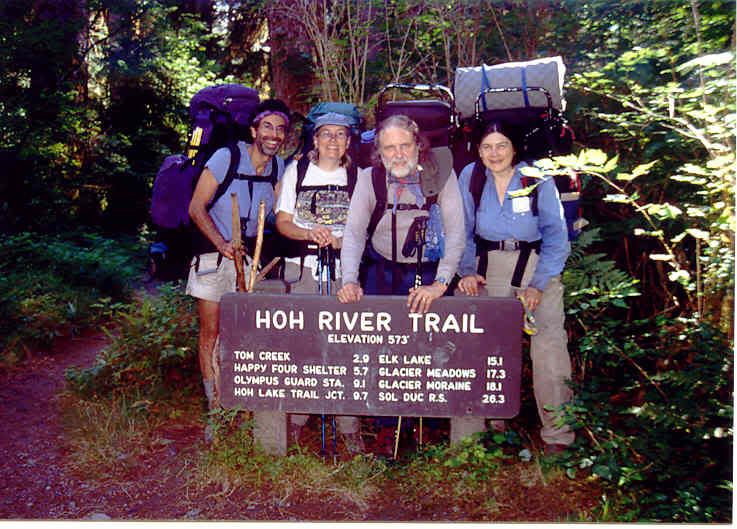 Man who live in glass house should change clothes in basement.