RIALTO-OZETTE JULIE AND CHAD'S HIKE June 25, 2002
Items we were most thankful we brought:
Hiking poles
Sturdy boots with ankle support and stiff soles (for the rocks)
Thermarest mattresses! An easy luxury, needed for long hikes
Rain gear (pack cover, ponchos and pants and jacket)
Wide brimmed hat (helped with sun and rain)
Peanut butter (yummy! We added it to everything for protein)
Cheese (same idea as peanut butter)
Water filter/camel backs
Paperback book/cards
Sunglasses
Camera
Items we wish we had brought:
Light gloves
Medical kit (huge oversight - ironic since one of us is a Doctor)
Change of clean/dry clothes for the car
Contacts (Julie wore glasses the whole time, and they often steamed up)
Duct tape - fixes just about everything


Noteworthy:
Itineraries need to be registered with the forest rangers before you leave. Also, make sure to pick up a bear can (or two) from them ($3 per can, return when you are done). We used two cans for two people, and 3.5 days. You have to put EVERYTHING scented in it (including toiletries).






Our trip was fantastic. We met Cate at Sappho. While this is not an ideal meeting point for her, it worked for us. We had spent the night in the Olympic Mountains, and were ready to head for the coast. You could say Cate travels in a timely manner. Be reassured that your bottom will be swayed, not slid, as she also drives locals from Forks to Seattle for their medical appointments.We followed her to Lake Ozette, dropped off our car, and got in her car so that she could take us to our starting point..Rialto Beach.

Cate provided us many inside tips while cruising on the coastline. She told us where to watch for deer, how the area has been developed, and how a park ranger was almost overcome by wild boar. We truly enjoyed having her as a host.

When we reached Rialto beach she gave us some parting gifts. Packed with our caramels, and having already one photo opportunity captured we were ready to hike. James Island and the surroundings were beautiful. From the beginning we were quite fortunate with 70 plus degree weather, and not a cloud in the sky.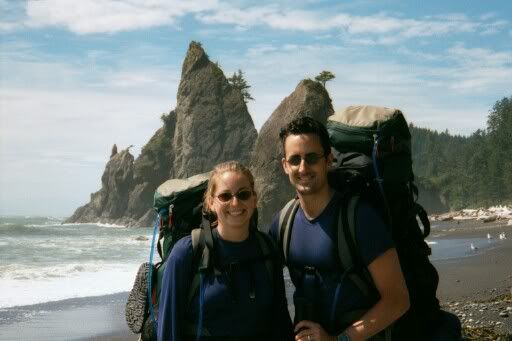 Once we reached Hole in the Wall (1.5 miles of sand) it had already been a long day with the drive from Sappho to Ozette then down to Rialto, so we set up Camp. The sights were good. We had a great view of the ocean and seagulls. While waiting patiently, we viewed sea lions perusing the waters for dinner.

That provided us the initiative to hike down to Ellen Creek for our own meal. We chose to do that for the fresh water source. Dinner was great. All the meals were planned using NOLS book - Backpackers Pantry as a guide (highly recommended). Afterwards we headed back to camp. There we had a bonfire, watched the sunset, and celebrated our first day hiking the Olympic Coast.








Day two: Hole in the Wall to Cedar Creek (7.2 miles)

This was a very long day of hiking! We woke up at 5:30, broke camp at Hole-in-the-Wall (HITW), late breakfast (learning to cook with sand everywhere) and hit the road. Breakfast was oatmeal with some peanut butter stirred in and coffee. It was pretty cold in the morning, so the warm breakfast was great. Plus the peanut butter oatmeal really stuck to our ribs, so it fueled us for most of the hike. Julie wished she had a pair of light gloves for the morning (and wished it almost every morning). It was about 7 am when we hit the road.

We had to get up so early in order to make sure the tide was low enough for the 4 miles that we had to clear before the tide came in. There are certain points along the trail that you have to have a low tide to pass (we called them pinch points), there are others that have an overland route (hard rope climbing and slippery slopes) that you can take if the tide is too high. Needless to say, both were easier with a low tide that we could just walk around the point on. The low tide was at 8:30 am, and the ranger had (accurately) told us that we would be able to clear these points 2 hrs before and after the low. We had to clear the first 4 miles of our 7.2 mile hike before the tide came up, and then we were clear of the pinch points for the day.

Anyway, as we passed through the HITW, there was another early bird strolling the beach who took a picture of us framed by the huge rock archway of hole in the wall. Great picture opportunity with La Push in the back ground. There were neat tide pools this whole stretch. Lots of little rock crabs that we named 'Jersey Crabs' because the would rear up and shake the claws (i.e. fists of the New Jersey cabbie) when we walked by.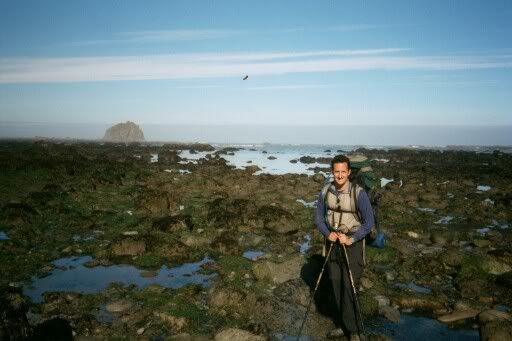 The next point that is cleared after HITW is really rocky. We soon found out that the entire 4 mile stretch was rocky. It was a good thing that we gave ourselves so much time to pass the pinch points, because the rocky stretches were slow going (about a mile an hour). Huge boulders, sharp outcroppings, and slippery seaweed covered rock tide pools were all that we saw for a long time. Chad was using the hiking poles, but Julie was not a believer on the usefulness of poles on rocks. But, Julie was easily convinced when she slipped an fell on the rocks. The pack sure provides extra momentum, so moving slowly and carefully is important if you fall. We wound up both using the hiking poles a little like training wheels, out to the side, to help keep us balanced. The poles one the 'item we are most thankful we brought' by the end of the day.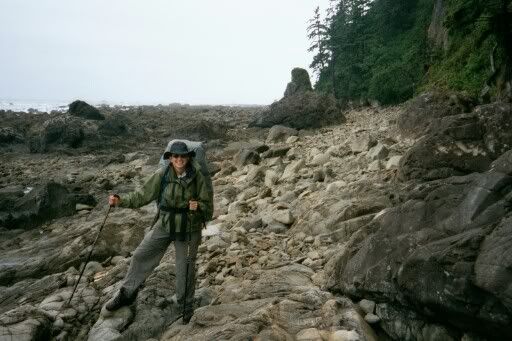 We were really anxious to clear Cape Johnson and the next pinch point (unnamed on the map), before the tide came up, so we really pushed . It took 3.5 hrs of constant hiking (no breaks) to clear our 4 mile goal. We had a little room to spare on the last pinch point, but not much. It was very important to know the rocky conditions and slow going when planning the trip and how much time to give around the tides.













Luckily, some nice hikers going the opposite way told us that it was all sand after the 4 miles. And it was! What a great reward! We still had a little over 3 miles to go, but we took a nice long break here. We used the fresh water (first we had run into for the day) in the first sandy beach to filter and fill our camel backs. We named this first sandy cove 'nature cove' because we saw 5 or 6 bald eagles, a fawn and her mom and all sorts of birds. We even saw a bald eagle swoop down, grab a fish out the water with its beak and then transfer the fish into its talons and fly away. Amazing, and about 75 feet from us! We ate lunch, took a nap on the beach and then headed on.










Since the tide had come up during our break, we had to use the overland trails on a few points. Pretty much a scramble up and down. We even had to use a rope ladder to repel down one of them. Tricky with a pack, but we are now way more comfortable moving around with the packs on.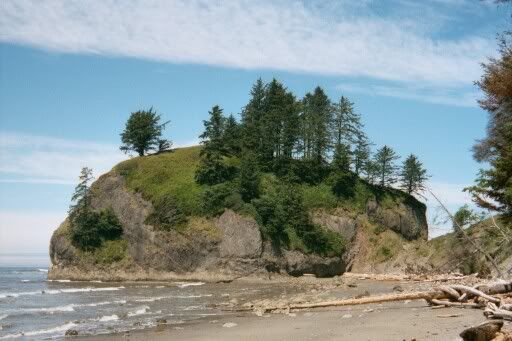 The last 3 miles was mostly sand, but we were both pretty tired. We were both surprised to see how tiring walking on the boulders and rocks are! We used muscles we did not even know we had to balance us.

As we approached our destination (Cedar Creek), a huge wall of white fog rolled in. We wee worried that rain would follow so we skipped exploring Starbuck mine and the ruin that were in this area and set up camp. We did not really notice where the mine and the ruin were, but we did not look very hard.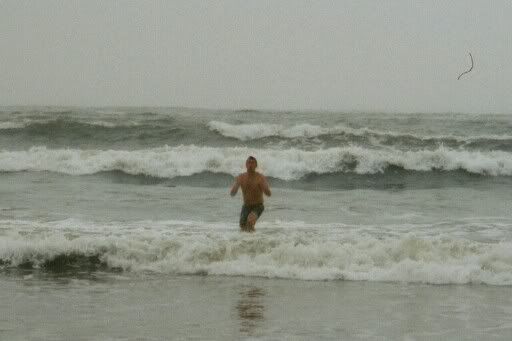 As we looked for a good campsite, Chad got into stinging nettle, which pretty much settled the debate as to finding an unsettled site or an obviously camped at location (we chose the latter). I built a fire and Chad changed into swim trunks and ran into the surf to wash off. After seeing his reaction (cold!), Julie passed on the idea. But, Chad felt invigorated and put on the last of his clean clothes.

We were starving, so we went to the creek to get fresh water and cook dinner. What an amazing day! We had a big day ahead of us, so we went to bed before sun set.





Day two; Cedar Creek to Sand Point (8.5 miles)

It started raining part way through the night, and it was still raining when we woke up, so we woke up with things a bit soggy. We were thankful that we had pitched the tent under a tree, and put the rain fly on. Our tent (REI) creates little vestibules with the rain fly, which our packs fit under perfectly, so luckily, nothing got very wet. We broke camp as quickly as possible, and headed over to the river to make breakfast. Once again, Julie wished she had gloves. We took a long time trying to find a covered spot near the river to make breakfast, and probably wound up wetter than if we had just cooked out in the open immediately. However, the warm food was welcomed, and we set out. We each had on our rain gear, our pack rain cover and ponchos on to cover the whole ensemble. We did not get wet through to our clothes with that get up. Obviously, rain gear is essential on the coast, as it rains about every third day or so on average.

We hit the trail at about 7:30 am, needing the leeway around pinch point again today. This time we had to clear the pinch point just north of yellow banks during low tide (about 6 miles). All I can say is rocks, rocks, rocks. The first 5.5 hrs of the hike was rocks, with no breaks. The novelty of the tidepools was wearing off, and our feet started to develop stone bruises. It was still very beautiful, but also challenging. We were pretty much heads down and constant motion for 4 hrs and then took a lunch break (it had stopped raining, too). Chad developed a new song, step in the cracks, I like crack, lots of crack! (repeat) that became our mantra. We learned that with the small boulders, it was a lot easier to step in the cracks in between the boulders than to try and hop boulders. There was this really slippery black stuff (algae?) that covered some of the rocks, and it was almost like a cartoon banana peel. In order to miss it, you had to step in between the rocks. We called the black stuff 'black oil' in homage to X-files. About 4.5 hrs into our 5.5 hrs of rocks, we saw a father/sons group heading our opposite direction. The father was pretty badly scraped up on his face. He said he tried to break his fall from a rock with his face. He was all right, but I imagine that it will leave a mark! It made us re-think the confidence that we had developed traversing the rocks. But, they did tell us that just south of Yellow banks, the trail turned back to sand! We wished we could tell them the same, but it did renew our spirits.


Sure enough, yellow banks was all sand. The pinch point at Yellow Banks was a little sketchy for us (the hide was too high), so we used the tunnel that was mentioned on the map as 'or use tunnel'). This prove to be a challenge too! There was this little tunnel that had been created by the tide, but it was about 10 feet up in the air, and you had to scramble up a steep, slippery rock wall to reach it, squeeze through on your hands and knees (including your big pack) and then do the same in reverse on the way down. It felt like we were giant turtles trying to cram our packs through the whole. Not as easy as the 'or use tunnel' suggests on the map. However, we were successful, and popped out with a nice view of Sand Point.

It was a 2.1 mile hike along the Sand Point Cove to our campsite. Lots of sand! We passed a boy scout troop heading the opposite way to Yellow Banks to camp. We kind of shook our heads imagining the entire troop and parents squeezing through the tunnel. Maybe they waited until low tide?



At this point, we were very tired, a little dehydrated (our water ran out after the tunnel) and wanting to put our feet up. We filtered some water near camp and picked a beautiful camp site that looked right onto the inlet (early afternoon). Campfires were not allowed here, so we set up camp and hung all our wet stuff up to let it dry. Julie read and Chad explored. We both wound up taking a nap in the tent. We cooked a great meal on the beach, ate as much as we wanted (last night), and went to bed with full tummies! What a day!


Day 3; Sand Point, to Cape Alava to Lake Ozette (6.2)miles

We got up pretty early, since we were used to it, broke camp, and went down to the creek to cook breakfast. We got in the habit of cooking at the water source, since you had easy access to water to boil for food, and we could filter water for the rest of the day, while we waited for the water to boil. (We liked our camel back water cold from the river). Once again, we filled our stomachs and headed out. It started to lightly rain on us, so we put on some rain gear. There is a trail directly to the Lake Ozette ranger station from Sand Point, but we wanted to see Cape Alava. There is another trail into Lake Ozette from Cape Alava. The hike to Cape Alava was nice, with a mix of rocks and sand. We saw more deer along the way, and used another rope ladder. However, it started to rain even harder. When we reached Cape Alava, we headed in along the boardwalk to Lake Ozette. The trail is literally a long boarded sidewalk. It was a beautiful walk through forests and meadows, but very slippery since it was raining so hard. We watched our footing, but moved swiftly since we knew the end was near! After 3 miles we reached the ranger station, and our car! We wished that we had left a pair of clean, dry clothes in the car, but we were just happy to get out from the rain!

What an amazing trip!!! I would do it again, anytime! It was very nice to have the car at the finish line so that we did not have to wait for a ride. We would definitely use Cate again to drop us off at the start so that the car would be there at the finish!

Great memories, great scenery and amazing company!



War does not determine who is right, war determine who is left.