DEER PARK - OBSTRUCTION POINT JOURNAL SEPT 2002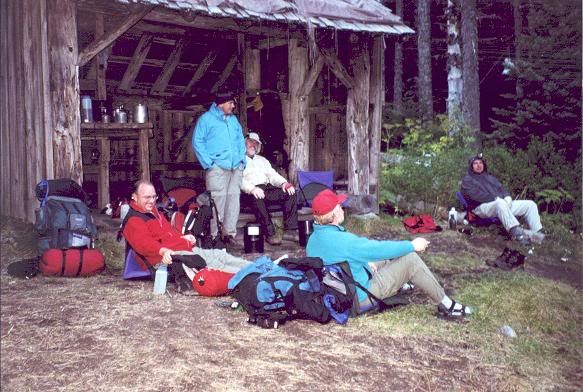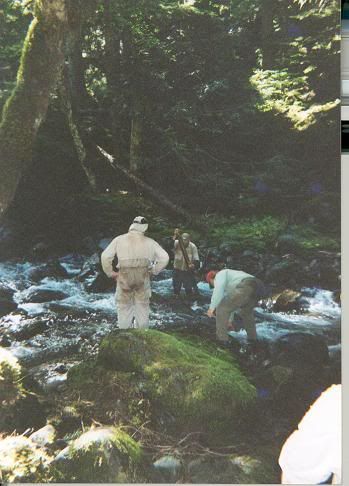 SEPT 8 CAMP ELLIS CAMPGROUND

We started at Deer Park this morning. We were a little slow getting out of camp because we had extra beer. Naturally, this induced us to have not just one but several trail head beers. (we were not going to carry them). There's no trash service at Deer Park so we had to rely on the kindness of strangers to avoid being bad campers. Luckily we found two very kind strangers who agreed to carry our trash out for us on their pickup truck. Jack cut his forehead wide open last night by walking into a branch. and Dan put a gash in his hand trying to help Ken on a river crossing.


Lots of frost (almost ice) on the tents at Deer Park this morning. There are also a lot more bugs here than would seem right for how cold it is. A little rainy this morning, mostly drizzle and very little sun. It was cold when we stopped for breaks but it didn't get much colder when the sun went down. Hike from Deer Park was very steep and almost all down to Three forks then almost all up from three forks to Camp Ellis. There was one pretty hairy river crossing about 2 miles before Camp Ellis. The "bridge" consisted of one thin log over relatively slow water to a little island then a thicker slanted log but it was about 6 feet over some really fast water rushing around several rocks. Not a good place to slip. We have seen no one since leaving Deer Park.



SEPT 9 FALLS SHELTER
Ken's Birthday. We saw no one all day today again then two backpackers walked into camp around 4:30. We made it up here about noon and had sunny camp all afternoon. The short day was planned as we're trying to rest up for tomorrow which we all think is going to be long with lots of up and down. (no a bad thing generally if we were not talking about hiking). The trail from Camp Ellis had a pretty vigorous climb to begin with but then leveled off after switchbacking up a ridge that took us pretty far above the Grey Wolf River. Camp is on the North side of sharp bend in the river that created an almost island with smooth rock beach. It was a sunny island until late afternoon and we enjoyed it.






SEPT 10 THREE FORKS SHELTER

Last night was much the same as the night before... warm enough you didn't need mummy up completely. Got a late start this morning mainly due to sore muscles and not looking forward to the steep and long trail we had mapped out for ourselves. We eventually decided to head back down to Three Forks and head up Cameron Creek to pick up our previously mapped trail right before Cameron Pass. We saw 6 people on the trail today.






SEPT 11 JUST BELOW THE GRAND PASS TRAIL JUNCTION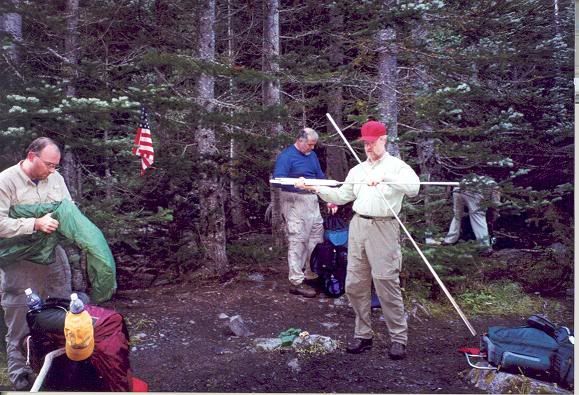 We did 7.25 mile and about 2000 vertical feet up from Three Forks today with lots of up an down. Ken was feeling so good he even made a log crossing. I saw a black bear about 3 miles up from three forks. I was in front and saw it while Jack was pissing on the trail behind me. We tried to back away like we're supposed to but probably didn't accomplish the prescribed maneuver appropriately. Hung back down the trail a while and never saw the bear again.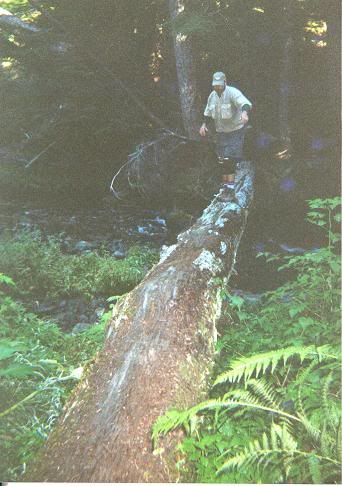 Mike saw a ptarmigan today too. Ken brought an American flag to hand in camp today in honor of 9/11. We're camped now just southwest of the grand pass trail junction. Saw one ranger today (Luke Hodgson). Great weather again. Not too cold at night but very humid during the day. The trail guide we have describes "several good campsites" in this area. It's a lie. No sites are really sufficient for our tents.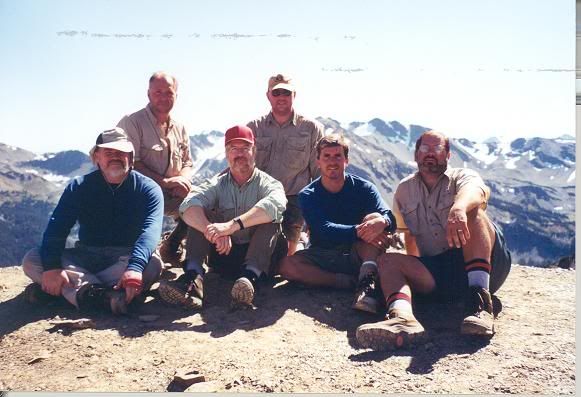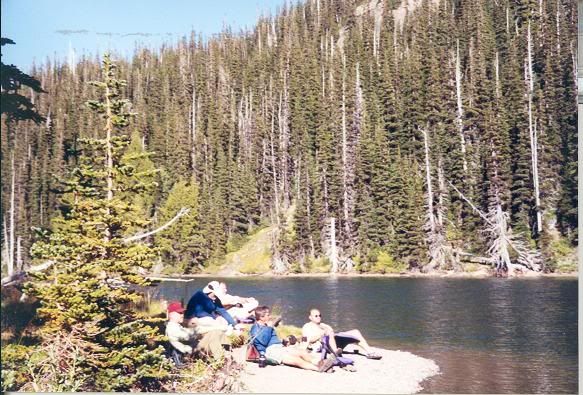 SEPT 12 MOOSE LAKE

Prettiest campsite yet but place is infested with deer, marmots and mosquito. Lots of fish jumping in the lake and lots of people camped all around the lake. We hiked over grand pass today. It's the highest point on our revised trip. There were beautiful vistas all the way up and down.









Ed met his second wife today. She's about 80 years old and out hiked us all day. We met her at the top of grand pass and she's now camped just below us. She declined Ed's invitation to camp with us so Ed went down to see her. Stayed gone so long we were wondering where he'd gotten off to. We thought he might be trying to avoid the traditional, last night out talent show but we ended up giving us the Special Ed version of Big Rock Candy Mountain. It was one of the best talent shows ever. He must have been off practicing.






You have the right to remain silent.
Anything you say will be misquoted then used against you.