ENCHANTED VALLEY SEPT 2002
Trip Journal - Enchanted Valley/ONeil Pass/North Fork Skokomish Trails
See bottom for equipment list and recipes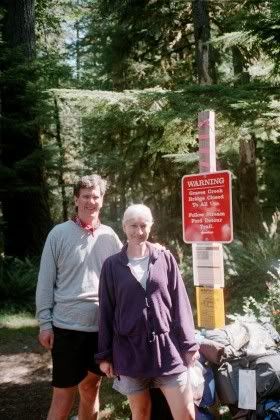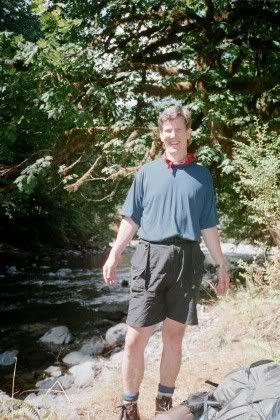 This is the unedited..



(well slightly edited)



story of



two middle-aged



desk jockeys



(Martha and Steve)



taking a walk.



It was a great trip.



We were glad...



it was not our first



longer trip.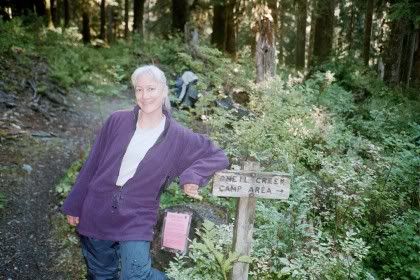 Friday 9/6/2002 ...Graves Creek Trailhead to ONeil Creek Camp...6.7 miles)
Cate picks us up near Staircase and I spend the next couple of hours listening to Cate and Steve tell bad jokes. I think Cate wins in the bad joke department. Real groaners. Cate is a neat person. Very smart, and down to earth (and no, she is not old, fat, and ugly - do not believe a word she says). Cate drops us at the Graves Creek trail head around noon, gives us some candy (all right!) and we are off for our adventure.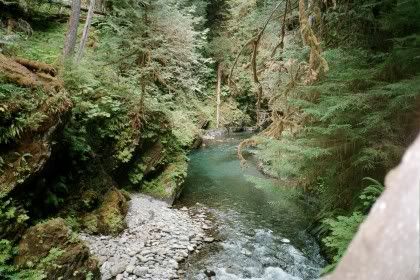 The bridge at Graves Creek is closed and we ford the creek. Cold water! It is a warm gorgeous day - an idyllic start. At Pony Bridge we get our first views of the Quinault - crystal aqua water flowing through a fern-filled rocky canyon. The rest of the day is a beautiful tread through multi-green deep primordial forests. We have a nice break by the water at Fire Creek and get into ONeil Creek Camp as the rain starts.


We fix dinner in the wet. It is a hassle. We hop into bed early and can hear the river rushing by.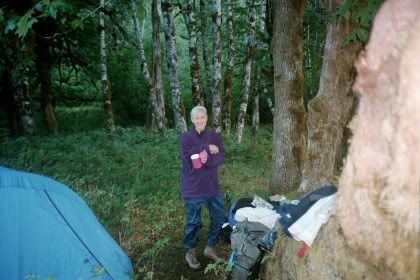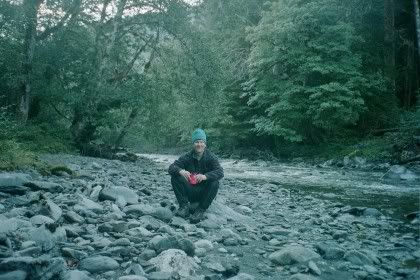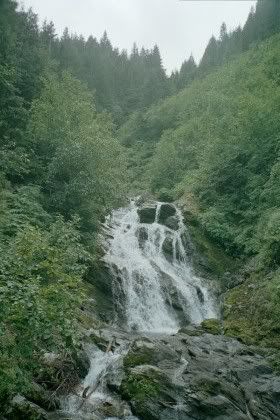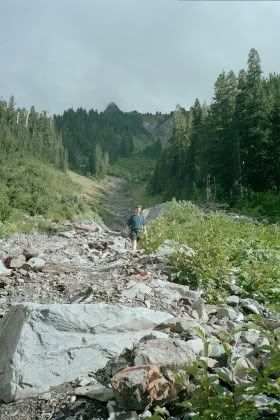 Saturday 9/7/2002....ONeil Creek Camp to White Meadow
(11.9 miles)
It dawns clear and cool. Our tent and sleeping bags are a little wet, but it should be a good day. That morning mocha sure tastes good. We have lunch at the river ford of the Quinault just below the Enchanted Valley. We eat and kick back on the gravel bar, with a view of bright green alders backed by craggy peaks.

Not many stops today - so a day summary. We started at 9:00 at ONeil Creek and got to White Meadow at 5:30. We walked pretty solid all day with a 30- to 45-minute lunch break. The last part of the trail, we were really tired. Probably a little too far for one day. Next time we would start earlier and camp at Pyrites Creek the first night. Steve indulged me and we were slow and steady on the uphill stuff (averaged 1.5 miles/hour). We ate frequently all day - 2 lunches and several snacks.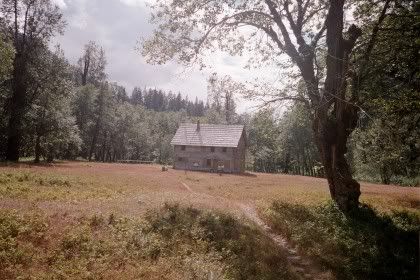 The scenery is great. The Enchanted Valley is majestic. The trail to Enchanted Valley and ONeil pass is beautiful - many different types of forest - giant maples, alder groves, huge conifers. White Meadow is gorgeous. The fog was settling over the meadow as we arrived, giving us peeks of the peak.

I get up in the night and the sky is filled with stars. So magical, I do not want to go back to bed until I am real cold.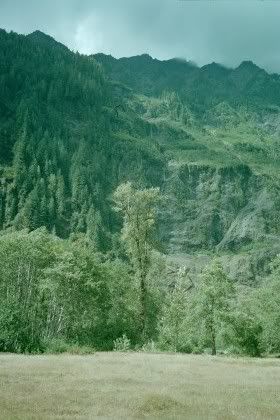 Sunday 9/8/2002...White Meadow to Marmot Lake (6.4 miles)

Wake to the sound of drizzling rain and the realization that no-seeums chewed my lower back up at a pit stop yesterday. I have welts across where my pack strap will go. My good buddy Steve gives me a heavy application of benadryl cream. We have a good laugh about Steve hearing a 'big animal' last night, which turned out to be me wiggling in my sleeping bag. The meadow is gorgeous - the clouds are socked down and we ca not see the peaks. We get a late start (11 am) hoping the rain will stop. We promise ourselves next time we will just get up and get going.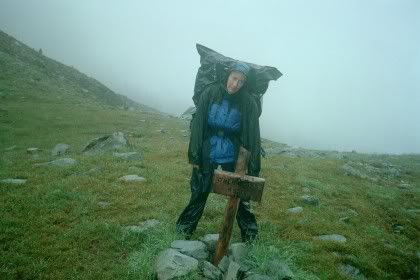 Day summary - too wet to write much all day. No pictures today except a couple of close ups. It rained all day, so we did not see a single peak of the spectacular scenery the ONeil Pass Trail is know for. The trail is not for beginners - rough in some spots and a little rain made it slick and slippery. We saw a lot of elk - 2 in one basin, 4 in the next, and a harem of 12 to 15 in the next one. Also several more once we got to Marmot Lake. The high valleys, basins and slopes are beautiful even without the vistas. The wild flowers were gorgeous, including entire slopes of wild delphinium. One valley had what looked like a moss that was the most amazing green. We saw men backpacking alone in three age groups so far - young, medium, and older. The medium one thought we were bears because of our dark garbage bag enhanced attire (note - contractors garbage bags are the best light-weight solution we have f ound for keeping our packs dry).

Tonight everything is wet - tent, clothes, even our pads and bags are damp. We are snug and warm in our tent, but setting up camp is trying. Thankfully it is just raining steady and not a downpour. Our quick hearty dinner of Stroganoff, pita, and pudding was good.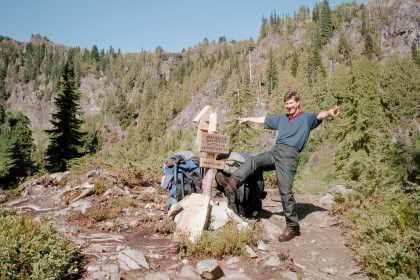 Monday 9/9/2002...Marmot Lake to Home Sweet Home (5.4 miles)
Woke to clear skies - thank goodness!! Packed up and headed out around 10 am. The Upper Duckabush trail is rough - up and down across many small creeks. At one crossing, we stop and have a yard sale - spread everything out to dry for a while. Have a nice lunch by the creek near the trail junction to the Skokomish. It is a lovely spot. Hit the trail up to Home Sweet Home. It is the steepest trail we have done so far - my legs are worn out by the time we get there. There are good views of peaks on the way up. Home Sweet Home is in a beautiful valley - Mt. Steel dominates one end of the valley. It is warm and wonderful.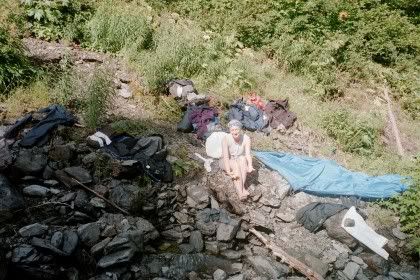 We spread all our clothes and equipment out and lay around like slugs. At dusk we take a little walk and find a bear grazing on huckleberries. He watches us as we slowly retreat - just seems curious. Hop into bed and keep the tent wide open to watch the night. We can hear elk whining and running. The night sky is so full of stars - the big dipper looks like it will scoop up the whole valley. We fall asleep as the light fades on the mountain and the outline of the trees.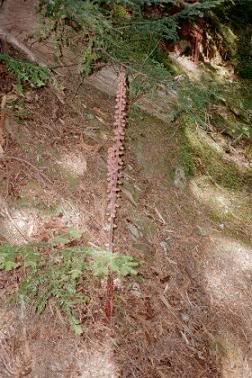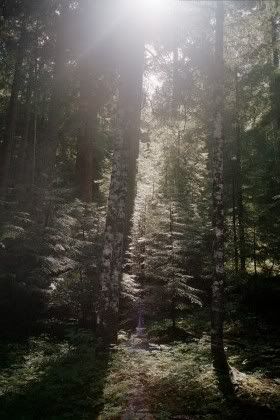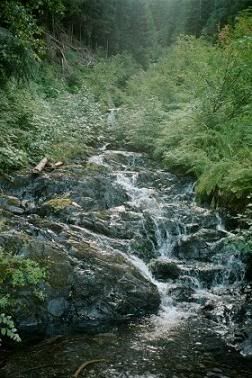 Tuesday 9/10/2002
Home Sweet Home to Camp Pleasant (7.4 miles)
The sun is creeping slowly across the valley. It hits the tent! A gorgeous day - this is the life. We are up and to the top of 1st divide in no time. A great view of the peaks - Hopper, Duckabush, White Mountain and LaCrosse (we think anyway). Off of 1st divide and it is a grueling downhill to Nine Stream Camp. We are sooo glad we are not going uphill on this slope. The crossing at Nine Stream is out - we search up and down stream for the flagging. It is a warm day and stone flies and butterflies are hatching as we have lunch at the creek. Several butterflies use my boots as a hatching rack - flapping their wings slowly. I am a little surprised the smell does not exterminate them. A nice level walk to Camp Pleasant on the Skokomish. The tributaries are pretty. There are mosquitoes at camp. My feet are dry for the first time in 2-1/2 days. It feels good. (Note to self: remember to waterproof boots next time). We noticed that the best huckleberries are on ONeil Pass Trail. They are not as sweet over here.








Wednesday 9/11/2002
Camp Pleasant to Lake Cushman/Dry Creek Trail
(approx. 7 miles)
I am really sore this morning. Steve is fine. That extra conditioning would have been a good idea. The steep downhill really beats up the knees. We trade email addresses with Max and Bill - two great retired guys that could hike the butt off most 20 year olds. We camped with them at Marmot Lake, Home Sweet Home, and Camp Pleasant. They told us to stop following them. We head out about 9:30 am, cruise the last 7 miles of mostly level ground and are out at 12:30, assisted by a lift the last mile down the paved road to our car by a kind passerby. We are grateful since the detour caused by the road closure at Staircase took us farther afield than we planned. The bridges across the Skokomish are beautiful locations with deep crystal clear pools. The mosquitoes ate us up the last mile out - even clung to Steves legs sitting on the tailgate of a moving pick up truck!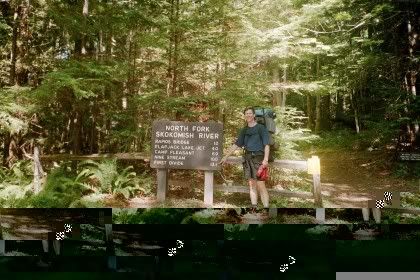 FOLLOW UP NOTES:
Cate said to put in a list of the must haves for a hike like this and notes about the things we like best so I tried to pick out a few.










MUST HAVES :
BASIC FIRST AID KIT:
A basic first aid kit (this is our basic kit designed to combat the miseries we have experienced, and a couple we hope we do not - yours might be a bit different):


Moleskin...moleskin....did I say MOLESKIN?...LOTS OF MOLESKIN


Scissors

Ibuprofen

Benadryl

Cranberry tablets

Benadryl Cream

Bite stick

Antiseptic towelettes

Antibiotic ointment

1-inch medical tape

A few sterile guaze pads

Bandaids

Ace bandage
BASIC EQUIPMENT REPAIR KIT:
Pack pins (the ones that go through the frame)

The little o-rings that go with the pins

Duct tape

A little piece of wire

One or two of those little pinch and slide on the string doodaas

A little metal rod

Waterproof matches in a waterproof container in a plastic baggie

Seriously - Snickers Bars - I just ca not go uphill without them.
RECIPES


MORNING MOCHA

1 heaping tablespoon instant expresso, 1 tablespoon coffemate, and 1 package rich cocoa mix


FRUIT COBBLER

This is the best thing to have after dinner especially if it is cold - recipe is adapted from 'The Well-Fed Backpacker' by June Fleming. She is an awesome woman and it is a great book with good ideas for cheap people like Steve and me who just can not seem to bring ourselves to purchase those prepackaged dinners.

Package up at home before the trip (this is 2 big servings):

Fruit mix - 1+ cup dried fruit (wild blueberries, cherry, and peach/pear were all great), add some sugar if the fruit tastes tart, add some ground cinnamon and nutmeg and/or cloves (about 1 tsp total).

Topping mix - 1 cup biscuit mix, 3 rounded tablespoons dried milk, 3 rounded tablespoons brown sugar, spices (here I really like a bit of cloves) about 1 tsp total. Cut 2 tablespoons of butter or margarine into mix.

In camp - soak fruit mix in 1-1/2 cups water while you eat dinner. Bring to a boil. Turn down to barely simmering. Add a little bit of water to topping mix (it should be stiff, not mushy after kneading) in the plastic baggie and knead it until mixed. Squeeze the topping into the fruit - do not let it touch the sides of the pan. Cover and cook for about 10 minutes. Take off the heat and let sit for about 5 minutes. Eat it.



PACK WEIGHTS


We really wish we had kept them to about 45 lbs for Steve and 37-38 lbs for Martha instead of the 50 and 42-43 we started with. This is where that prepackaged food is tempting because it is generally lighter.

The best thing we have done is keep notes on our food and what we wish we had and what we do not want to take next time - it has helped us fine tune what we take over time.





Man who run in front of car get tired...Man who run behind car get exhausted.