TRIP DIARY : SHI SHI BEACH TO LAKE OZETTE

June 30 to July 4, 2004


By Jim, Adrian, Steven, and Rob
CLICK HERE TO SEE PHOTOS IN ALTERNATE DISPLAY.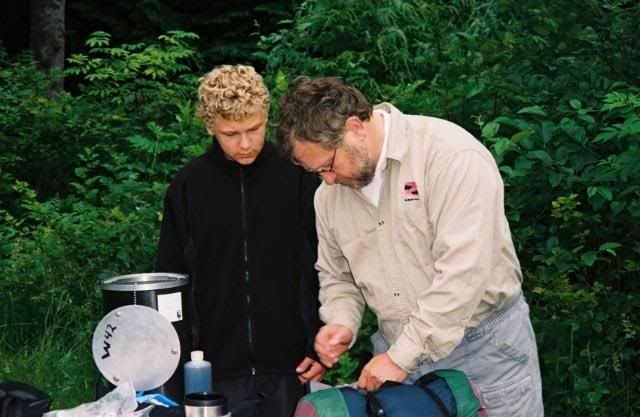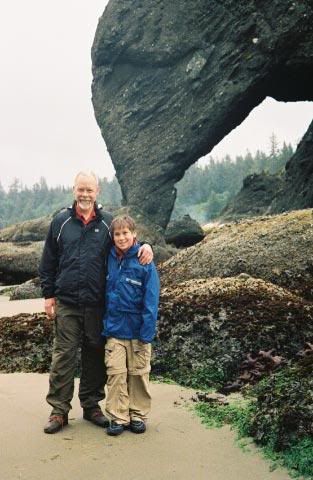 In a way the trip started months before when Jim


and Adrian selected a route within the Olympic


National Park, though Jim had longed to hike


Point of the Arches for more than twenty years.




Day 1 (June 30, Lake Ozette):



We met at the wilderness information center for the Olympic National Park in Port Angeles at 11:30 am to obtain campsite permits reserved in advance by Jim. Rob and Steven also needed to rent a bear container (required) for a donation of $3.00. Jim earlier had purchased a container for $60.00 on sale at REI. The Park had several models to choose from, but recommended only one for the beach because of sand related problems. Bear containers were also available at the Lake Ozette Ranger Station. Both locations have after hours drop boxes for bear container returns. Park Rangers monitor the use of these containers. According to the Park's literature, failure to obtain and properly use a bear container results in a $50.00 fine and a prompt trip back to the trailhead. The containers are intended to help control marauding raccoons (and possibly bears), We observed only chipmunks in our campsites.

We drove on to Lake Ozette via Crescent Lake where we stopped at the Park lodge for lunch and a chance for the kids to stretch their legs, go wading, and skip stones on the Lake.

Lake Ozette is both a large lake and a small community visibly consisting of a ranger station and two campgrounds; one public, one private. We stayed at the Lost Resort, the private campground, which has a convenience store, café, shower and flush toilets. After exploring a boat/picnic area up the road, we had supper at the resort followed by a game of touch football. Size and guile versus youth and agility resulted in a 35-point tie game.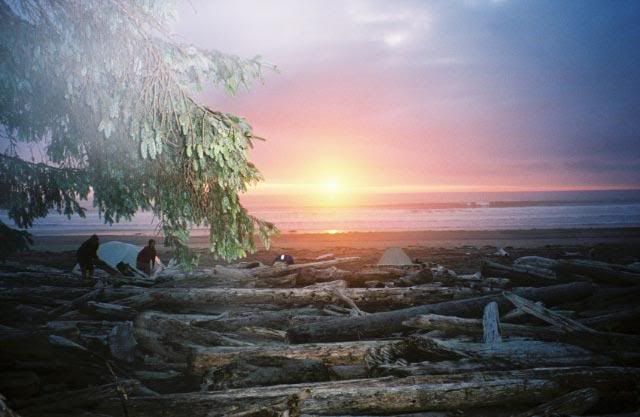 Days 2 & 3 (July 1-2 to Shi Shi Beach):



We met Cate (Windsox) at the Ozette Ranger station at 9:00am. The ride with Cate was a highlight of amusing conversation, including salty-dog stories, and local color commentary. We stopped in Neah Bay for bug repellant and breakfast, then drove the remaining few miles to the Shi Shi Beach trailhead. The 2-mile trail to the beach was partly well-developed trail with a new boardwalk and a substantial section that was very muddy, Had our trip been preceded by recent heavy rains, the trail would have been very muddy indeed. Instead, we encountered numerous ankle-high muddy spots - the first of several trail conditions that called for decent hiking boots.

We camped two nights on Shi Shi beach just on the southside of the first creek. This allowed for ample time to explore tide pools during one of the lowest tides of the year. The tidepools at the south end of Shi Shi beach (north end of Point of the Arches) are spectacular. The bays around the Point amply reward the hike with more tide pools, rock formations, and astounding views. Importantly, the tides control hiking routes and access to tide pools. Plan to familiarize yourself with the tides and tide tables on this trip. We consulted the tide tables frequently.

Between the low tides and back at our campsite, Steven and Adrian kept a small campfire lit for about 8 hours through a misty morning and afternoon, Rob cooked pancakes for a late breakfast, and Jim baked pizza for an afternoon lunch in his light-weight, high-tech oven. The pizza had a pesto base (from a tube, check natural food stores for availability).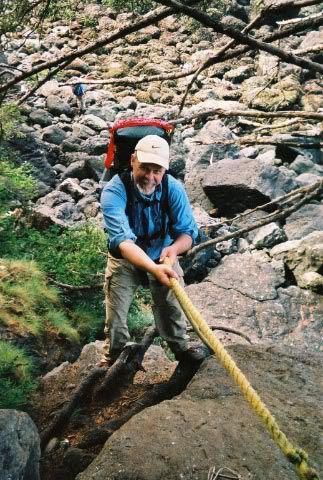 Day 4 (July 3 Shi Shi Beach to Ozette River):



The real adventure begins! This section of our route (Shi Shi Beach to Point of the Arches to Ozette River) is controlled by the tides at the beginning and end. Consult a map indicating tide related trail conditions and tide tables to plan your trip. Some points on the trail are not passable at high tide!

Welcomed by clear skies, we were up at 5:00 am and packing to time our hike with the tides. The hike around the Point of the Arches is rewarded with outstanding views of haystack rocks, hidden coves, bald eagles, cedar forest, and fantastically green moss and ferns. The price for this world-class scenery is challenging hiking conditions including rope-assisted ascents and descents, a seemingly endless field of sofa-sized boulders, and beaches of everything but hard sand, including slippery seaweed covered rocks, pea-gravel, and deep cobbles through which the receding waves sounded like a windstorm. These hiking conditions warranted good-quality hiking boots and ample drinking water.

We camped at the outlet of the Ozette River that night. We arrived at the Ozette River at 6:00 pm. Although we stopped for an ample (and necessary) lunch break (2+ hours), we spent more than 8 hours on the trail to complete this six-mile hike. The only other group we encountered was obviously tired and filtering drinking water from a small spring along the trail. Having sounded these cautionary notes, this is nevertheless some of the most rewarding scenery to be found on the planet.

A little more about the hike. the rope ascents (and descents) were manageable, although they slowed us a little. We traveled with no more than one person on a rope at a time. This seemed to work very well. The map showed three passages by steep ascent around headlands. We found that the southern most of the headlands was passable at a medium tide, although we had to hand packs down a short stretch of steep rock.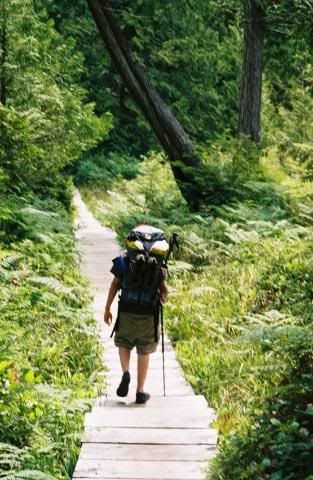 Day 5 (July 4):



We were up and packed by 9:00 to ford the Ozette River at low tide. Steven, Adrian, and Rob wore sandals for this stretch of hike between the Ozette River and Cape Alava. This 1.7 mile stretch of beach hiking was a mix of tide pools and sand. Occasionally walking through 6" to 8" of water with a nice sandy bottom was preferable to trying to stay on top of the rocks. Here we saw a bald eagle perched a few yards from us take flight, plenty of sea anemones, crabs of various sizes, starfish and many varieties of seaweed.

Cape Alalva is the western most point of the lower 48 states, though it would seem that this island point probably can only be reached at low tide. From Cape Alava we hiked out to the trailhead at Lake Ozette. The book said 3 miles, the map 3.3. Most of this section of the hike was boardwalk. It was dry and not slippery.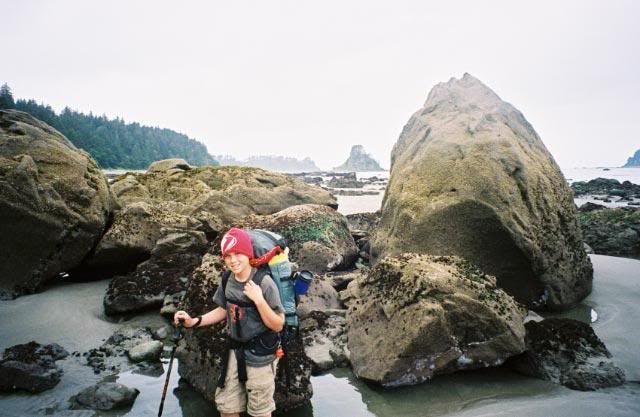 THINGS WE WERE GLAD TO HAVE :
Gloves

Hats

Sandals for the hike from the Ozette

River to Cape Alava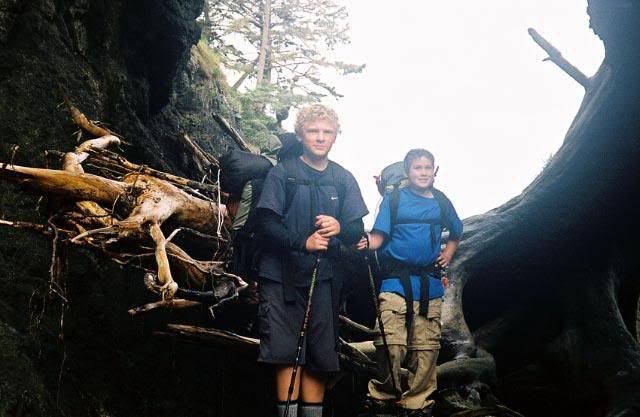 THINGS WE WISHED WE HAD :
Sturdy hiking boots (the $100+ variety)

Small citronella candle

Tide pool plant and animal guide

More than 24 oz. of water for Point

of Arches to ___creek
BEST SIGHTS :
Purple starfish

Bald eagles in flight

Does and fawns

Crab tracks leading to crabs

Tidepool life
AUTHOR HAS KINDLY INCLUDED EMAIL ADDRESS

IF YOU HAVE QUESTIONS.... CLICK HERE
What hair color do they put on the driver's licenses of bald men?