DEER PARK TO NORTH FORK - JULY 2-11, 2003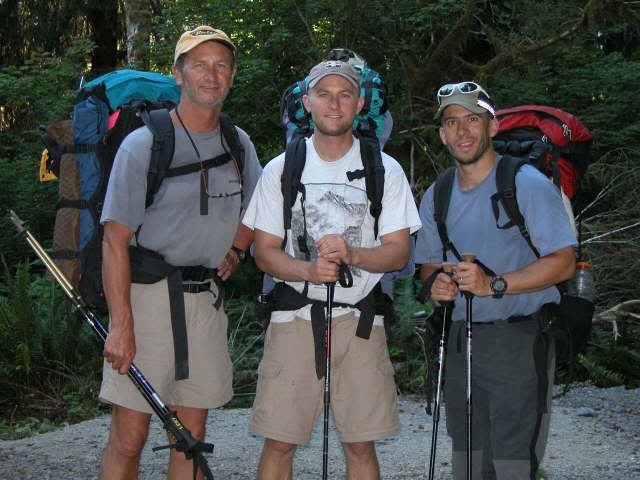 DEER PARK SHELTER - EVENING PRIOR TO DAY 1
3 OF US AT NORTH FORK CAMPGROUND - DAY 8


Our plan in coming to Olympic National Park was to hike from Deer Park through Obstruction Point, down to Hayden Pass over to the Elwha River, up the Skyline Traverse and end in North Fork. A formidable 75 miles or so to be accomplished in eight days.


The participants: Herman, the son-in-law and brother-in-law, Ken and Jay, the father and son, respectively. Hailing from the states of Ohio, Florida and Arizona, we came together for an 8 day excursion through beauty. After our respective flights arrived at SeaTac, we hopped on the Olympic Bus Lines shuttle/van for $43 a person (spots which must be reserved) and got a ride to Port Angeles, which included a 30 minute ferry ride and several stops. We were then greeted by Cate (the creator of this wonderful website) who not only drove us to get a recommended Jack in the Box burger, a permit at the Wilderness Information Center, and drop us off at Deer Park, but who also provided us with a lot of entertainment on the way there. I will not spoil it for future participants, but Cate has a lot of good stories and most importantly of all, jokes.


We arrived and were dropped off at Deer Park, where we found very posh accommodations. This included a three sided shelter (made of wood), a potable water pump and an outhouse with toilet paper! This was as luxurious as backcountry living can get. We fell asleep at 9 PM (sunset was around 9:20) to overcast and ugly skies, but we could not complain because we were in the mountains and not at work!





Using an ice axe on a descent.


I will briefly comment at the beginning that while this route followed maintained trails for the most part, there were sections that were not maintained by the NPS, and ones that were covered in snow and required knowledge of land navigation to include map and compass in order to make your own route to the determined destination. IT IS RECOMMENDED THAT YOU KNOW HOW TO USE THESE TO NAVIGATE THIS ROUTE THIS EARLY IN THE SEASON! GPS units alone will not do, and they require a backup method, such as map and compass. We were exposed to some hostile environments that could lead to death or serious injury should you get lost. Our group had an F-16 pilot, a commercial airline pilot (retired military), and an ER doctor, and we were all trained in the military on land navigation, thus giving us some feeling of safety.



7-3-03, Day 1
Deer Park to Grand Lake
11.2 miles

When we awoke at 0630 we found clear skies and a magnificent vista that was withheld from us the prior evening, revealing valleys and mountain peaks blanketed in snow. The same snow we were wondering if we would have to cross and learn to live with. We started with a semi-well rested nights sleep and started on a moderately strenuous trail that again provided vistas that seemed to go on for the entire eight days. We were able to see the Sound to the north, glimpses of the artificial looking Rainer in the distant sky and plenty of mountains. The trail from Deer Park (DP) to Obstruction Point (OP) was well maintained and had plenty of flowers along a good part of it. Water was very limited on this section, so fill up. We were good with about 2 quarts each for this part, which was 7.5 miles. Later in the trail, after about 1/3 of it was done, we got above tree line and were pretty exposed. Clouds and fog rolled in limiting our visibility to 30 ft or so. Just as we were approaching OP, we were greeted by a steep slope covered in snow. Ice axes were recommended by the park and we brought them. The snow was soft, easy to make steps with your boots, but at one point an ice ax would definitely have helped with arresting given a drop off at the bottom. No crampons were used or brought on this trip. We made it to OP where we met a park ranger on her way down the way we were headed. She had been out for a couple of days, and after a few minutes of chatting we pressed on. There is a road that goes up to OP that can serve as a drop off or pick up point, but early in the summer it might be closed with snow, as it was then. Continuing to gain a little altitude we also gained vistas of 180-270 degrees of snow capped peaks. It really amazed us how mountains at 4-6000 feet could look so gigantic. The decent down to Grand Valley provided us with views of our future campsite, but was a very quick decent. A decent that I would hate to make backwards as an ascent. We finally made the final 3.7 miles from OP to Grand Lake only to find a deer at our campsite nibbling on some probable leftovers. We thought no big deal, we will share the space! Well, soon enough we had three deer who wanted to share. They seemed to have an affinity for our urine as most animals do, given the amount of sodium that we excrete. For those of you out there that do not know, it is recommended to urinate on flat rocks or against trees to prevent animals from digging into the ground and destroying the area. This did not stop these deer though. They ripped bark off the trees and dug where ever toothpaste or urine had hit the ground. This campsite had a good amount of mosquitoes, but then again it is summer, you are near a lake, and you are in the backcountry. If you do not want bugs, stay at home. Sleep called to us after a hefty first day.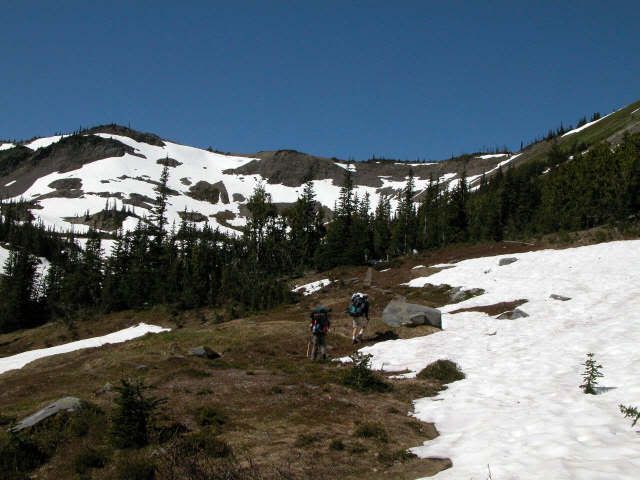 7-4-03, Day 2
Grand Lake to Cameron Basin Camp
7.8 miles
(reality with switchbacks and traversing bowls, about 9-9.5 miles)


Happy 4th of July!!! We awoke at 0530 pretty sore from our first day of activities to a pleasant day. The deer were already up and walking about by the time we got out of our tents. By the end of packing up, the deer would increase their number to seven! I even tried to walk a ways from the campsite, so as not to allow the deer to dig up my urine. I proceeded to walk about 100 yards away with three deer in close pursuit of me. I found a good spot, only to realize that I had walked into a three sided enclosure, with felled trees to my left, right, and in front of me. Behind me, three deer, with one male in the group, all about 5-10 feet from me. All waiting until I preformed the deed that would lead to another salt haven for them. I managed to relieve myself and skirted around them, only to have them fight amongst themselves for the coveted spot. Throughout their mini-fights and pushing each other out of the way with their hooves, we were quickly able to identify the pecking order.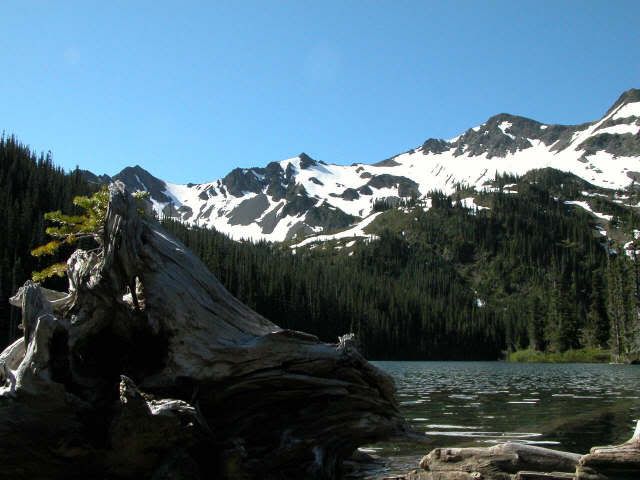 ASCENT OF GRAND PASS
MOOSE LAKE

Moving on from the deer, the sun quickly crested over the mountains and allowed us to dry our moist tent and rain fly. We then set off to Grand Pass, making a small stop at a lovely waterfall at the end of the toilet/bear wire path at Grand Lake. We proceeded up to Moose Lake (where we encountered more deer) and then up this wonderful system of stairs made of man-placed stones, it could easily have been labeled the 'stairway to heaven', as it ascended into the mountains that contained our pass. After some hiking, we quickly encountered snow which wiped out our trail and began the 'route finding' and use of some navigation. We used our ice axes on certain spots, but the snow was nice and soft and allowed for easy steps to be kicked in. We continued our climb up a steep snow filled bowl, and ultimately over Grand Pass. The climb was not easy, but then again we were pretty sore on that second day. On the back side a rather slow decent through a steep boulder strewn field that was still partly covered in snow. We would hop from one piece of trail to the next by using some route finding skills. We appreciated the first of many rocky cairns on this trip that would signal the proper direction to us. When ever possible, we tried to stop and build these up, as they fall down due to weather and they may end up saving someones ass at some point.



We continued a decent that started to head down rapidly with some serious switchbacks, that could augment any knee issues you may have. Trekking poles
worked well for us in this situation. We passed many small waterfall up close and got some vistas of larger ones in the distance. Once down in the forest where we saw some rain forest, moss and plenty of wild flowers, we began a climb up Cameron Creek Valley to our campsite destination of Cameron Basin. We passed a lot of flowers and the occasional bear scat, but no bears. We passed our first snow bridge over a decent sized river, but decided it did not look sturdy and we crossed elsewhere. Once we climbed high enough to get into the basin, it became pretty wet and marshy. We pressed on in and out of snow fields and came to the basin area where we took a few minutes to figure out just where our campsite might be. We saw two people in front of us and about 300 ft higher, they were still hiking. We decided to head up to where we saw them and see if our campsite was up there. This current area was a little wet and marshy and not the best for a campsite. We climbed another 200 ft or so in altitude and found a perfect spot at the bottom of the bowl where Cameron Pass was. In inclimate weather, it is a very exposed campsite, but the weather we had to deal with was wonderful. We looked up only to see the two people from before climbing the pass at 1730, a little late in the day for my liking. But seeing them allowed us to examine the route they were headed up and helped determine its difficulty. We set up camp where we had a nice small flowing creek next to our campsite. As the evening progressed we watched as fog flowed into and covered Cameron Creek valley where we had just climbed up. After a good dinner, we drifted off to sleep.




7-5-03, Day 3...Cameron Basin Camp to Bone Camp....about 8 miles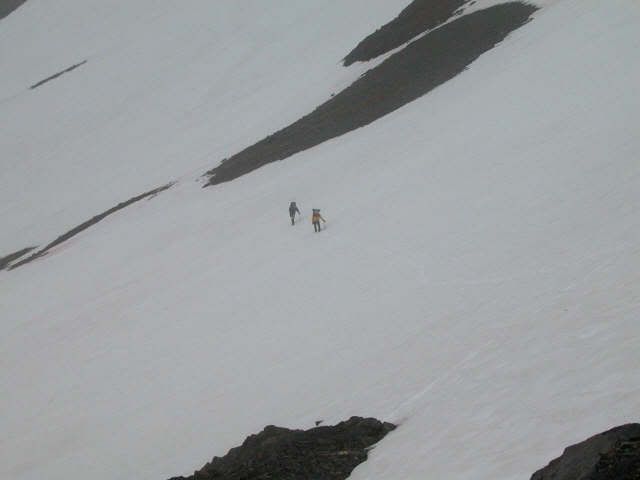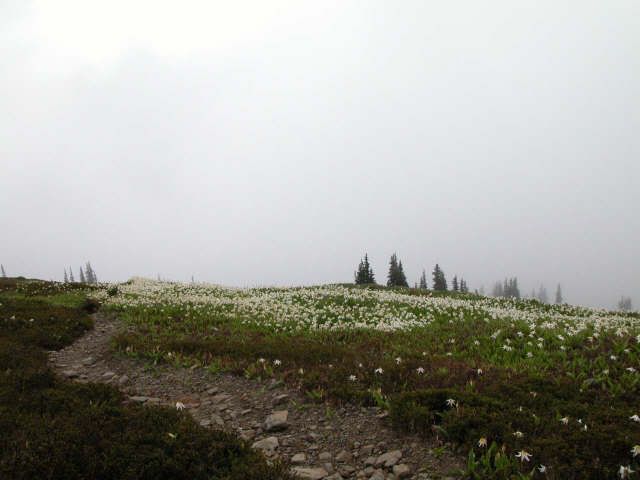 J and K ASCENT OF CAMERON PASS
VALLEY AFTER CAMERON PASS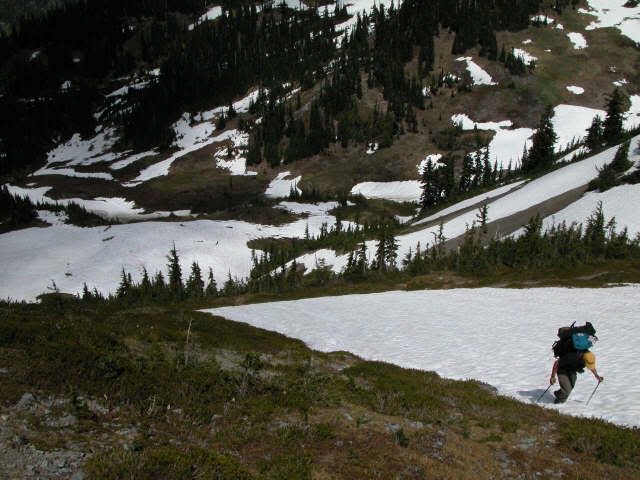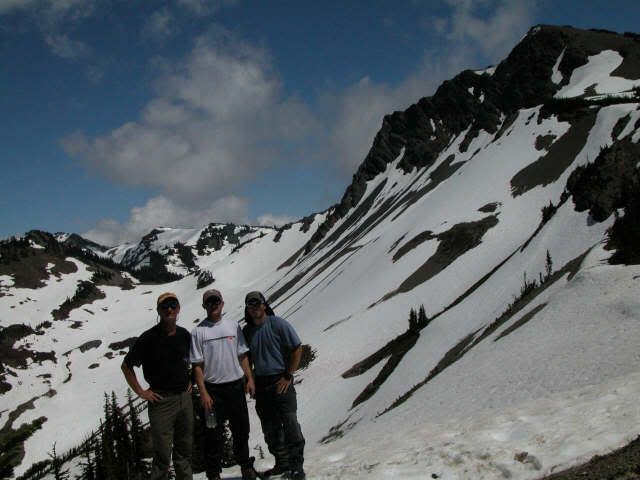 K ASCENT OF HAYDEN PASS
3 OF US AT HAYDEN PASS
awoke to an overcast day and some drizzle (very light, but enough to get you wet). Our first objective, Cameron Pass, shrouded in cloud cover. With our rain gear on, we packed up and headed out, following the two pioneers we had seen the evening prior. Much to our surprise, the footsteps they had cut into the snow were perfect! It was almost like a staircase all the way up to the pass.

Once again, an ice ax was used. We got to the top within 45 minutes of heading out, and at least 30 min could have been added if, what my father-in-law likes to call, our 'guardian angels' had not cut those steps for us the evening prior. Once again, just like any pass, on the other side is always a decent to be made. The drizzle cleared up just as we were about a quarter mile down the decent. We were surrounded by lush green valleys and wild flowers. Once we lost some altitude we passed the area where a make shift Three Sons Camp is. It is a beautiful area, and you will not be disappointed if you select this area to camp.

The terrain started traversing now along the side of the mountain that would eventually take us to Lost Pass. This pass is not much of a climb when headed in our direction because of the traverse. We descended yet again down some switchbacks, this time testing our equipment to the edge of endurance. My brother-in-law started to take a spill, quickly catching himself with his Leki Titanium pole, only to find that the torque was too much for the pole and it snapped at the lower joint. He was down to one pole, but upon returning Leki sent out new segments for replacements, because they guarantee their products for life.

We descended into the valley only to find ourselves pushing our legs back uphill on an ascent of Hayden Pass. It was around this area where a black bear was spotted on the trail about 125 yards ahead of us. It took a look at us and scampered up the very steep hill in to the bush, not to be seen again. He/She was probably about 250-300 lbs. It was quite satisfying to have finally seen wildlife other then urine stalking deer. On our ascent of the pass we also came across what appeared to be cat prints, with all three of us concurring that they definitely looked feline. Approaching the top of the pass, we left the trail and pretty much darted up hill as the snow cover made us find our own route. After a short and steep climb, we came over the pass and started a slow decent to Bone Camp. This is a makeshift camp, not one that is maintained by the NPS. The NPS knew we were camping here and has no objections to such practice (in this area of the park, not farther west though). Bone Camp was a small site and we had to move a dead tree a little to make room for our 4 person tent. The spot is perfect for a two man. It was right next to the stream though, which was great for food/drink and dipping and rinsing our clothing in the cold water for a good, yet not thorough (no soap) clean.



7-6-03, Day 4
Bone Camp to Camp Wilder
about 10.7 miles
with a decrease of about 3400 ft in altitude
Wake up time was around 0515 and it was a little chilly. We were out around 0730 headed all downhill today!!! It was a nice slow decent, not like the rapid ones from prior days. The majority of the decent is to Hayes River Campground where it levels out and you follow an undulating trail to Camp Wilder. The NPS starts clearing felled trees in the spring and tackles the more popular areas first. At that time of the year the fallen trees are cleared in the direction of Hayes Campground up to Hayden Pass, and they had gotten 5 of the 6.4 miles, so it was not bad. The decent went pretty quick and we were at Hayes River Campground by lunch time, where we ate. When we got down to the river, the forest transformed before our eyes into a lush rain forest with a very high canopy and floor covered with moss as far as the eye could see. It was quite impressive, since it was our first low lying forest since we started this trip. The path by the river is very well maintained compared to what we were hiking in the earlier days. You will encounter HUGE bridges over small (that is being generous) waterways. They were big enough to cross in a wheelchair or crutches. We passed a group of adolescents (5) lead by a young woman. Some looked like the were enjoying themselves, others looked like they would rather be back in Boys Town. The land was definitely more wet and marshy then anything else we had encountered, but did not cause any problems as far as getting ourselves wet. The forest was old growth and by looking at some of the rings of fallen trees, it appeared that some were 200+ years old.


We finally arrived at Camp Wilder, which is beautiful campsite (as were all of them) right on the Elwha River. There is a three sided lean-too there with a dirt floor that was nothing like our accommodations at Deer Park, hence we opted for the tent. We were the only ones there and we set up camp and took advantage of the river. Soaking the feet helped provide instant relief! We soaked our clothing/socks and hair, but none of us braved getting in the frigid stuff. The water was very cold and only made our minds wander to the thought of the Chicago Camp ford of the Elwha that we were told about by the ranger who checked us in. We had no idea how deep it was, but we did know the water was damn cold! Fires are allowed here, and we took advantage of that to help dry our recently rinsed clothing.



7-7-03 - Day 5 - Camp Wilder to Low Divide - about 7.6 miles

It was a late wakeup (compared to the ridiculous times we were naturally waking up before) at 0615 and we were out by 0830. We continued our trek through old growth forest and large trees. Some of these trees were big enough to have six people wrap their arms around. At one moment of the hike, the forest was transformed from old growth cedar to birch. All of the sudden, sunlight was shining in and the trees went from dark to white, it is as if you opened a door and entered another room. This lasted for about 100 yards and then the forest reverted back to the old growth. We hiked the trail for five miles which was for the most part flat, with ups and downs being small and canceling themselves, until we arrived at Chicago Camp. We encountered the river and our spot to ford it. It was not much, but we knew it would be cold. I am 5 foot 7 inches and the water came up to just below my knees. In preparation we took our boots off and secured them to our packs and wore our Tevas across. The river was divided in two with a rocky bed in the middle. Once across the first part, I just continued since my feet had just passed the pain part into the numb stage. Just as I was taking my last step onto the other bank, I heard a 'clunk'. I turned quickly only to see my boot in the water and floating away from me. I quickly shifted my eyes down river to see if it would go down, but I did not see it. With the help of my family who served as the safety net, I probed the brush hanging over the rivers edge with my ice ax and managed to release it, because all I heard was my Golden Glove Winner father-in-law yell 'I got it!'. Needless to say I had already imagined myself hiking the Skyline Trail and kicking steps in snow with my Tevas. The boot was soaked, but I had it back. We broke for lunch which allowed me to dry the boot out, and afterwords it was not that bad at all, it dried pretty quickly.


We hiked a steep and painful 2.6 miles up to Low Divide, with 1400 ft of it over 2 miles. Parts of it resembled an obstacle course because you had to go over some trees and under others that were blocking the trail. You then come upon Lakes Mary and Margaret where you are not allowed to camp. Continue on till you hit the a campground on your left, which probably has around three campsite spots. There we met a group of four that was backpacking from Whiskey Bend to North Fork, and they told us there were even more campsite further on by the Ranger station. We decided to hike another two minutes down trail where the station was as well as another 4-5 campsites. We chose one and settled in along with a fire. We visited the Ranger station only to find it locked and some trail advisories posted, one of which read 'Danger- Impassable snow bridge at Promise Creek'. We quickly checked our map and found that we would be hiking either near or over Promise Creek on our second day on the Skyline Trail. The way the topography was laying out, our trail went higher up then where the creek began, and even if it began higher early in the season secondary to runoff, that it should not have collected that much water within 100 yards of the ridge line. We decided to press on the Skyline Traverse the next day despite this warning, knowing that another route would be possible. The station also stated, 'if you have a question, ask us!', which was wonderful, except they were not there! Water was readily available at the campsite as were the mosquitoes, probably the worst yet out of all the campsites. There is an outhouse at both campsites mentioned.



7-8-03, Day 6
Low Divide to Lake Beauty
about 7.5 miles


We were up by 0630 and out by 0815, and awoke to an overcast day. Being as overcast as it was and heading only higher in elevation made us only think of rain. We began the climb up to Lake Beauty campsite, and it soon started with a light drizzle. We soon gained a good amount of altitude and had to start traversing the terrain, where we encountered more snow fields. While we could not see out because of the overcast, the terrain we were hiking on was beautiful, we would switch between forested and open areas. This is where route finding was needed again, secondary to snow fields that would take out 50- 100 yards of trail. We even had one part of the trail that became extremely narrow, where you had to face the rock face and walk sideways with your pack across a small ledge, whose length was a short 6-8 feet. The drop was not straight down, but it was downhill and you would have skidded or rolled down probably 20-60 yards if you fell. Most of this part of the day was traversing.



We descended a little and then traversed some more until we got to Beauty Pass where had to hook around and get on the Western side. Route finding to get on
the other side of the pass was very important as there was a huge ravine there that had to be bypassed. If you chose the wrong route and got yourself into some steep terrain, you could really hurt or kill yourself. Always look for other options, and there is usually a safer one there. It was all snow now as we headed in a Westerly direction. We climbed a little more and were now looking over the Western side of the park. It was still overcast, so no vistas were visible, but the environment was a lot more hostile. We had no other place to go, so we headed to the campsite, or at least where we thought it was. We descended a huge snowfield down in the direction of Lake Beauty until she came into view. We spotted the lake (probably 100 x 50 yards in size) and it was partly frozen with A LOT of ice in it. We spotted the campsite on some flat terrain about 20 ft above the lake to the left as you face the lake. We were wet, it was still drizzling, it was cold and was getting late (probably 5 PM when we camped), and we had to get dry. We got our water from a small creek that was flowing (very small!), rather then take our chances with the lake. You did not know where the water began under the snow, thus we did not want to risk losing someone into the water.


Soon enough after the rain stopped, clouds started rolling out of the area and gave way to a magnificent view of Mount Olympus and its range of mountains. Then to the southerly direction, those clouds revealed the mountains that we would be tackling tomorrow. We quickly found out why this lake deserved its name, it was one of the best campsite views we had. We bedded down for the night hoping for a clear day the next morning.





H ON SNOWFIELD FROM SKYLINE TRAVERSE
J and K ON APPROACH UP KIMTA CREEK VALLEY
7-9-03, Day 7
Lake Beauty to Three Prune
about 10 miles


The sky had cleared up by the time we awoke at 0515 and we had decided to get an early start due to the 10 miles we would have to cover that day, and we were out by 0645. The first task was to climb partially back up the hill that we descended the afternoon prior. We oriented ourselves with the map and approximated the location of the pass (Hee Haw Pass) we would have to cross to get back on the eastern side of the range. It was slow going given the snow but we made it to the other side to find a trail that was taken out here and there by snow, once again requiring route finding skills. We continued traversing the range and carefully studied the map to see where Promise Creek snow bridge might be. At one point we lost the trail under snow and continued on our own route. We would end up hiking about 3 miles and a couple of hours on our own route because the trail was completely covered. We did not have crampons as stated earlier and only used our ice axes at times, mostly just hiking with our trekking poles. After a while, we realized that we had taken a route higher up from where ever that snow bridge was, bypassing it altogether. The weather that day was far better then yesterdays. It was warm and sunny in the snow, which required good sun protection. A good sun block (at least 30) was very useful as were sunglasses. We got over the pass and onto the other side of the range again into Kimta Creek valley, where he headed towards Kimta Peak. The route here had some patchy snow, but was painful because of fallen trees. The area had been scorched by a blaze years earlier and the trail was not one maintained by the NPS. There were plenty of trees to go over and under and provided not only a pseudo-military obstacle course, but excellent views since there were no trees to obstruct your view. The trail soon left this after a couple of miles and we continued traversing the range with the valley below. The rest of the day included some ups and downs and once below Kimta Peak we would seek another pass of which required route finding because of snow.


From here on was 4.3 miles to Three Prune campsite. We encountered one black bear on the trail as before, probably 80-100 yards ahead of us. He saw us and took off on the trail in the opposite direction and was gone. We also encountered several elk prints but never the animal itself. I will let you know that there was no lack of water so far on this trip, there were always small creeks flowing down the mountain that one could easily get water from to either filter or chemically treat. We had water but did not fill up prior to starting this 4.3 miles. We went about 3.75 miles without any water on the trail until we finally came across a small creek. It was amazing how dry this part of the trail was this early in the year. I highly suggest filling up before tackling this section, especially later in the summer. We finally dragged ourselves into Three Prune and found plenty of water as well as the mosquitoes that bred and lived on it. There were plenty of mosquitoes and gnats to keep us busy.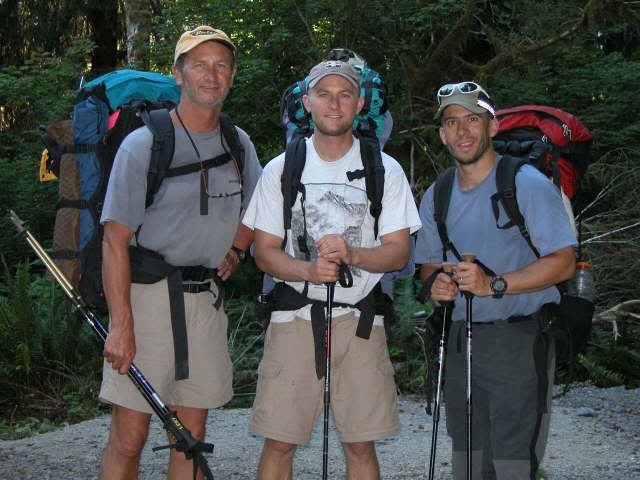 7-10-03, Day 8
Three Prune to North Fork Campground
about 11 miles


Mixed emotions filled our heads as we were about to complete our last day of this eight day journey. This was by far the longest trip any of us had done, and we were all ready for the comforts of society. We awoke to the warmest morning yet, and I would venture to use the word 'hot' for the temperature in our tent. At 0645 the sun was breaking over the mountains and shining right on our tent, making it about 20 degrees warmer inside. The good news was that there was very minimal uphill on this leg and we were staring at a descent of 3400 feet over 11 miles. We passed a lot of nice meadows, some with flowers some without. The worst part of this leg was the trail. For most of the trail, you are hiking on a mostly dry creek bed with plenty of rocks of varying sizes. Very uncomfortable and tiring on the feet. We arrived at Three Lakes, which looks like a mosquito breeding ground where we encountered six people, the most in some time, probably since Low Divide. We had a good half hour descent down some switchbacks until we hit Big Creek where there was a large bridge that offers up the opportunity for a good lunch spot. We did realize after eating lunch on the near side of the bridge that there is even a better spot on the far side tucked in the rocks that the trail goes by. Eat here if it is hot out as the temperature there in the shaded rocks was probably a good 10-15 degrees cooler. After pushing on we got to Irely Lake which was about 1.1 miles from the trail head. The NPS ranger told me that this campsite had way too many mosquitoes hence we did not arrange to camp here. We hit the trail head and hit a road with no signs for the North Fork Campground. We checked the map and headed left, were we found the campground sign and headed down that road to the right, probably in all, another 0.75 miles. The campground there has an outhouse and bear lockbox. The Quinault River could be heard but we could not figure a way to get to it, all we had was some small pool that flowed from it.


We were done with the backpacking after eight long days, and we felt very good about what we had accomplished. In the spirit of having been out of society too long we ended up buying three sodas from the campers next to us for $10. Grape soda never tasted so good after drinking iodine and Gatorade flavored water for eight days. We cooked and cleaned up our garbage (there is no garbage can there, so you have to carry it out) and turned in for the evening.





Day 9- DONE!


Cate picked us up at the campground and had hot coffee and cinnamon rolls for us and then drove us to breakfast and to an RV park where we got a well earned and desired shower prior to heading back to Seattle. Cate was wonderful! She was entertaining, knowledgeable, trustworthy, and most importantly, even after eight days, she was on time. The entire trip would have been impossible without her service.





Packing Lists


I do not regret anything I brought (except for my crappy Slumberjack Super Guide 30 degree bag, do not ever buy one, as it should be rated for 50 degrees). If you are to consider doing this trip, look at the time of year you want to go. I wish we could have done it in late August, but given our work schedules, early July was our time to do it. If you go early in the summer like us, please make sure you know how to use a map and compass. Reading a book once does not count, you need some navigational experience. Also have a good first aid kit, we encountered few people out there and they were all in groups. Do not think 'someone will be along to help me', because you might die doing that. Like most backpacking, but especially for longer trips through remote areas, someone in your group should feel comfortable with treating simple things like lacerations and applying splints to extremities.


The ice ax was useful and you should bring one, and know how to self-arrest with it. Most of the snowy slopes we climbed or crossed did not have a drop off/cliff or boulders at the bottom where you could seriously injure or kill yourself if you slid down. Thus you would stop in time and the only hassle is climbing back up. But there were times where if you slid down, you would not like the results. Trekking poles are great! I highly suggest getting some and they cost anywhere from fifty bucks to over $100. They help with uphills and downhills in my mind and distribute the workout to the entire body and not just the knees. Sunglasses are a must as well as sunblock given the exposure to sun and snow. A camera, whether disposable or a professional SLR, is needed. There is so much beautiful scenery and nature around that you have to take some snapshots home. For maps I used a 1:100,000 National Geographic Trail Illustrated Map which is 'waterproof'. I also purchased TOPO! Series maps for my computer for the Olympic Peninsula. I plotted our route on these maps, usually on 1:24,000 and some (the ones with a lot of route finding) on 1:12,000. For $25 it was a great deal, as USGS quads will run you 2-5 times that for all the maps you need for this trip. I also used the book 'Olympic Mountains Trail Guide: National Park and National Forest' by Robert Wood. It was a book that came highly recommended on the Internet. He detailed certain trips and talked about make-shift campsites, like Three Sons and Bone Camp, that you will not find on NPS maps.



Feel free to email me at HERMAN if I can be of any help with questions about this trip.
A conclusion is simply the place where you got tired of thinking.