HOH RAIN FOREST - NORTH FORK QUINAULT - AUGUST 11 - 17
Day 1 - August 11


From: Hoh Rain Forest Visitor Center
To: Olympic Ranger Station
Distance: 8.5 miles
Difficulty: Easy
Time: 4 hours (All times are elapsed time including breaks, etc.)

Cate our driver for our ride up to Hoh Rain Forest Visitor Center provided a great service. She picked us up this morning at 6:30 AM at the North Fork trail head with thermoses of hot coffee, lots of jokes, and stories of local folklore. The coffee was welcome since we had arrived at the North Fork trail head at about 3:00 AM (6 AM body time being east coast folks) after flying into SeaTac the previous evening.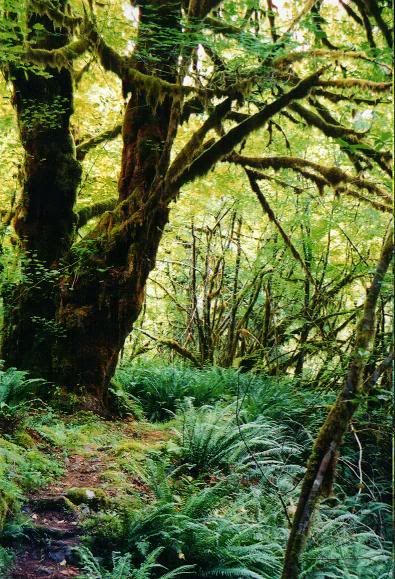 After arriving at the Hoh Rain Forest Visitor Center and obtaining our back country permit we began our hike around 10:30 AM. The weather was perfect, blue skies and no clouds in sight.

The Hoh River trail meanders through a dense forest of huge trees and ferns with moss everywhere. From the trail you get brief views of the Hoh River and the mountains leading up to Mt Olympus. There is a nice waterfall at about the five-mile mark on the left.

We reached the Olympic Ranger Station camp around 2:30 PM and stopped for the night. This camp is fairly large with several camping areas mostly along the river. The camp was already fairly full when we arrived but we did find a spot on the river and close to the bear cables. This camp also boasts two privies.

The bear cables consist of steel cable run between two trees. Attached by pulleys to this cable are other cables with hooks on them. You hook your food bag or backpack to these cables and hoist them up to overhead cable and then hook a second hook to a ring on a cable around one of the trees. The cables are just bare steel cables and it is hard to pull up much weight as the cable bites into your hands. We hung our packs and all stuff at night since we had had problems with bears before in the Great Smoky Mountains National Park.

We enjoyed our stay at Olympic Ranger Station. We were able to relax, read, nap, and recover from the long night before. We also enjoyed a few Huckleberries we had picked along the trail. The Huckleberries were everywhere and good and ripe. The redder the berries - the better flavor they had.

We went to bed early tonight around 8:00 PM.




Day 2 - August 12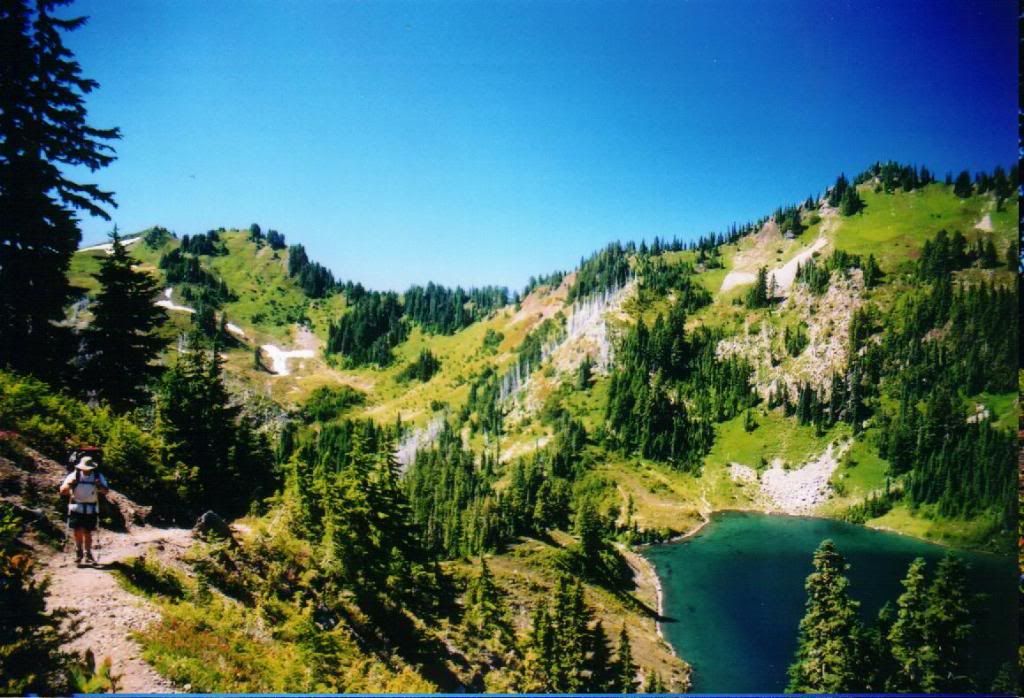 From: Olympic Ranger Station
To: Sol Duc Park
Distance: 11.7 miles
Difficulty: Extremely Difficult
Time: 10 hours

The first 0.6 miles out of camp this morning were not bad and a nice warm up for what was ahead. About 0.6 miles from camp you reach the trail intersection for the trail up to Hoh Lake (up being the key word). Once you turn onto the Hoh Lake trail it is all uphill from there. We found the next 4.5 miles to be very hard until C.B. Flat. C.B. Flat is a small meadow area complete with privy and sitting area. The flowers (red, white, blue, yellow, orange) in the meadow were beautiful. We stopped for a long break here and just enjoyed the view and downed a couple of power bars. We also saw our first 'wild' life here in the form of two deer.

The trail was still uphill and hard after C.B. Flat but the scenery was much better and helped take the mind off the enjoyment of hiking uphill. Our next stop was Hoh Lake, a beautiful alpine lake. Camping is allowed here but there are only 3 or 4 small spots, which were all taken when we arrived - for a much needed lunch break. We spoke to two guys that were fishing and they stated they had caught 41 trout that morning! We were going to take a swim but the water was freezing.

After resting at Hoh Lake for over an hour we packed up and headed on up the trail, again up being the keyword here. The trail rises steeply out of Hoh Lake but the scenery is fantastic. On one side you look back down on Hoh Lake, on the other you can see into the Hoh River valley. Also, at this point you start getting good views of Mt Olympus.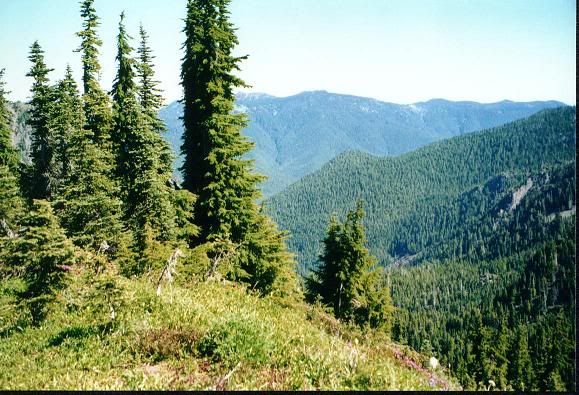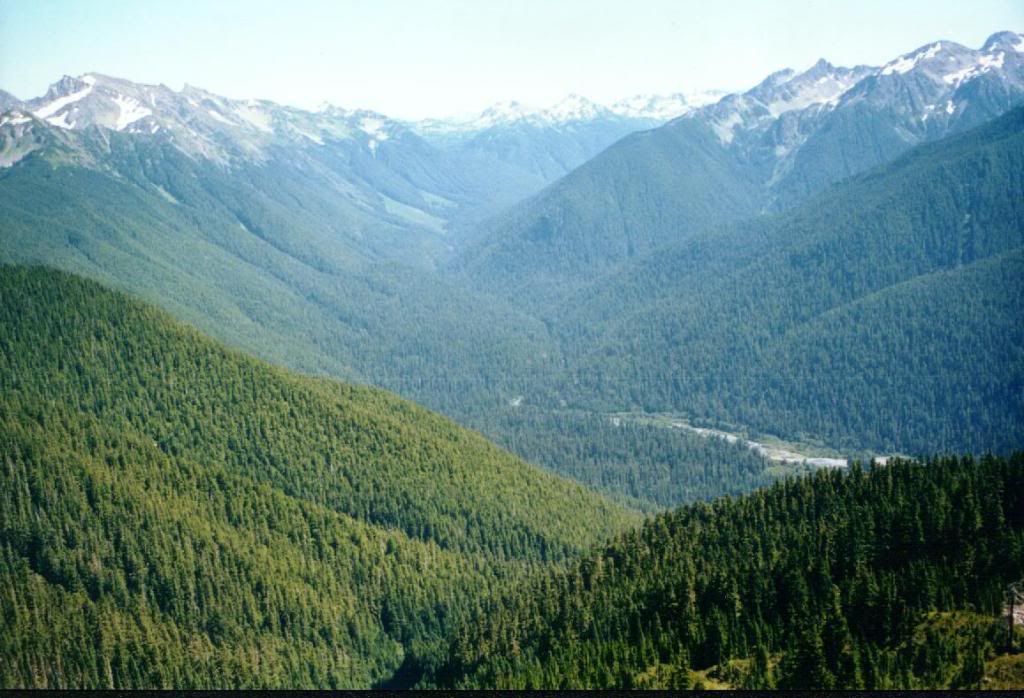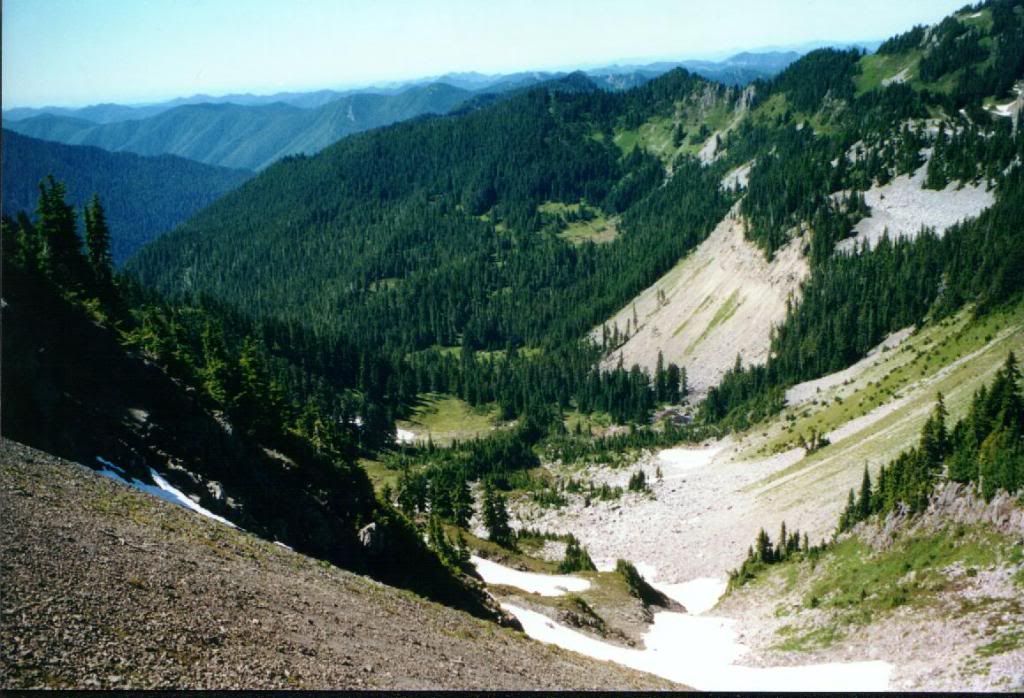 We started picking up snow over the trail as we approached High Divide. The ascent up to High Divide is spectacular, with open meadows, rocky crags and views of Mt Olympus.

After crossing High Divide you run the ridge for a little while and then drop into an alpine bowl with several small lakes. There is still a lot of snow around that was wet and slippery to walk on when it covered the trail.

The Mountain Heather was in boom giving the meadows a nice pink hue.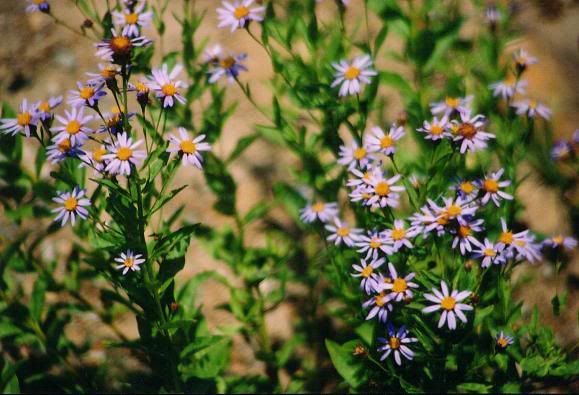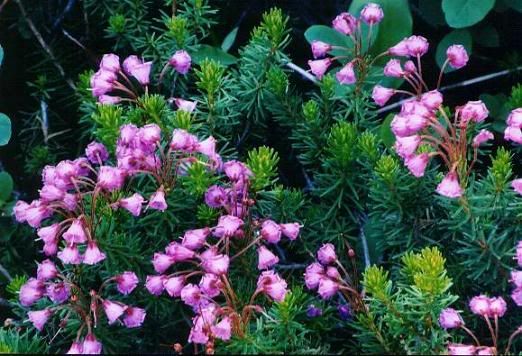 Just before reaching Sol Duc Park we encountered our first bear. We had spread out to some degree on our descent into Sol Duc Park. The first person in our group must have walked right by this bear. The second person in our group was not but a minute or two back when he spotted the bear it was only about 60 feet off the trail. He stopped to take a picture but the bear bluff charged him twice so he decided to move along and give the bear the space it obviously wanted.

We all arrived in camp exhausted from our hike today which was 80% uphill. The bugs (mosquitoes, biting flies, etc.) are terrible here and have been most of the day. We had a good breeze last night next to the Hoh River, which must have kept the bugs away.


Sol Duc Park also provided bear cables and a privy. We were glad we had hung our pack tonight as the bear came to visit during the night. We could smell it and hear it breathing as it came very close to the tents.




Day 3 - August 13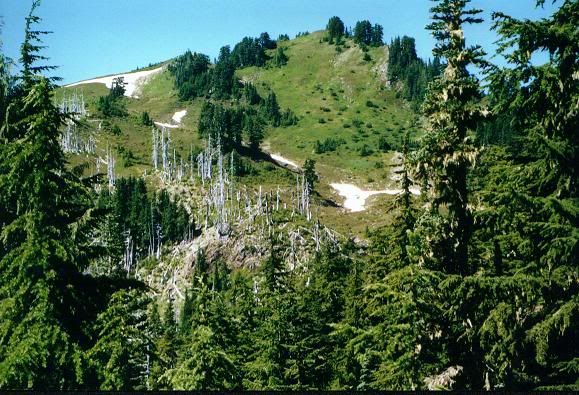 From: Sol Duc Park
To: Boulder Creek
Distance: 9.3 miles
Difficulty: Moderate to Extremely Difficult
Time: 7.5 hours


The trail descends through the forest out of Sol Duc Park to the intersection of the Appleton Pass trail. After loosing all that altitude out of Sol Duc Park you gain it back again over Appleton Pass. The trail up to Appleton Pas was even steeper than yesterday but thankfully it is shorter.



Arriving in Appleton Pass the flowers were spectacular. We stopped for a nice long break here overlooking the valley below. There is camping here complete with bear cables and a small lake about 100 yards behind the bear cables and long the ridge.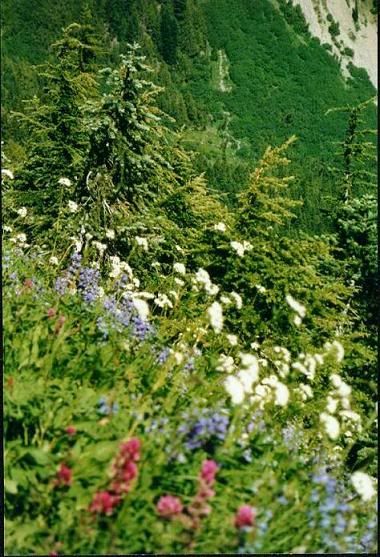 You descend off Appleton Pass via switchbacks. This side of Appleton Pass is much more scenic that the other. You are above tree line here so watch for sunburn! We soon hit a section of trail with a number of trees down across the trail. There was no way around so we had to climb and crawl to pass through them.


Boulder Creek is an old developed campground complete with paved roads and campsites and covers a large area. Again, bear cables and a privy are provided.








It is a steep hike down to the hot springs. The hot springs are muddy and naturally smell of sulfur. We did find one with some carpet in it that covered the mud. We sat in it for about 20 minutes and it felt good, really relaxing our tired muscles. After soaking in the hot spring we went down to the river to wash off.










The next morning we found our packs had been kept safe from the bears for another night but that the Chipmunks had raided them. Two of our four packs had been raided with the trail mix being the favorite item of the little rascals.










Day 4 - August 14
From: Boulder Creek
To: Elkhorn (Elwha River Trail)
Distance: 16.5 miles (hiking distance only, does not include ride with ranger)
Difficulty: Easy
Time: 10.5 hours

Today we knew we had about 9 miles of road to hike on to get from the Boulder Creek trail head to the Elwha River trail head at Whiskey Bend. We hoped (and prayed) that we would be able to catch a ride between the two trail heads.

The hike down from Boulder Creek to the trail head was very easy. The trail is over an old road that is no longer in use. Upon reaching the Boulder Creek trail head there were lots of cars there but no one to give us a lift so we headed down the road. About 30 minutes down the road we stopped a ranger in a pickup truck going the opposite direction and asked him for a lift. He stated that he had work to due up at the trail head and could not help us at this time. So, we continued on down the road, which was void of any traffic. After about another 30 minutes the ranger came back through and stopped to offer one of us a ride down to the intersection with the Whiskey Bend road (still 4.5 miles from the trail head). We let our oldest member take the ranger up on his offer, which ended up being a good decision. Our oldest member being a Pharmacist is very good with people. By the time the ranger dropped him off at the road intersection he (the ranger) had decided to come back for the remaining three of us and not only give us a lift but to take us all the way to the Whiskey Bend trail head.

One of our team, the Fireman, was having knee problems so the ride was extremely welcome. After starting up the Elwha River trail his knee starting getting worse. After reaching Lillian we stopped for a break and ended up having a cooked lunch. During this time it was decided that the Fireman with the knee problem was not going to be able to continue so he and the Pharmacist decided to stay the night at Lillian. They would get up the next morning and hike back two miles to Humes Ranch and spend another night before hiking back out to the Whiskey Bend trail head and hitching a ride into Port Angles.

The remaining two of us, the Marketing guy and the College guy left to continue toward the car we had parked at North Fork with the hopes of reaching it by Saturday. After leaving Lillian we had a steep climb of about 40 minutes and it was hot. We found out later that it had reached 95 degrees today and yesterday. So much for the cool damp northwest!

The scenery from Whiskey Bend to Marys Falls is undistinguished forest. After Marys Falls the scenery did improve. The Elkhorn area is really nice with a large open meadow in front of the ranger station. There are several good campsites here along the river. This site also provided bear cables and a privy.

One really nice thing is that there were no bugs! We had not had a problem with bugs since Boulder Creek (we hope is stays this way).




Day 5 - August 15
From: Elkhorn
To: Chicago Camp
Distance: 13.8 miles
Difficulty: Easy
Time: 8 hours

Today was a pleasant hike but nothing spectacular, just another day in the forest.

Chicago Camp was really small with only two small tent sites. While the camp did have bear cables there was no privy.

It was really hot again today. So far we have not needed our rain gear and from the looks of the weather we will not need it.




Day 6 - August 16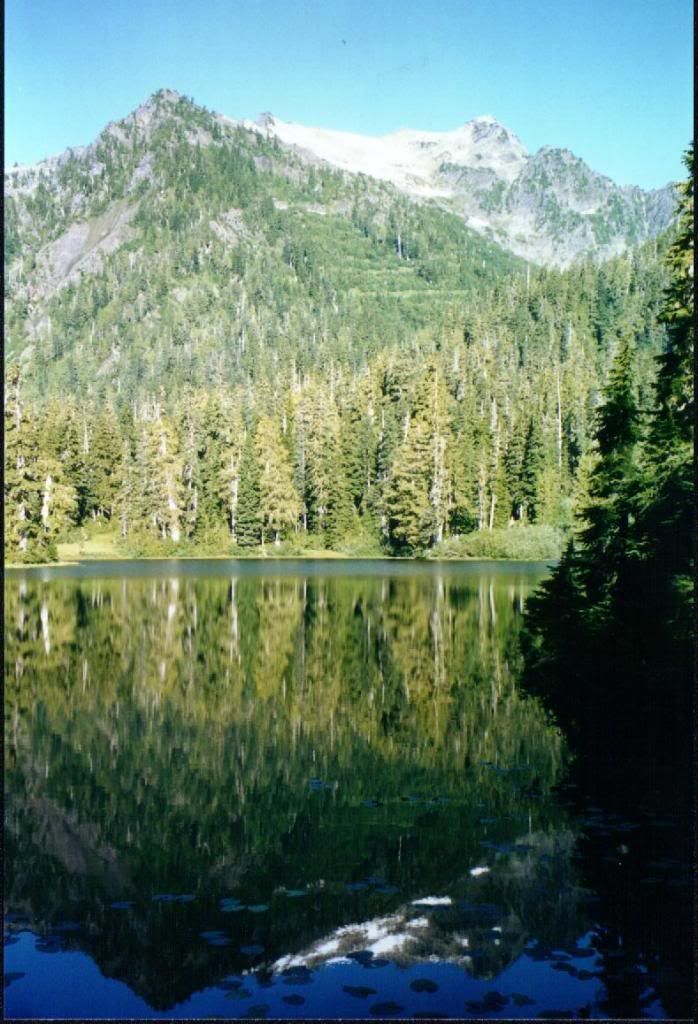 From: Chicago Camp
To: Francis Creek
Distance: 12.6 miles
Difficulty: Difficult/Moderate/Easy
Time: 11:15 hours

First thing this morning is a ford across the Elwha River. While the water was less than knee deep is was VERY COLD! After leaving the Elwha River you start the ascent to Low Divide. We had been told that Lake Margaret was a good lake to stop and swim at so we planned to at least stop there for a break and see if it was warm enough to swim in. All of the lakes so far had been way to cold to think about swimming so we were not counting on Lake Margaret being any different.

On the way up to Low Divide and just before reaching Lake Mary we ran into the biggest patch of berries we had seen on the trip. We picked berries for close to an hour eating many and collecting many more in a plastic container we had. We gathered raspberries, salmon berries, blue berries, and a few huckleberries which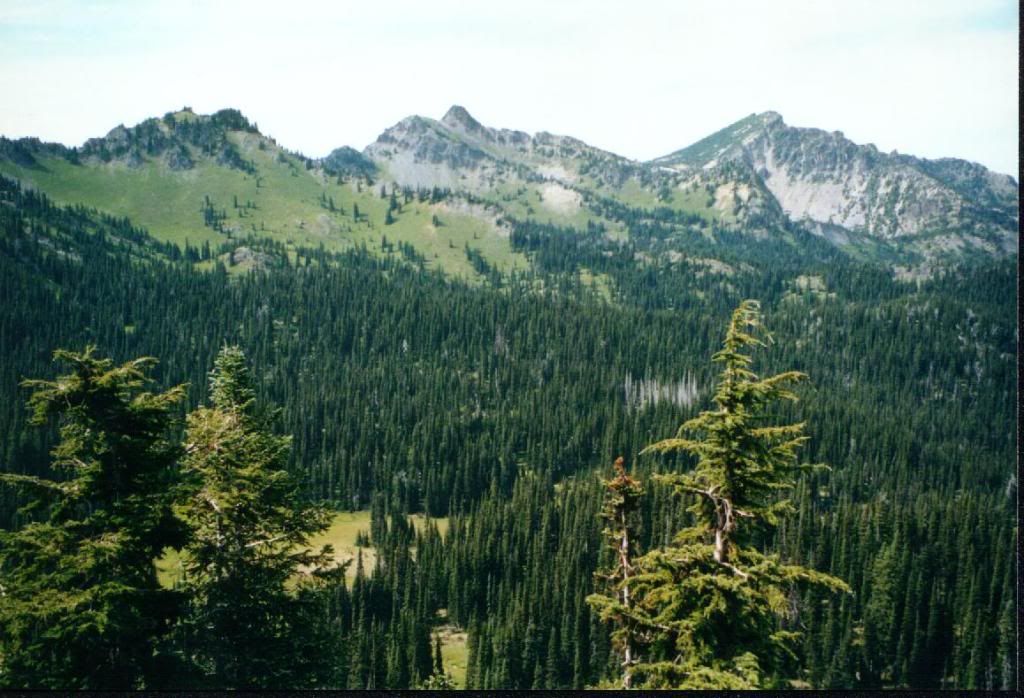 we planned on eating at Lake Margaret along with a Mountain House Raspberry Crisp dessert.

We reach Lake Margaret and found a small rock outcropping on the lake to take our break. Come to find out the water was warm and we went for a nice long swim. After swimming we fixed our Raspberry Crisp along with the extra berries. It had to be one of the best dishes I have ever had on a hike. After lying around for a little while we decided to fix our one spare meal of Chicken Pot Pie which also hit the spot. We ended up staying here for about two and a half-hours until our second bear appeared. With the bear in the immediate area we decided reluctantly to move on.


There is no camping allowed at Lake Margaret.



We reached Low Divide quickly with it being only about 0.3 miles from Lake Margaret and walked into a wall of bugs. UGH! They were the worst we had seen yet and stayed with us for the next several miles. There is a really beautiful waterfall just down from the divide on the right.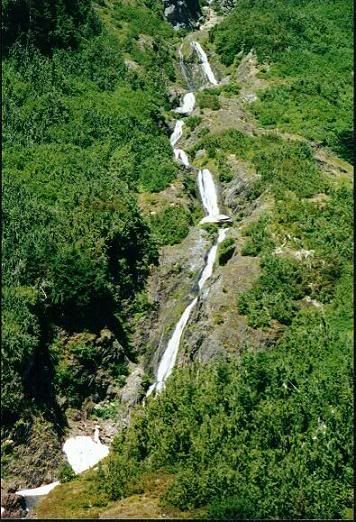 We had plans of making it to Trapper tonight making for a 10+ mile day. On the way out of Low Divide we ran into a group of rangers heading for Low Divide with a Llama train. They asked where we were headed and when we told them Trapper that said it was one of the worst sites in the park. Small, damp and lots of bugs. We decided to see for ourselves before committing to make the next camping area (Francis Creek).

Well, Trapper lived up to the rating of the rangers. It was small, only one tent site, damp and LOTS OF BUGS! We ate a power bar and struck out for the next camp 2 miles further on.

Camp Francis Creek is located in a rocky area of a large stream. There were several sites, which were mostly already taken. We ended up with a scenic view of the privy. Overall the camp was nice and was much better (even with the privy view) than Trapper. This camp also provided a bear cable.






Day 7 - August 17
From: Francis Creek
To: North Fork Trail Head
Distance: 6.5 miles
Difficulty: Easy
Time: 2.5 hours

Well today was it the pack was light and we would reach the car.

About 5 minutes out of camp this morning we walked up on two men in the middle of the trail with their packs off. I excused myself to step around them and we noticed one of the men had is arm in a make shift sling. They had stayed at the same camp as we had last night, the older of the two had slipped on a rock and broken his arm. It was their first night of a 7 to 8 day trip so their packs were fully loaded and the one guy was trying to carry both packs out. We took on about 15-20 pound each which allowed the second man to strap the remaining pack to his pack. We gave them almost all of our Tylenol and headed down then trail with them toward North Fork. We hiked nonstop and made it out in less than three hours. The trail was easy but my pack weighted more going out than when I started. I was glad to see the car.




AFTER TRIP THOUGHTS
The three main scenic points on the hike were Hoh Lake, High Divide, Appleton Pass, Lake Margaret and Low Divide. The Elwha River trail was mainly boring, if you have seen one tree you have seen them all.



SUGGESTIONS


Hike in August for flowers and berries

Hike in September for no bugs; otherwise bring a bug net that covers your face and plenty of bug spray.

Make sure to hike the high alpine areas, they are extremely beautiful.





Man who drive like hell, bound to get there.