HOH RAIN FOREST / SOL DUC ---- TEXAS MEN ON THE MOUNTAIN

10 NIGHT TREK THROUGH THE OLYMPIC MOUNTAINS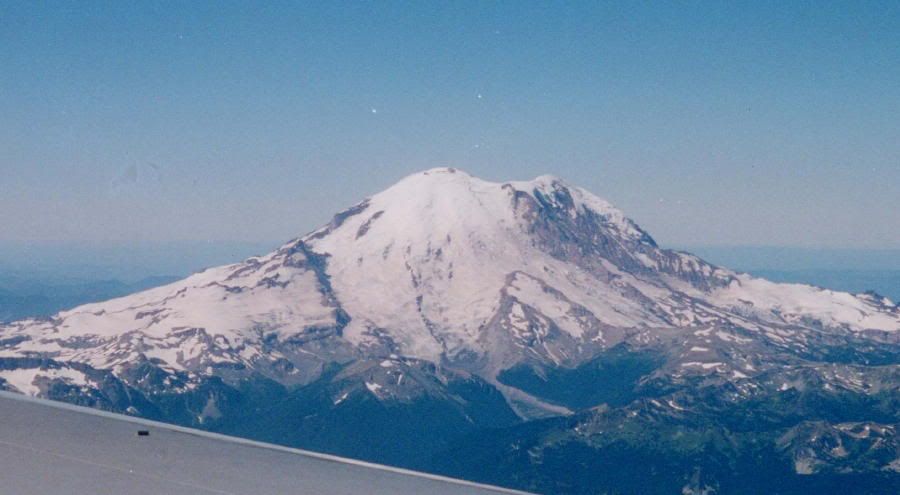 After many meditations over a prolonged backpacking trek James, Louis, and I decided that Olympic National Park met our every prerequisite.

The logistics of getting there on a budget became the next most important matter of business.

We were very fortunate to find a hostel in Port Angeles, our point of departure, and the services of Windsox Shuttles which would take us from Forks to the trail head and pick us up in Sol Duc for our return trip to Port Angeles. And thus after careful planning, a full day of travel and a full night of rest we began our journey.






Hoh Rain Forest to Glacier Meadows:
The drive to the Hoh Visitor Center presented us with both beautiful scenery and a last chance to prepare ourselves mentally for the rigors of the trip. We were also versed in the local customs of people from Forks as well as such local legends as Hucklesdonk. And so at the end of our drive we departed with roughly 65 miles to cover and the promise of beer if we made it out alive.

With each of us carrying somewhere between 70 and 80 pounds on our backs we found the first few miles of the trail filled with natural wonders and just a little bit of delirium. One of the first orders of business was to test the temperature of the Hoh River. Being from Texas, we all had a hard time imagining water just a few degrees above freezing but as soon as our hands hit the water it became as clear as ice. Bathing was going to be an expeditious matter.

After we resolved our curiosities we hit the trail with a good pace. And then with the same emphasis as cold water I realized that my camera was going to be absolutely inadequate to capture the beauty of the forest. I have never seen such an intricate display of plant life. The shear magnitude is perhaps the first thing that grabs ones attention.

The height and girth of the trees is nothing less than colossal. And then upon closer inspection a new aspect is revealed. Every movement of the forest was in some way along a very certain path. The fallen trees created a natural system of roads over the dense underbrush; the upturned roots became the dwelling spaces for mushrooms and ferns. This was an ancient place; this was truly the land of Ents!

The trail continues in this way for the first 13 miles. The Hoh River is almost always a stone's throw away despite its being hidden by the dense forest. There are also plenty of unlisted campsites between the Visitor Center and Elk Lake, some of which are on the banks of the Hoh. One should be warned, though, that when camping on the Hoh care should be taken to safeguard one's tent from the gnats. It takes a mere second for the gnats to rush in and make things unpleasant.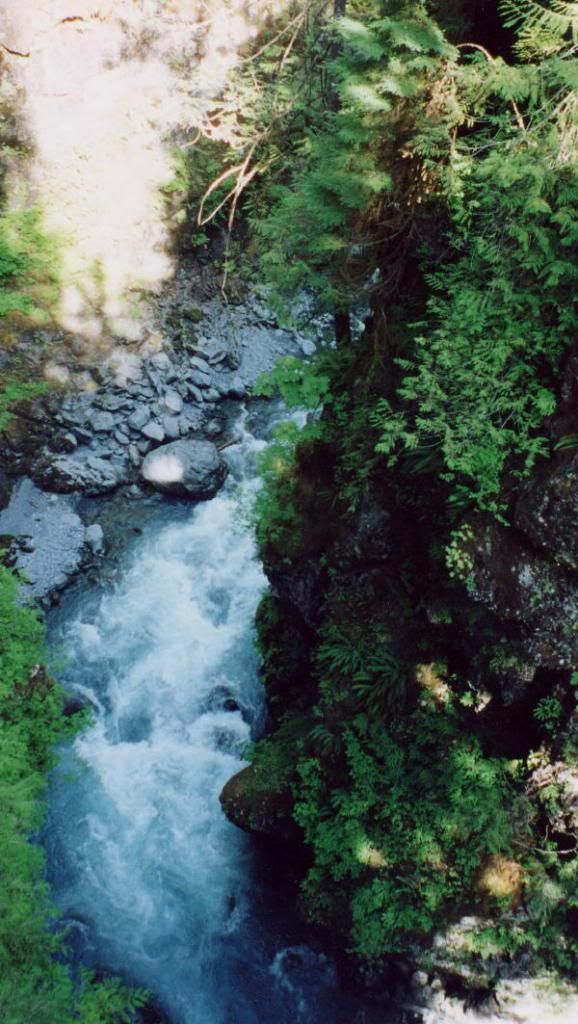 Other than the gnats we did not have any problems camping on the banks of the Hoh River. It was our first night and also my birthday. I think we were all a little tired but I was certainly the worst off. I was carrying well over half my body weight and the day had really taken its toll on me. I was physically very tired but emotionally I was exhausted. After I read a letter from my Dad I was overcome with the full spectrum of emotions. I was afraid that the emotional part of the trip was going to be too much for me. I was also afraid that I was not physically up to par and as a result might compromise things for James and Louis. I would struggle with these kinds of emotions for the first three nights and I think James and Louis could tell by my unresponsiveness. It is hard to describe but I think this difficult emotional adjustment made the Hoh Valley that much more powerful in my own mind. I think that we all had a period of emotional adjustment and maybe I am just selfish to think mine was the worst.

In the mornings one can certainly notice that the level of the river is lower than the previous afternoon, this being the result of the melting and hardening of the glaciers. Mornings also offer a mild breeze which keeps the bugs away.

After the Olympus Guard Station the trail winds through a particularly twisted section of the forest. Trees in this section can take on any number of shapes. When the trail started to gradually gain elevation we knew it was all going to be uphill to Elk Lake. The difficulty of the hike, however, in no way takes away from the beauty of the landscape. After half an hour we reached High Hoh Falls. High Hoh Falls, by a crude rock dropping technique, is about 64 meters high but feels every bit of 100 meters! High Hoh Falls also marks the point in which we left the Hoh River and began the more difficult portion of the hike to Glacier Meadows. All in all we covered 3300 vertical feet to get from the Hoh Valley to Glacier Meadows. One of the best parts for us was the stop at Elk Lake for a bath and a swim. Elk Lake is a fantastic place to camp and an even better place to swim. Of all the rivers and lakes we would visit Elk Lake had the warmest water. We could also sense that the alpine meadows were not far. This portion of the hike also introduced us to our future nemesis---the black fly.

When we finally hit the alpine meadows I felt my perceptions of the park change. No longer was I in a dense world of impenetrable timbers. The varieties of flowers in the meadows were endless; each one being some kind of 'American Edelweiss.'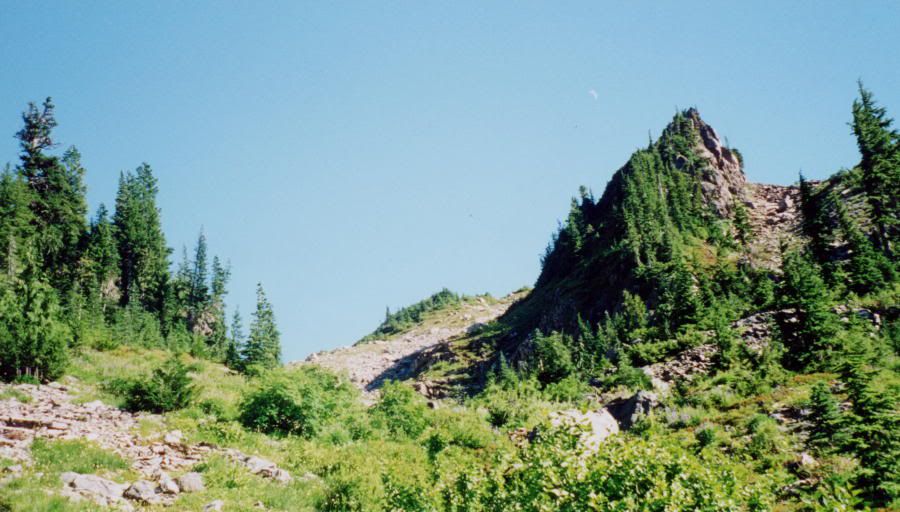 Our first order of business upon reaching the meadows was to meet with the ranger and discuss our plans to climb Mt. Olympus. Afterwords, Louis and I hiked up to the lateral moraine to scope out our route. At the lateral moraine we came across a party of five climbers who were returning from their successful summit bid.






They were extremely generous with their thoughts about climbing the mountain and that was a great help to us. That night we stocked up on calories and readied our gear for an early morning start. At 3:15 the next morning we awoke, had some oatmeal and made for the Blue Glacier in total darkness. James had forgotten his headlamp and I got a little snappy at him but did my best to provide enough light for the both of us.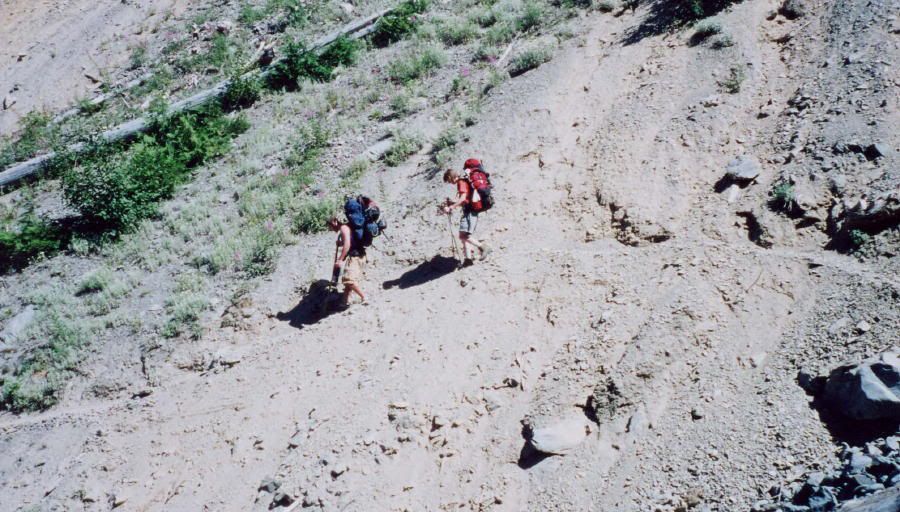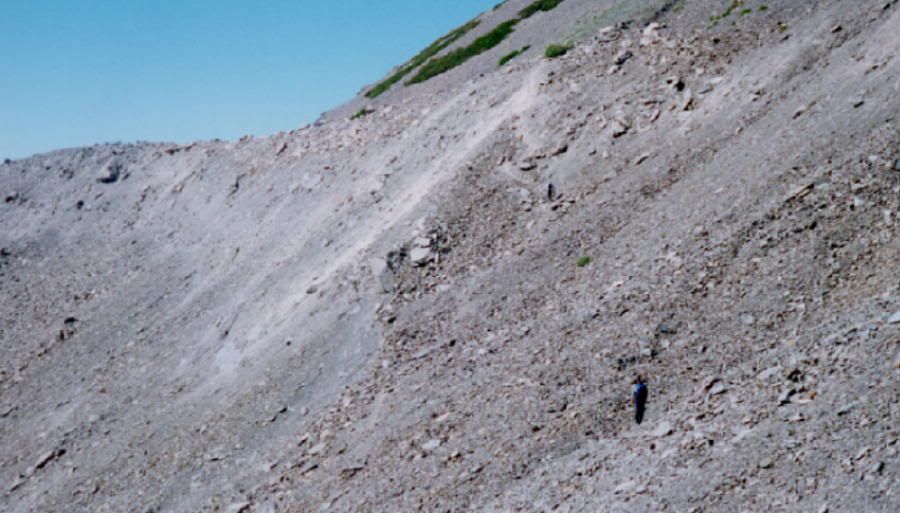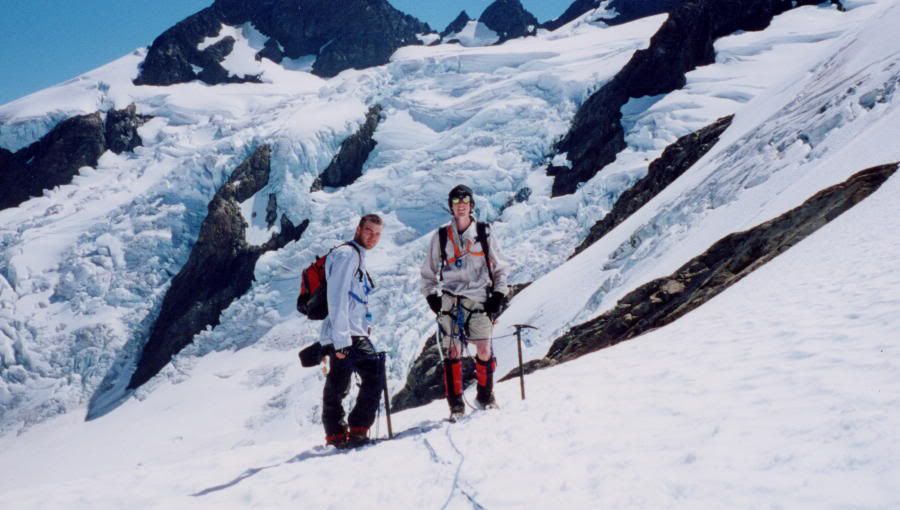 This was the first time I was able to notice the stars. The amount of shooting stars never leaves one searching for long. As we made our way across the Blue Glacier the sun came up. This spawned an awesome event known as the alpenglow, which is simply the early morning sun hitting the glacier, turning everything to gold. It took us about 5 hours to reach the top of the Snow Dome and from this flat expanse we had our first views of the Olympic Mountains.

The range was beautiful---the jagged peaks looked exactly like the Alps! In the distance we could see the Straight of Juan de Fuca, Mt. Rainier, Mount Baker, and the Cascade Range. It was a great place to stop and have lunch.

After lunch we headed up towards the summit block. At 7200 feet we started traversing around the block so that we could approach the summit from the SE. This put us on the upper reaches of the Blue Glacier.





After a few precarious crevasse crossings we had ascended the false summit and were preparing to go for the true summit known as West Peak. The final pitch of the climb is a class IV rock climb. There are many descriptions of what a 'Class IV' climb is but my favorite remains, 'If you fall you die!' Simplicity, in this case, is the most illustrative description. While the actually rock climb is not the most technical thing in the world it is horribly exposed. If you fell you would almost certainly die. Nevertheless, we never felt out of control so we went for the summit and the risk was worth it. The views from the summit were ethereal!













I could never have imagined such a place. Louis and I signed the register and took pictures of each other in proud summit poses.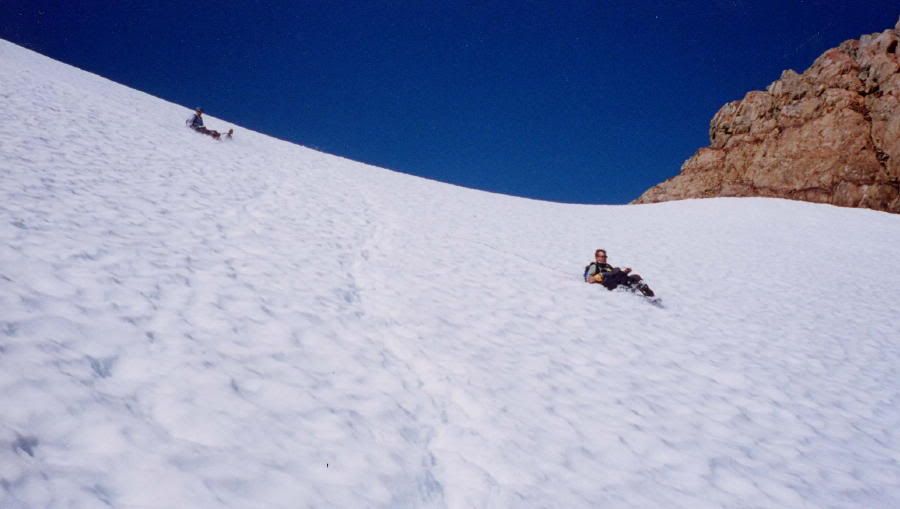 We rappelled down West Peak to save some time. Once we got to the edge of the Snow Dome we expedited our descent by glissading down the crevasse-less sections.

This was great fun and a great way to get snow in ones pants. I, for one, had to strip naked to get the snow out of my shorts. The sun was really starting to warm things up so I decided to hurry things along and get off the glacier. The afternoon heat does many things to glaciers; it opens up crevasses, weakens snow bridges, and most importantly causes avalanches. After my final glissade to the bottom of the Snow Dome I heard a sudden thunder on the mountain.

Even having never heard an avalanche I immediately registered the sound in my mind. I looked up to the ice fall to see a huge ice serac separate from the glacier and crash down through the ice fall like so many thousands of marbles. It was an amazing sight, made even more amazing because we were at a safe distance.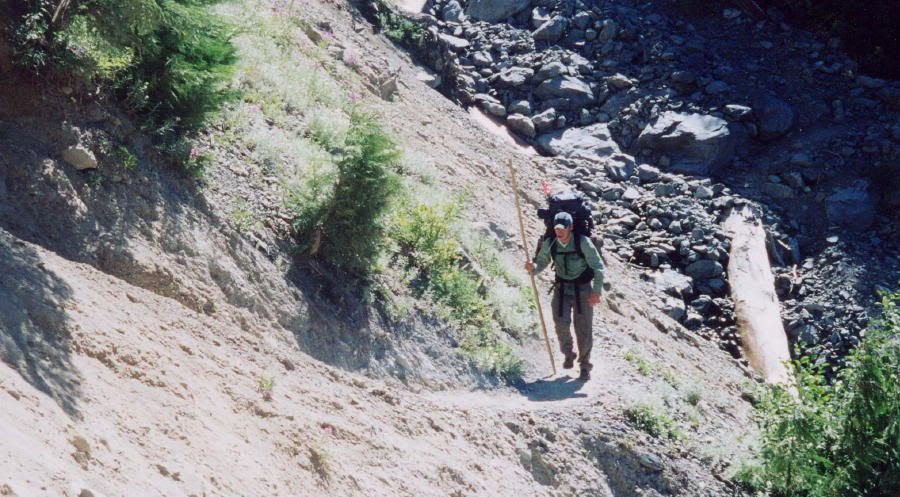 We took a conservatively wide swing across the Blue Glacier to avoid any questionable spots and then made a traverse of the lateral moraine. The lateral moraine was so prone to rock slides that it took us close to an hour to go the half mile or so across it. There were no trees in sight only the mountain, glaciers, ice falls, and dusty rock could be seen. I had no trouble at all imagining myself in Tibet, and I did so for my own childish amusement. By 4 PM we were back at Glacier Meadows celebrating our success with whiskey and freeze dried lasagna!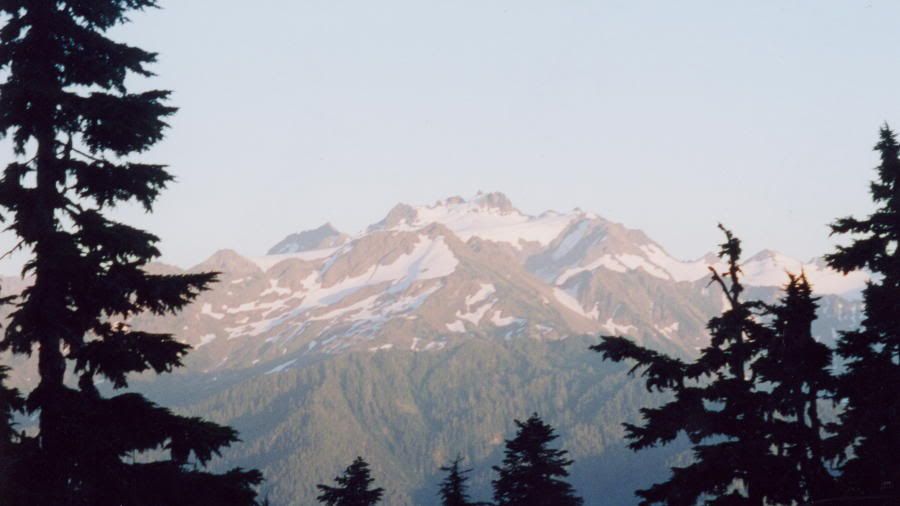 Hoh Valley to Hoh Lake:


After our summit day we used the entire day to go from Glacier Meadows back down to the Olympic Guard Station.

We had cached some food in the area a few days back and were anxious to retrieve it and feast before setting out on the Hoh Lake Trail. As James and Louis were searching for the hidden spot they were no doubt teeming with restlessness as to whether or not the food had been ransacked by hungry bears or enterprising campers. I am sure there was a great sigh of relief when the food was located in its untouched condition.

That night we camped near the banks of the Hoh for one last time. I remembered how things were on the first night and wondered if they would be the same this night. We had contemplated having an enormous bonfire but in the end we did nothing about it. The thought of the Hoh Lake Trail sent us to bed rather early and with full stomachs; we could use the extra calories and lessened weight in our packs.



The next morning we were slightly disenchanted to have our packs weigh an extra 8 pounds or so from the additional food. And in my case I was particularly discouraged by having to carry the rope and my climbing gear, which was not going to be needed for the remainder of the trek. Despite these feelings there was no way we were going to turn back. The alpine lakes region sounded beautiful to us and well worth the pain.


The trail to Hoh Lake consists of 5.9 miles of strenuous hiking covering 3500 vertical feet over 29 switchbacks. This basically translates to climbing Mount Olympus with a 65 pound pack. An early start is the best advice I can give as well as praying for a breeze to keep the flies off. The first mile or so of the trail leads one to believe that the duration will not be that hard. And then the switchbacks start, and linked with the switchbacks are flies and misery. In my own mind I started building the hike up as some kind of Bataan Death March which was the worst thing to do. Looking back the hike really was not that bad, but I had expected it to be bad and so my struggle was a psychological one. One of the factors that contributed to our hiking the entire trail in such good time was the flies. As soon as we stopped the flies were on us like an air assault. They especially liked my sunburned knees so after a while I did not want to stop. We had considered stopping at CB Flats but decided that the final ¾ mile push to Ho1h Lake was the best thing.



Once we got to Hoh Lake we thought we had conquered the beast but the menacing flies were laying in wait. I had been warned by a friend back home to bring mosquito gear for the upper elevations but I had largely disregarded his advice. I would have kicked myself for that mistake if the flies were not doing such a good job. About the only thing I could do was bathe and then make a dash for the tent, a tent which was baking in the sun. There were only three campsites and we had arrived too late to claim the best one. I was exhausted emotionally and physically but somehow found the energy to get Louis to help me move the tent into the shade for some temporary rest. Afterwords the three of us collapsed for an hour of solid rest. I woke the others when another group of campers arrived to find us occupying two campsites. We moved the tent, still fully erect, to our old campsite and made dinner. Mysteriously to flies had departed. At the realization of this there was a brief moment of bliss before it was interrupted by the mosquitoes. Apparently the mosquitoes handle the night shift around Hoh Lake.

After dinner the three of us walked down to the lake to have a little whiskey and purify some water. I felt a great deal of relief seeing as how the most difficult part of the trip was over. Everything was going to be fun and games from now on. And as the three of us shared our thoughts about this matter I spotted a lumbering black object moving on the opposite side of the lake. It took no time to register this mass as a black bear, and not one but a mother and two cubs! An element of the wildlife search had fallen into place; we had seen our first black bear. By now I had completely forgotten the misery of the day; in the face of such wonder who could remember their suffering.



High Divide and Sol Duc:
I now come to the most difficult part of our story, difficult because a language has not yet been invented to adequately describe the experience of the High Divide...... Our plan was to hike up the measly four switchbacks to the High Divide and then down to Lunch Lake. Not only were we in a great mood but the flies were nowhere to be felt. And it did not take long before we were above the trees and encompassed by the alpine meadows. The experience was like so many first time wonders. None of us had any idea how far reaching the views would be. Something about the landscape sparked some part of me that had yet to wake in my lifetime. This was the most beautiful part of the trip for me. And sadly it was the shortest. If it had been my decision we would have spent the rest of the trip camped illegally on the High Divide spending the days exploring the Bailey Range. It is strange how sometimes the fondest memories are the result of the shortest experiences. I suppose the brightest candles can only burn half as long.





As we were making our way down to Lunch Lake we had a dubious encounter with a park ranger. 'Mr. X' as we will call him, was immediately interested in where we had been. Innocently we said Hoh Lake---a mistake. I suppose it would help if I mentioned that when you get your back country permit you are also required to give a precise itinerary. This means that you must declare your nightly campsites and stick to them without exception. In the Hoh Valley things are a little more relaxed and nobody gets on your case if you do not follow your plans but apparently Sol Duc is another story. To make a long story short, we had planned to climb Mount Carrie and were supposed to be in Cat Basin on this particular date. And as a result Ranger X explained to us that we had two choices, hike to Cat Basin or get our butts out of the park entirely! Was X being curt? Of course he was. We could understand where he was coming from though. It would be unfair to someone to take their campsite if they had been hiking all day.

Lunch Lake was absolutely out of the question so we tried to work with X to come up with some solutions. We were able to agree amongst each other and X that Deer Lake was a viable option. Looking back it would have been a better idea to go to Cat Basin but at the time I think we were hoping for a day off. Everything worked out but I was a little frustrated with Xs rigidity.

And with that I pulled my socks over my pants and up to my knees to look the part of a Swiss Alpinist and we headed down the alpine meadows to Deer Lake. There was clearly a change in the terrain as we entered Sol Duc. The mountains were far gentler and the nights were colder. Deer Lake may have been the only time I felt inclined to wear long underwear.


Deer Lake was a fantastic spot...perhaps the best campsite yet. We had a large flat space for the tent and a couple of comfortable sitting logs at a very isolated part of the lake. In fact we were on Fawn Lake, a smaller lake adjacent to Deer Lake with only 3 campsites rather than the many campsites around Deer Lake. And we were certain there would not be any problem camping there for two nights. Our only neighbor that night was a German fellow just out of the army who was camping solo before he met up with his friends in Canada. I made a pathetic attempt to speak to him in German but we ended up conversing in English for the sake of mutual understanding. When the conversation turned to beer I immediately anticipated James question, 'What do you think of Budweiser?' His reply was, 'Is that beer?' I had a good laugh but James, I think, was genuinely on the defensive. I kept my mouth shut on the matter--- no need for bad vibes in the group.

The second day at Deer Lake was glorious. It was our first day off. I used the time to catch up on my journal and my reading. I brought "K2, Triumph and Tragedy" by Jim Curran to psyche me up about Mt. Olympus and also to help me keep my suffering in perspective. Louis was reading a few Conan books and James was reading "Do Androids Dream of Electric Sheep" by Philip K. Dick. For the most part I was interested in keeping an exhaustive journal about the trip. Between reading and writing I also spent a good portion of my time fly fishing. There are certainly plenty of Brook Trout to be had and the best part is you do not need a license. Our plan was to catch a bunch and fry them up in butter, this never happened. You really need some way to get out a bit father into the lake. Louis and I also spent a lot of our time trying to medicate our sunburns. Louis sunburn on his face and neck had left him looking the part of a leper and my sunburn on my knees had made every step excruciating for a couple of days and had also left a puss filled sack the size of a walnut on the back of my left knee. It was revolting!

Besides our sunburns we had another problem; we had roughly four miles to hike to get to the trail head and three days to do it in. We had underestimated our ability to cover terrain and been forced to camp closer to the trail head by Ranger X and were left with time to burn as a result. Our permit allowed us to camp anywhere along the Sol Duc River so we decided to go down to the falls and hike up the other side of the river until we found a suitable campsite. We were also planning to spend one day at the Hot Springs Resort after hearing mythical tales about cheeseburgers, beer, and hot water.

Sol Duc Falls was not hard to miss for two reasons. One, it is pretty big and two, it is packed with tourists. It was the first time any of us had seen a dense grouping of people since the Port Angeles. Suddenly things did not feel so wild although we still looked the part. James with his mohawk and Louis with his abstractly shaven head and leprous face kept the small children away and gained plenty of dirty looks from the mothers in the area. Aside from the purple bands around my knees I was the least depraved looking of the bunch but I still got my fair share of dirty looks by association. Truthfully though, we preferred things this way.

The walk on the other side of the falls was pleasant but nothing like the Hoh Valley. I had the distinct feeling that Sol Duc was touristy for a reason. For one thing it was not as bold as the Hoh Valley and was not as beautiful as the High Divide but it was easy to get to. I do not, however, want to be misunderstood on this point; the Sol Duc area is marvelous in every way and had we had more time to explore the river basin I am sure I would have discovered its hidden treasures. But the fact was the tourists had unnerved me a bit and put us off on the area in general. I was full of energy and really wanted another challenge.

Our camp site for the night was more like a bivouac than a proper campsite. On the good side it was a single campsite. On the bad side it butted up against the actual trail. By the time our tent was set up the front vestibule practically overlapped the edge of the trail. My personal feeling at the time was that things were starting to get sloppy, and I was not happy about it. I think Louis may have shared similar feelings but to a lesser degree. I did not bring up the matter because I felt the only result would be bad vibes, and this is a universally destructive thing on an expedition. It is worth mentioning a few things about our group dynamic before continuing. I tend to be highly opinionated about certain things and James is similar. There were several occasions when James and I really got into it over certain issues. Louis really does not have any opinions, which is a good and bad thing. It was a problem because there was never a 3rd opinion to settle a debate between James and me. Everything worked out fine though because we did not keep anything from each other. If I had a problem about something they were certainly going to hear about it! We had our fair share of petty bickering as a result. The first night I forbade James from ever cooking in my pot again after he cooked what I felt was an outrageous dinner resulting in a thick coating of bacon grease and butter in my pan. And he certainly got my opinion when he wanted to climb up to the Snow Dome and set up camp in the snow after we had arrived at Glacier Meadows at 3 PM! I suppose the point I am attempting to make is that I am uncooperative, James is intolerant, and Louis is indecisive but despite these traits we never had any lasting ill feelings towards each other because we did not hold anything back.

Adding to my general feeling that things were getting sloppy was James decision to go to the Hot Springs a day early. I was not going to try and stop him but I certainly was not going myself. I wanted to be away from the evils of society for as long as possible and Louis felt the same way. James departed down the trail and would hopefully be coming back that night. I took some time to hike down to the river bank and explore things alone for a while. I had not really spent as much time alone as I wanted and I think we all felt this way. Going down to the river was more involved than I had anticipated. The dense undergrowth made travel slow but not without possibilities. The fallen logs formed a nice network of paths through the forest. I had expected the Sol Duc River to be a lot warmer than it was seeing as how it is not fed by glaciers. I guess the snow melt kept things colder than I thought. On the way back I ran into Louis and we decided to take some pictures and converse about a great many things. One of the topics in particular was the desire to build and awesome tree house in the forest. Not the kind a child would want but the kind an adult would necessitate. Something with actual rooms etc. If there was ever a place to live in the trees it certainly would be the Olympics. Throughout the trip the three of us drew reference after reference to the world of Middle Earth. If Tolkien had only known that his mythical world did in fact exist.

After a few hours of exploring Louis and I saw James strolling back to camp. From his expression we knew to expect high tales of the hot springs. From his description it sounded like the land of milk and honey. In the scheme of things it was probably the best way to spend our last day in the park. I was, in any event, getting tired of freeze dried dinners.

The next morning we awoke with no question as to what we were going to do...but before we went to the Hot Springs we wanted to find a new campsite. The plan was to go back across the falls and camp at a site we had seen on the way down. The hike to the falls was less than a mile so when I caught up to James and Louis sitting at the falls I knew something was up. James had discovered a site right next to the falls and proposed that we camp there. Things were officially sloppy now. The thought of camping next to so many tourists upset me but I knew there was no way to argue the point with James so I cheerfully conceded. It did not really matter as we would not be spending the day there anyway. The only legitimate concern I had was whether or not a bunch of little kids were going to pillage our camp while we were gone.

Getting to the Hot Springs was no trouble at all for us after a couple of girls we had seen at the falls picked us up in their two door car. At the resort entrance the smell of sulfur was manifest.


My hope was that the natural springs would be therapeutic for my sunburn and in the end I believe they were. The prices are not too bad but they are certainly not great. 10 bucks for a six pack of beer is pushing the limit of tolerability. And so we took part in all the things that people had told us were so great. We had cheeseburgers, beer, and several good soaks. I still had mixed feelings about being in the grip of humanity again. I was also on an ego trip of sorts, as were James and Louis, magnified by the expensive beer. We were certainly the toughest people there!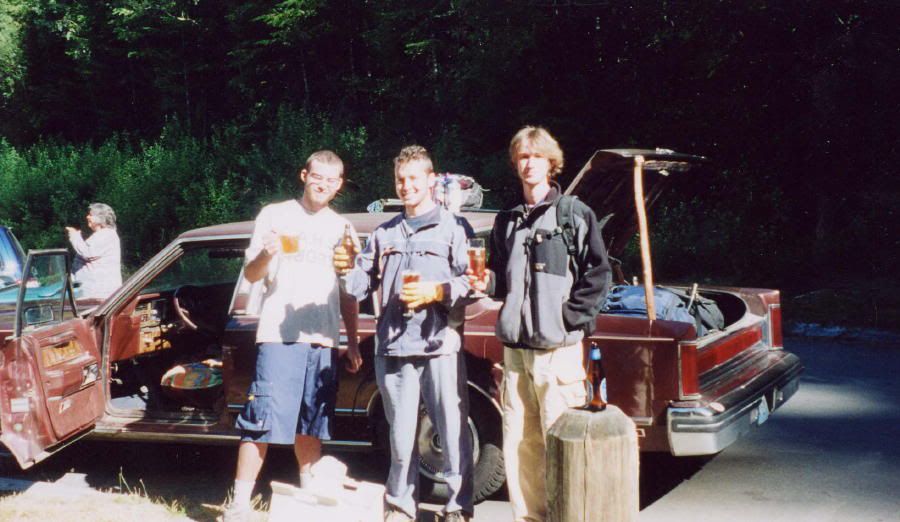 Walking back to the campsite with a stomach full of beer was not the best feeling but we somehow made it through. About half way up we saw a park ranger driving up and foolishly thought he would give us a ride. We were blown away to find it was Ranger X! We asked for a ride and he wasted no time, or courtesy, in informing us of the illegality of our request.


He did not even have the decency to roll down the passenger window to talk to us. Rather he rolled his own window down and yelled at us. Ranger X had now achieved a status of nemesis above the flies!

Back at camp we all had mixed feelings about our last night. I remembered how I felt on the first night, and now that I had reached what was then my dream I was reluctant. I wanted more time in the wild, and especially more time in the Bailey Range and Mt. Olympus. I wanted to go back to the High Divide where I could quench that forgotten feeling of child-like wonder. We had seen so many amazing things together but I am sure we all had very unique ways of remembering them. And one day when I come back, which is a certain thing, I can only imagine that the memories will magnify themselves in the presence of such immense natural wonders.


At some point during the expedition I discovered Shangri La. And now that I have left that dramatic place I feel reluctant to write about it. I have forgotten so much about it. One must simply be there to experience it. Some things simply can not be framed. The essence of the place is utterly lost in words. It is there, though, waiting to be discovered again.

Brian
August 2002



AUTHOR HAS KINDLY INCLUDED EMAIL ADDRESS IF YOU HAVE QUESTIONS........ BRIAN


Baseball is wrong: man with four balls cannot walk.