Archived from:
http://trailmonkey.com/viwados1.htm



Your Virtual Guide to Adventure Outdoors
Welcome to:
Olympic National Park, Wa.
Just click on the camera

and we'll take you there!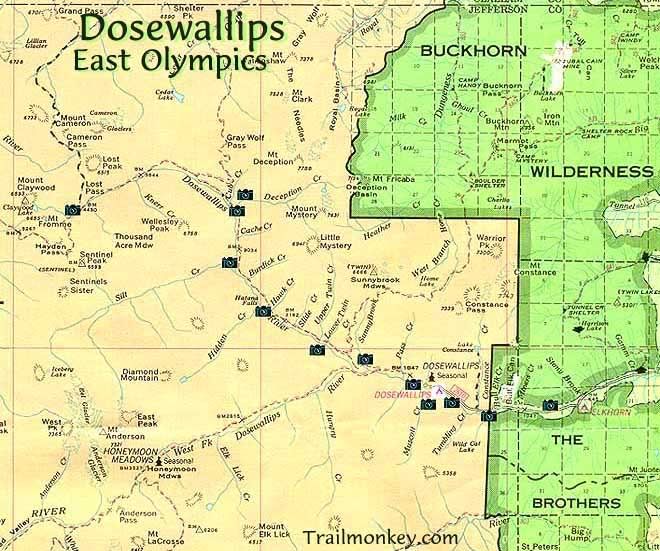 Olympic Adventure Guide:
Located on the Olympic Peninsula in Northwest Washington, west of Seattle, the 900,000-plus acres of Olympic National Park protect a wide variety of habitat. In the west, 57 miles of wilderness beaches, cliffs, offshore rocks , and islands have changed very little since Indian villages first appeared thousands of years before the arrival of Europeans. The shoreline vibrates with the energy of crashing waves, the constant ebb and flow of the tides, the cries of gulls and crows. The park is best known, however, for the old-growth virgin forests it protects. Other than in the northwest United States, such temperate rain forests are found in only a few other places around the world. Olympic is also known for its biological diversity. Isolated for eons by glacial ice, the waters of Puget Sound and the Strait of Juan de Fuca, the Olympic Peninsula has developed its own distinct array of plants and animals. Eight kinds of plants and five kinds of animals are found on the peninsula and live nowhere else in the world. Douglas fir, Sitka spruce, western hemlock, and western red cedar are common here, with some ancient specimens reaching 300 feet in height and 23 feet in circumference. The dim, vivid green understory is jungle-like with mosses, mushrooms, and ferns . The Olympic Mountains form the third distinct area of the park. Although not very high ( Mt. Olympus, the highest point, is 7,965 feet ), they are steep and rugged. The mountains act as condensers for the moisture-laden Pacific air. The western slopes receive more rain than anywhere else in the 48 states, more than 160 inches a year in some places. By comparison, the town of Sequim, located in the rain shadow less than 20 miles to the east, gets only 17 inches of rain a year. Elk, deer, black bear, mountain lion, coyote, and marmot are among the area's mammals. Sea otter, whale, and seal are found along the coast. Fishing for trout and steelhead is good in some rivers.
Getting Away:
There are nearly 600 miles of trails leading through mountain passes and old-growth forest and following beside rushing rivers and the Pacific shore. One of the most scenic and interesting hikes in the park is the 18.5-mile Hoh River Trail. Starting at an elevation of 578 feet, the first 12 miles of the trail climb gradually through the ocean-facing Hoh River Valley, then rise steeply above treeline to the Blue Glacier moraine, at 5,000 feet on the flanks of Mount Olympus. The view of the sprawling glacier and surrounding summits is magnificent. Though the trail is heavily used, you can get a feeling of solitude by avoiding the peak seasons-July and August. The most popular coastline route is the 21-mile stretch between Ozette and Rialto Beach. And a few miles north of Ozette is Cape Alava, the Westernmost point of the continental United States. On the beach are boulders with carvings made by the Makah Indians, who occupied the nearby site for 2,000 years. This is a busy area for day hikers, so avoid weekends if possible.
Worth Mentioning :
Alien beings roam the craggy mountain sides. In the 1920s, sportsmen introduced mountain goats to the area. The white, shaggy animals were so prolific that by 1983 their population had grown from around a dozen to nearly 1,200. Studies have confirmed that they are causing significant change in the native plant communities and that they are a potential threat to some rare plants found only in the Olympics. Since 1981, many goats have been live-captured and removed. An environmental impact statement currently being developed will determine the best way to eliminate the threats from the goats.
Access:
Visitor centers are located at Port Angeles and at the Hoh Rain Forest. The main access to the park is U.S. 101. All park destinations can be reached from U.S. Highway 101, which circumnavigates the Olympic Peninsula. Numerous side roads lead to points of interest !
Getting There:
Travel time along any of these routes is approximately two-and-a-half to three hours from the Seattle/Tacoma area to Port Angeles, where the main park visitor center and park headquarters are located.
Bus Lines - Port Angeles is served daily from downtown Seattle and SeaTac Airport by Olympic Bus Lines and Tours. Reservations are recommended: call (360) 452-3858. The Clallam Transit System provides service within Port Angeles and commuter services to locations around the northern Olympic Peninsula. For more information, call (360) 452-4511.
Airlines - Horizon Air (an Alaska Airlines affiliate) provides regularly scheduled flights to Fairchild International Airport in Port Angeles from SeaTac Airport and from Victoria, British Columbia.
Rental Cars - All major rental companies serve the SeaTac Airport. Rental cars are also available on the Olympic Peninsula in Port Angeles, Sequim and Grays Harbor.
Ferry Service - Car and passenger ferry service is available throughout most of the year between Victoria, British Columbia and Port Angeles. Reservations are not available, but for more information, contact: www.northolympic.com/Coho Transport, Incat (360) 457-4491. www.northolympic.com/ferry/
Rapid Transit operates a summer passenger-only ferry between Port Angeles and Victoria. For reservations and information, call (360) 452-8088.
Visitors:
In recent years, approximately 4 million visitors annually. Most visitors come to the park from July through September; December and January are the quietest months. The summer and holidays can become a bit crowded, even camping, so try for early or mid-week trips to find a little more solitude.
Visitor Center/Exhibits:
Visitor Centers are located in Port Angeles, Hurricane Ridge and the Hoh Rain forest. Each of these provides exhibits and visitor information. The Olympic National Park Visitor Center in Port Angeles is open and staffed year-round and serves as the park's primary information and orientation center. The Hurricane Ridge and Hoh Visitor Centers are open throughout the year (when road and weather conditions allow), but may be self-service during the winter months. Exhibits are also located at the following ranger stations: Staircase, Storm King (at Lake Crescent), Ozette and Kalaloch
Camping:
The National Park Service operates 16 campgrounds with a total of 910 sites. Backcountry permits are no longer free (see "Fees"), but can be obtained at any ranger station and most trailheads. In most areas, backcountry campsites are not designated; you can camp anywhere at least one-half mile from the trailhead and 100 feet from lakes or streams. Coastline campsites are either in small clearings tucked away at the forest's edge, or on the beach above high tide snuggled among piles of driftwood and castaway logs. Bring your backpacking stove for cooking; open-fire rules vary. Water availability depends on where you hike, so be sure to discuss the route with a ranger. Giardia is present in the water, so always boil, filter, or treat ! At any time of year, visitors should come prepared for a variety of conditions. Rain gear and layered clothing are a must. Use is year-round in the park. July through September can be quite sunny. If you visit off-season, be prepared for stormy weather, washed-out foot bridges, and down trees.
Fees:
The fee program at Olympic has recently changed in accordance with the Congressionally authorized Recreation Fee Demonstration Program. Entrance permits and passes are sold spring through fall at park entrance stations. The fee is $10.00 per vehicle ($5.00 per person for bicyclists and bus passengers) and is good for seven consecutive days at any park entrance. A $10.00 per vehicle fee is also collected at the Hurricane Ridge entrance on weekends during the winter. Season passes ($20.00; good for one calendar year) are also available. The Golden Eagle Pass, an annual pass good at all National Park Service areas, as well as other Federal Fee Areas is now $50. The lifetime Golden Age pass costs $10 for individuals who are 62 or older and the free Golden Access pass is available to individuals who can show written proof of permanent disability.
There are nightly fees (ranging from $8 to $12) for most park campgrounds, depending on the services and amenities provided at each one. All are available on a first-come, first-served basis. some remain open throughout the winter. Call 360-452-0330 for up-to-date campground information.
Use of the park's RV sewage dump stations costs $3 per use.
There is a $1 daily parking fee at Ozette.
On May 23, Olympic National Park will begin charging fees for all overnight trips into the park's wilderness backcountry. Proceeds from the wilderness fee program will go directly to fund projects that benefit park wilderness and wilderness users. The Wilderness Fee program has two components -- a Permit Registration Fee and an Individual Nightly Fee. The Permit Registration Fee is $5 for a single permit good for up to 14 days and a maximum of 12 people. The Individual Nightly Fee is $2 per person per night for any overnight stay in the park backcountry. Persons 16 years old and younger are exempt from this fee.
A Frequent Hiker Pass will be available for $30 per person per year. This is an annual, non-transferable pass, good for twelve months from the date of issue. It covers all wilderness use fees for the pass holder. Additional Frequent Hiker Passes for members of the same household will cost $15.
Maximum fee amounts have been set at $50 for groups of one to six for up to 14 nights and $100 for groups of seven to twelve for up to 14 nights. (Without the fee cap, a 6-person group staying 14 nights would be charged $173.) For more information, call the Wilderness Information Center at (360) 452-0330
RECOMMENDED ACTIVITIES AND PARK USE:
Olympic is a wilderness park, with much of its interior accessible only by trail. A variety of spur roads lead to various destinations around the park. Scenic drives to Hurricane Ridge , along the Pacific Coast and through the forested valleys of the Sol Duc, Hoh and Quinault Rivers provide glimpsesof Olympic's diversity.
The best way to see the park, however, is by getting out of your car and hitting the old trailheads! But if you're really unable to spend some time hiking Olympic, try these short , but insightful walks:
Short (one-quarter to one-half mile) nature trails are located at Hurricane Ridge (spring through fall only), Elwha, Sol Duc, the Hoh Rain Forest and Quinault. Some of these are wheelchair accessible. Longer trails provide access to other areas of the park, including the park's wilderness beaches and rugged mountainous interior.
With Olympic's nearly one million acres and three distinct ecosystems, plan on spending at least one very full day to get a feeling for the park's diversity. With this amount of time, visitors often drive to Hurricane Ridge for a taste of the park's high country and mountain vistas. From there, a three-hour drive to the west will bring you to the Hoh Rain Forest, where over 12 feet of rain per year creates a stunning world of huge trees and profuse greenery . Views of the Pacific Coast and Olympic's wilderness beaches can be seen by an additional 30-40 minute drive to Rialto or Ruby Beach.
Visitors interested in hiking or exploring some of the park's lesser-used areas should allow at least several days to see the park. Basic orientation information, as well as exhibits and an introductory slide program are available at the Olympic National Park Visitor Center in Port Angeles.
Programs, Activities: A variety of ranger-guided programs and activities are offered throughout the summer at a number of sites around the park. Current schedules are printed in the park's free newspaper, available throughout the summer at visitor centers and ranger stations. Ranger-guided snowshoe walks are offered on weekends, weather permitting, from December through March at Hurricane Ridge.
Food, Supplies:
Food and supplies are widely available in towns and cities around the park. In addition, concession-operated grocery and camper supply stores are located at the Fairholm General Store, Log Cabin Resort, Sol Duc Hot Springs Resort and Kalaloch Lodge.
Other Concessions, NPS-Managed Visitor Facilities and Opportunities
Throughout the spring, summer and fall, Olympic Park Institute (OPI) provides one to three-day-long field seminars for adults and families. Topics are varied, ranging from natural history of the Olympics to nature photography to kayak, canoe and backpacking outings. OPI also offers residential field science programs for K-12 school groups and hosts elderhostels for people 55 years and older. For more information about any OPI program, call (360) 928-3720.
Accessibility
The Olympic National Park Visitor Center in Port Angeles is fully accessible, as is the Hoh Rain Forest Visitor Center. Other centers and ranger stations provide varying levels of accessibility. Wheelchair accessible restrooms are available at nine of the park's 16 campgrounds. Several campgrounds also offer paved campsites and picnic tables with extensions to accommodate wheelchair-users. Several nature trails are paved and wheelchair accessible. Others are gravel, but fairly level and may be accessible with some assistance. Among the park lodging facilities, Sol Duc Hot Springs Resort has accessible hot spring pools and several accessible cabins. The main lodge building and one room are accessible at Lake Crescent Lodge. Kalaloch Lodge has one accessible cabin.
For More Information:
Olympic National Park, 600 E. Park Ave., Port Angeles, WA 98362; (360) 452-0330. Mail-order service for books and maps is available from the Northwest Interpretive Association, 3002 Mt. Angeles Rd., Port Angeles, WA 98362; (360) 452-4501, ext. 239. Cultural and natural history courses in the park are offered by the Olympic Park Institute, 111 Bames Point Road, Port Angeles, WA 98363; (360) 928-3720. For information on short-term volunteer opportunities, contact the park's VIP coordinator; (360) 452-4501, ext. 219


Drop us a line! Comments, trails, & whines welcome. mailto:editor@Trailmonkey.com
Original Pictures, Text, Artwork& Maps © Trailmonkey.com