Story and Photos by Barb Roy
I have always enjoyed investigating a hiking trail or country path along one of Vancouver's many waterways. When my son tags along, he likes to explore from his mountain bike. And it seems my daughter's Rollerblades are glued to her feet, quite similar to my husband's camera draped over his shoulder. The opportunities to capture exquisite wildlife shots are everywhere in the lower British Columbia mainland, and it's full of interesting day hikes to meet all of our needs. Here are a few of our favorites.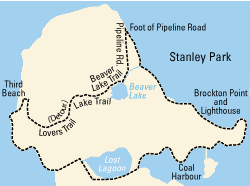 Stanley park was once home to the Musqueam and Squamish First Nations people and became Vancouver's first park in 1888. The park currently stretches more than 1000 acres and offers visitors the opportunity to kayak, scuba dive, play tennis, swim, hike, or partake in a game of pitch-and-putt golf. A series of routes divided to accommodate bicycles and Rollerblades on one side and pedestrians on the other extend 5.5 miles around the park's perimeter. Both paved and dirt trails can be found throughout the park's interior.
We usually start at Lost Lagoon, where more than 200 species of waterfowl have been sighted, and walk to the Nature House (fee to enter). Continuing on, I have found autumn foliage to be breathtaking along Coal Harbour, and the Totem Poles are well worth a stop. Past Brockton Point Lighthouse, we have always seen families of geese during the spring. The water park is next, just below the Vancouver Aquarium Marine Science Centre (excellent detour). If you're feeling exceptionally energetic, continue along the seawall portion, past the Lions Gate Bridge and Prospect Point Lighthouse, eventually ending up back at the lagoon. (Between Pipeline Road and Third Beach the trail has been closed since June, but a detour route is available.) (604-257-8400; www.parks.vancouver.bc.ca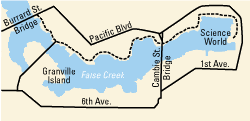 False creek walk is about 2 miles long. It starts at Science World in downtown Vancouver, stretches along the northern shore of False Creek, and ends at Granville Island or the Burrard Street Bridge. Pedestrians, bicyclists, Rollerblade enthusiasts, and dogs with their "people companions" all frequent this well-traveled walkway.
This area's architectural "eye candy" includes the 155-foot tall geodesic shape of Science World and the uniquely designed Plaza of Nations building, both built for the 1986 World Exposition.
The pathway continues on under the Cambie Street Bridge and along the shoreline to the Granville Street Bridge. If you're in the mood, cross over to Granville Island and indulge in a selection of galleries, restaurants, theaters, and the public market. From beneath the Burrard Street Bridge, view the H.R. MacMillan Space Centre in Vanier Park. www.walkvancouver.com)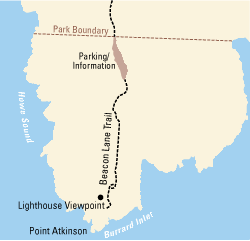 Lighthouse park , in West Vancouver, is a great place to spend a day checking out pathways winding through a dense forest of conifers, some 500 years old. Western redcedar, hemlock, arbutus, and bigleaf maples are abundant in the 185-acre park (open daily, year-round). The trails offer a variety of terrain with elevation changes, so good footwear is needed.
A few of the park's pathways also lead along the coast, above a rugged shoreline and to a point overlooking the Point Atkinson Lighthouse. The current light station was erected in 1912 and marks the entrance to Vancouver's lively harbor.
To access the park from Marine Drive, turn towards the water at Beacon Lane (not well marked) and grab a map from a kiosk. Bring a picnic lunch and plenty of film. (604-925-7200)
Grouse grind , a.k.a. "Mother Nature's Stairmaster," is an arduous 1.8-mile hike up the face of Grouse Mountain, with a 2800-foot elevation gain. Most hikers stop by the sales office near the start of the trail and buy a gondola ride ticket for the return trip.
The trail starts out quite easy, up multiple steps through a tall forest of pines, complete with fallen logs, tree frogs, and wild mushrooms. As elevation increases, the stairs turn into a trail and the surrounding forest thickens with little to no chance of scenic photo opportunities until the summit is reached. Although the climb usually takes a novice only two hours to complete, it is a very strenuous hike that should only be attempted during daylight hours.
Before attempting the Grouse Grind, be sure to check weather conditions, take plenty of water, wear appropriate clothing, and let someone know where you are going and expected return time. The trail is open to the public as long as weather conditions permit and generally closes in November until the spring snowmelt. (604-980-9311; www.grousemountain.com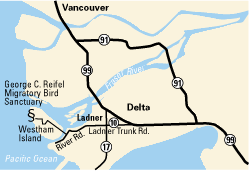 George C. Reifel Migratory Bird Sanctuary is a great place to wander about for an hour or two, along designated paths and around ponds and wetlands. More than 280 species of birds have been recorded at the sanctuary, which is located 8 miles west of Ladner in the Municipality of Delta, about 20 minutes from Hwy 99.
Millions of migrating birds annually use this 850-acre sanctuary for nesting, feeding, and resting. Between October and December, ducks, geese, and swans arrive, including the "Fraser-Skagit" flocks of lesser snow geese, numbering 30,000 to 80,000. They depart in April, heading north. During the spring months I have seen migrating western sandpipers, eagles, osprey, and hawks. Canada geese, mallards, an assortment of smaller birds, and the huge sandhill cranes reside at the sanctuary year-round.
Visitors are charged a minimal fee to enter, but the sanctuary is equipped with restrooms, picnic tables, an observation tower, and several "bird blinds". It is wheelchair accessible. (604-946-6980; www.reifelbirdsanctuary.com
Blackie Spit Park is a 3.1-mile trail in northern Crescent Beach, South Surrey. The walkway extends along Mud Bay to Blackie Spit and offers couples a paved pathway to enjoy a pleasant romantic sunset stroll or a close look at flowering trees and gardens of color.
We especially enjoy this hike for the unusual photo opportunities. After photographing kayakers, windsurfers, and flora, I rarely pass up a chance to check out the day's catches and talk to local fisherman on the wharf.
The sandy spit and tidal marshes are one of the best birding places in the lower mainland, with more than 300 species recorded to date. Great blue herons, Canada geese, and gulls are commonly seen near the water's bank, while plump harbor seals are often spotted snoozing during warm afternoons.
The trail eventually moves away from the water, taking approximately two hours to complete. The park is accessed via King George Hwy to Crescent Road, then right on Sullivan Street and right again onto McBride Avenue.
These trails are only a few of the many out there to be discovered in B.C.'s lower mainland. Trails along the Fraser River and throughout the countryside in Langley, Abbottsford, and Hope are equally rewarding. I doubt if we will ever exhaust our "walk about" opportunities.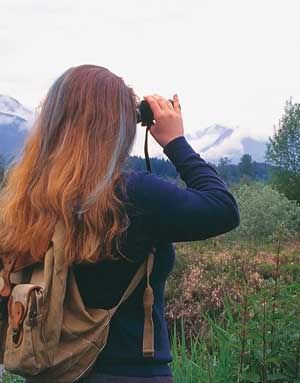 Below: While walking in Stanley Park, the aquarium is a great detour.
Below: Vancouver skyline from False Creek Walk.
Below: Point Atkinson Lighthouse at Lighthouse Park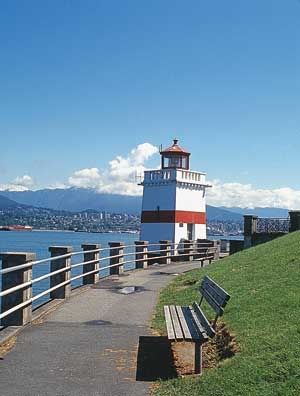 .
Below: The 2800-foot elevation gain is quite a grind.
Below: Sandhill cranes stop along migration route.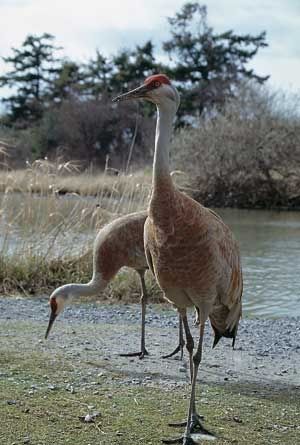 Below: Plump harbor seals blend in with exposed rocky shoreline.